In the morning I found a strange car in the parking lot. It was the Russian Jeep that will take us for the next 7 days. It looked like it was running for ages. I couldn't believe that such a car would be able to drive in the off roads and felt a bit ripped to see this is what we get for $385. Our guide was Dogi, a bright cheerful woman in her early 20's who taught English at an university during the school year. Our driver was Ganzorig even younger than Dogi who was calm and quiet.
The car ran through a slum looking area. Between the houses were only divided by simple wooden fences and the house was not a building but a nomadic tent. Garbage scattered on the road and it was totally different from the city centre. We went on a very bumpy road for 30mins. It felt like being on an electrical massage chair at maximum level. After passing this road, suddenly we were in the grasslands, the typical scenery I knew from the TV. Many sheep and goat were eating grass peacefully.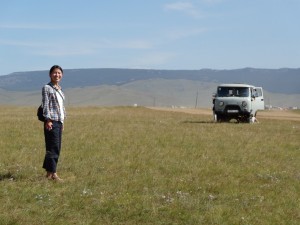 Mongolia was a unique country. In the grasslands, you'll see nothing but the occasional nomadic tents and herd of sheep for a few hundred kilo meters until a "town" suddenly appeared. In the middle of nowhere in the grassland or the desert the "town" was consisted of 5 houses or more than 100 houses. I had no idea why they decided to make a town there.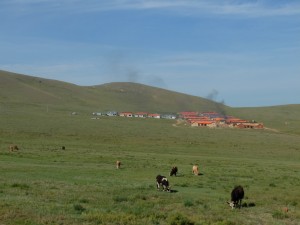 At the gasoline stand, I went into the toilet and was surprised. It was just a big hole in the ground with 2 pieces of wood to step on. I finished without breathing and realized how water was important in this country. In Mongolia, you could only find water from the tap in city areas. In the country side the people preciously used rain water or well water stored in buckets or tanks. However as the time passed everyone just started to take their business anywhere outside and weren't using the toilets so much. It was refreshing and I loved it.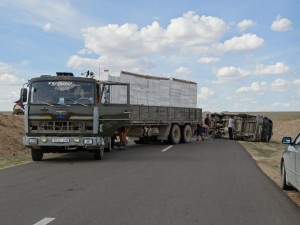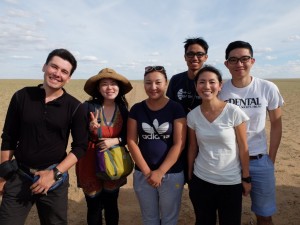 For lunch we ate sheep meat stir fry and rice at a local restaurant. In Mongolia, a milk tea called "suutei tsai" was always served with the meals. Not really a milk tea but almost just milk and hot water with a hint of tea leaves mixed with butter and salt. If you drink it thinking it's milk tea it would gross you out but if you think it's milk soup it wasn't bad at all. But I wasn't a fan of drinking milk with my meals in general so after a few meals I was quite sick of this.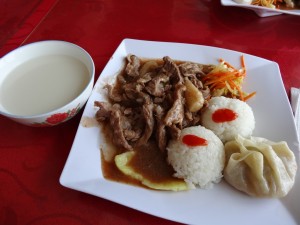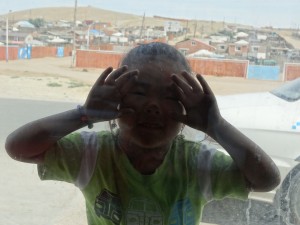 Our jeep finally arrived to the first destination more than 9 hrs from departing Ulan Bator. It was a canyon in the desert called the White Stupa. The scenery was extraordinary and it wasn't touristy at all. No signs, no tourists, just a big piece of nature in the middle of nowhere. Dogi told us that it was a place so hidden that even the locals didn't know about it. It reminded me of the deserts I visited in Western America. I was so surprised to know that such scenery existed in a country next to Japan. I forgot about the sheep meat, the ice cold showers and the primitive toilets, I was just so glad to be here.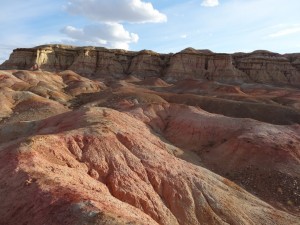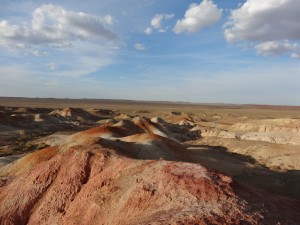 In the evening, we stayed at a Nomadic family's tent where the tour arranged the accommodation. The night in the desert was very cold but inside the Nomadic tents were surprisingly warm without any heating. When I woke up at midnight to go to the toilet, stars filled the sky like a planetarium. I didn't remember when I saw so many stars the last time. I peed in a hole in the desert, and when I tried to go back to the tent it was so dark that I didn't know where I was standing. I felt as if I was lost in the universe.