April 2016
Nepal is famous for its divine mountains but not many people know of the jungles of the south. The southern half of the country belongs to the Terai lowland where the elevation goes down to 59m from the penetrating 8848m in Mt. Everest, making a hot tropical climate.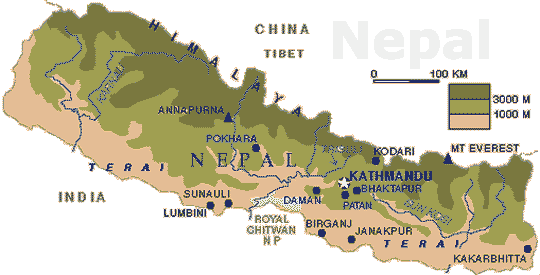 The Terai is home to tigers, leopards, rhinos and elephants. Most people choose to visit Chitwan National Park for safaris as it's much more accessible from Kathmandu, but this time I took advantage of my border crossing and stopped in Bardia National Park.
The small village of Bardia is surrounded by a buffer zone to the wild life area. A clear river runs through where children take a bath while mothers wash the clothes. The tourist camps are spread out in a lush green landscape and it doesn't really feel touristic. There is just one shop that sells snacks and drinks.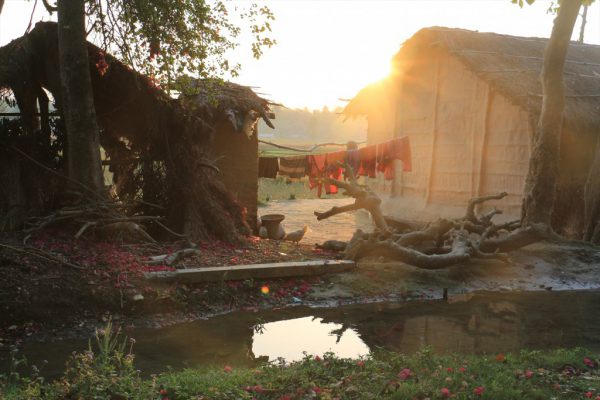 I stayed in Bardia Adventure Camp which was managed by Vinod, a friendly Nepali guy. All the staff were very kind and welcoming. The camp had its own watch tower to look into the jungle. It was not rare to hear the growl of the tigers during the night.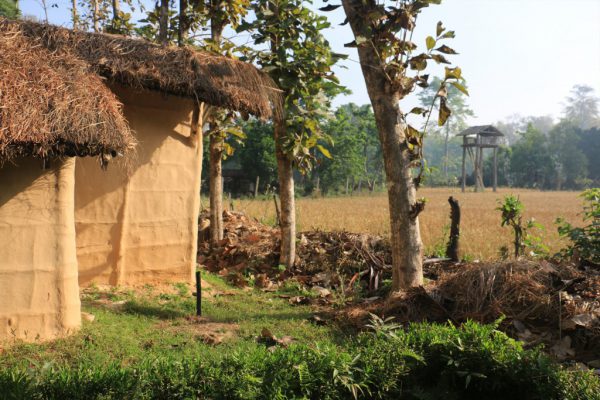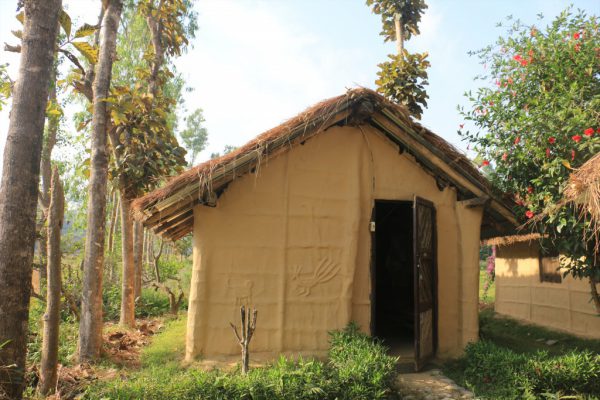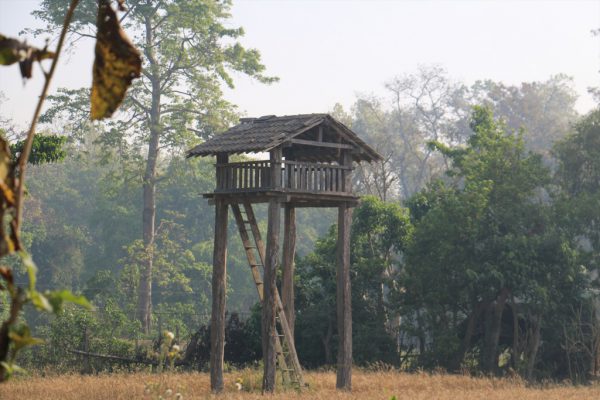 During my week long stay, an elephant with a broken tusk came outside of the park in to the buffer zone and tried to enter the village after sunset. Villagers told me the same thing happened before, the elephant destroyed their crops and 3 villagers were killed.
"He is very aggressive. Look, there are already so many people staring at him but he is not afraid at all. He is looking for his chance tonight." That night the villagers made bonfires along the buffer zone to intimidate him. He decided to turn back that night.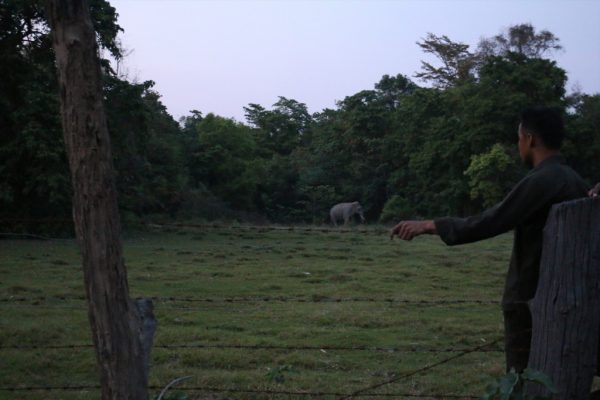 In Bardia, there are 3 ways to see the jungle, by jeep, boat and walk. I choose the last option, not only because its the cheapest but the guide said there are more chances to see the animals at a close distance since we don't make much noise.
Day 1
I imagined that if we were going to see tigers on foot, the guide should carry some armor in case of any attack. He did. He brought this.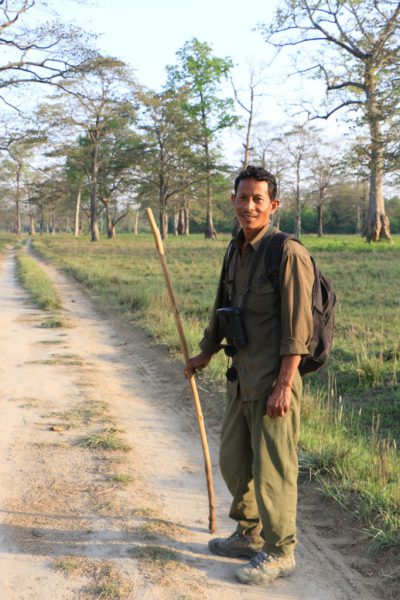 By the laws of the park, guides were only permitted to defend themselves with a bamboo stick. "You think it's crazy, but I had protected myself and my customers many times just with this stick, even from an angry mother tiger with cubs." He said proudly as I already wished to go back.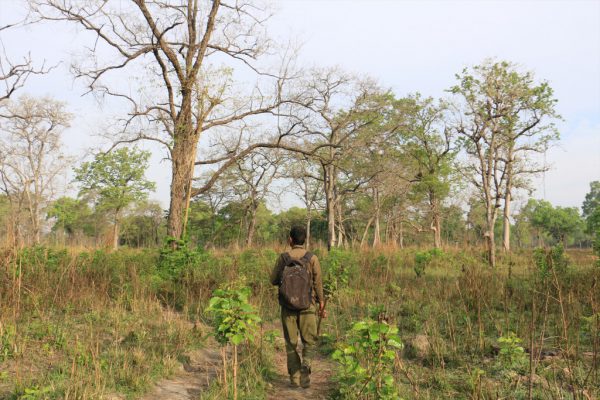 My guide told me all kinds of heart beating encounters with various animals as we walked, about an hour to reach the so called "Tiger point". He explained to me that the tigers are very shy and they would notice our presence before we notice theirs so it was not easy to catch sight of them.
Most of the attacks only happened when you got too close to a tiger with cubs or when they were eating. The rhinos were considered to be more dangerous because they had very poor eyesight and as soon as they sensed something (us), they would start charging towards it. Same with the elephants.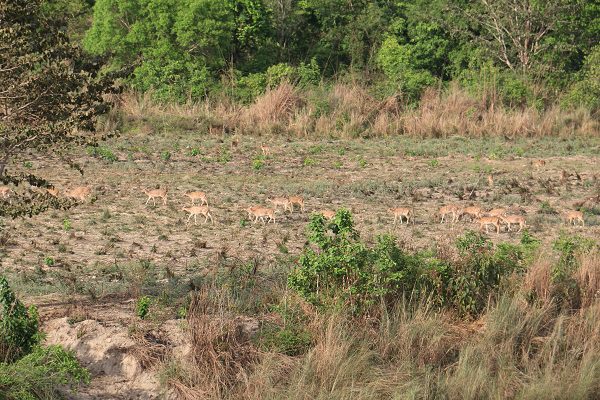 On the way as we passed by a herd of deer, we spotted a fresh footprint of a rhino and a tiger. "You are very lucky" he said. I smiled but inside I was so scared that I wished we don't see anything. It was the first time I had ever entered nature so unprotected. It was clear that I was in the bottom of the food chain, even below deer who could run really fast.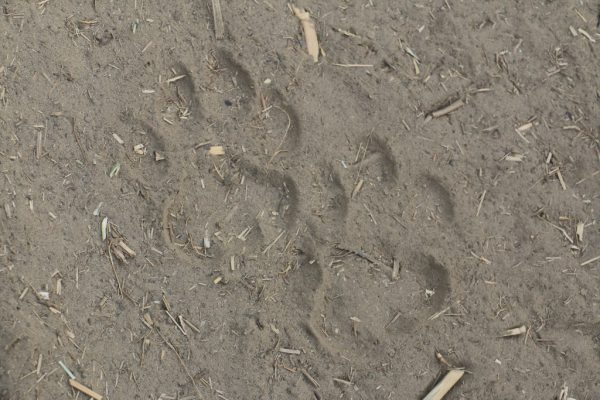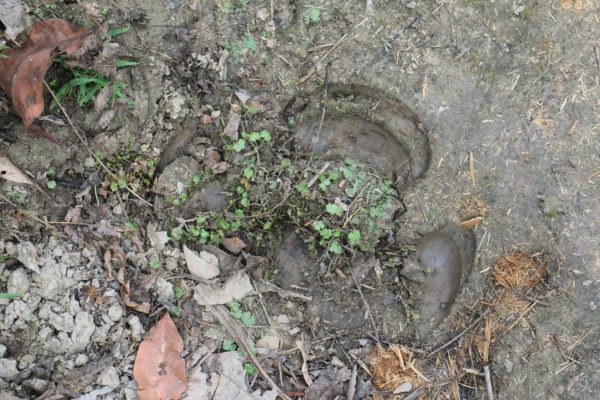 We arrived to a point in a jungle overlooking the river below. "The best chances to see big game is when they come to drink water in the morning. They often come from the other side of the river" he said.
As I stood up with the binoculars, he quickly made me sit down saying "you must not be seen. If they see you, they don't come. Or sometimes they cross the river to chase you." I sat behind the bushes and killed my breath. Thank god, we only saw one big deer that morning.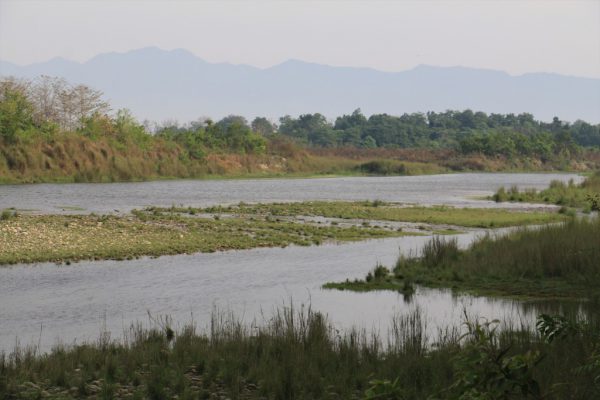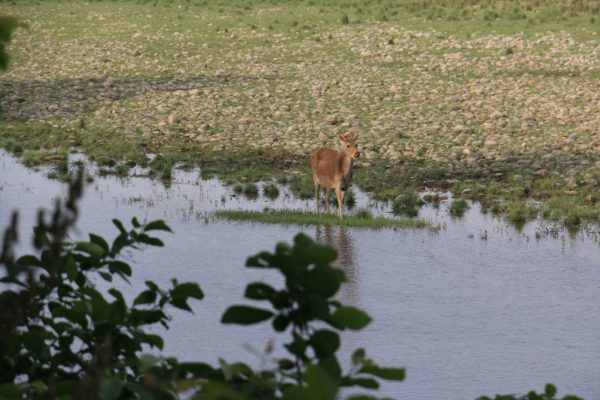 And then when we walked back to the road we came from, we found a fresh footprint of a tiger. "Less than 5 minutes" my guide assumed. Goosebumps rose. I had really entered their world, into their territory.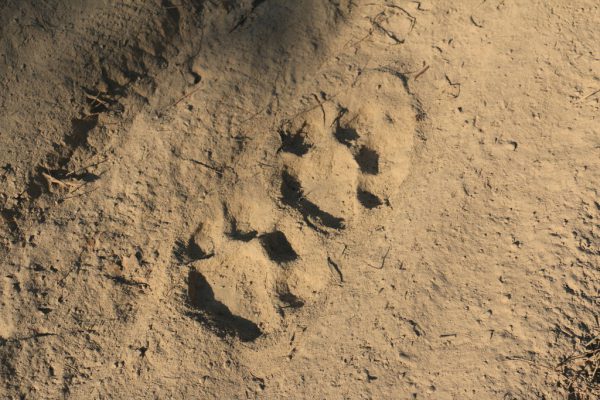 Topping onto that, we kept spotting more tiger signs like the grass and dirt he just rolled on. With this situation not everyone could make fun of me for wishing to see nothing after paying quite some money for it.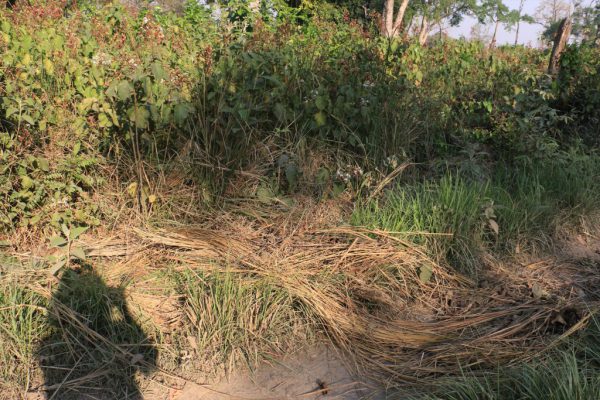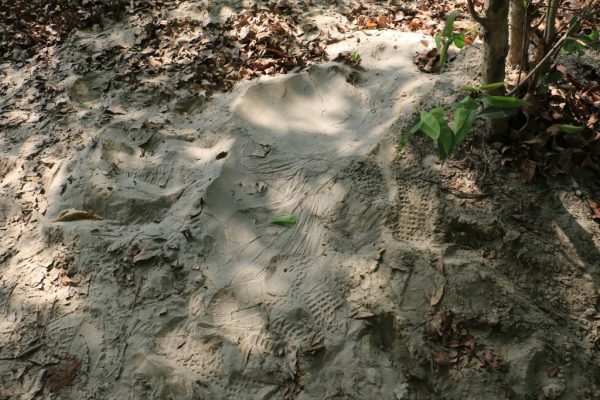 Our last spot of the first day was the "Tiger spot" which had the best chances to see tigers until a week ago, a European couple brought a baby who cried for hours and hours and no tigers appeared ever since. We sat at this lookout spot in the forest, separated with the deep jungle on the other side by a shallow river with a grassy area in the middle.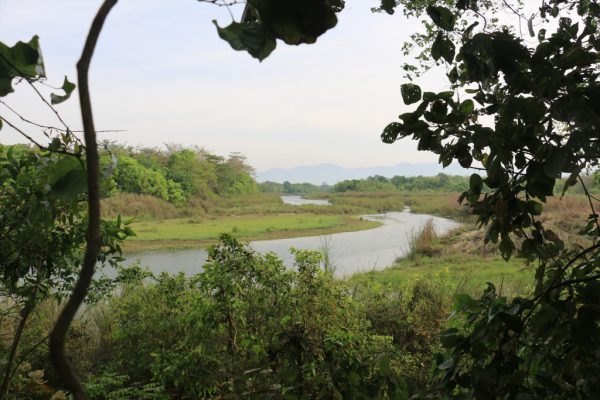 We sat there the whole afternoon and caught a view of 2 rhinos in a distance taking a bath side by side. It was beautiful.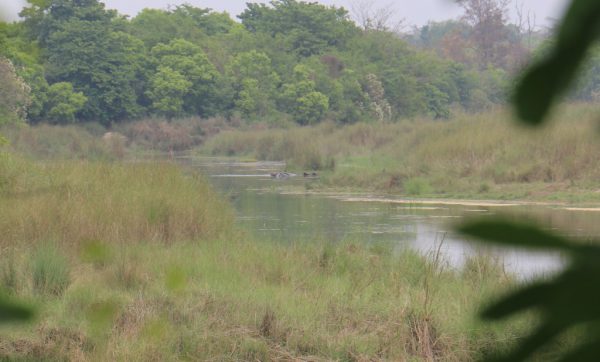 From the forest behind us, we heard a growling of a tiger which almost ripped my nerves but it never appeared in front of us. "That is a female tiger calling for a male. It is spring, the mating season now." That day we didn't see anymore and left the park by sunset.
Day 2
The next day started off nicely with a view of a rhino on the other side of a river. The huge creature was peacefully eating grass. My guide told me that it was not recommended to cross over to the other side of the river because the jungle was deep and enormous and there happened many accidents before.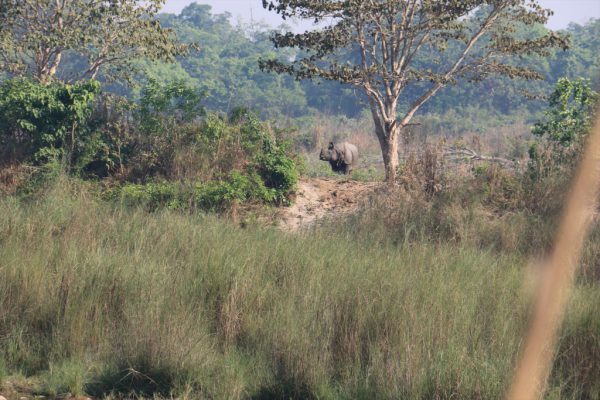 Then we did the same as the first day, covering 3 different spots and spent the afternoon at the tiger point with 15-20 other tourists with their respective guides. Given the size of the park, I felt this was a relatively small number of tourists. It was not easy to reach this park and also the tourism in Nepal seemed to drop down after the earthquake last year. That day we saw a rhino and an elephant that attempted to enter the village that evening.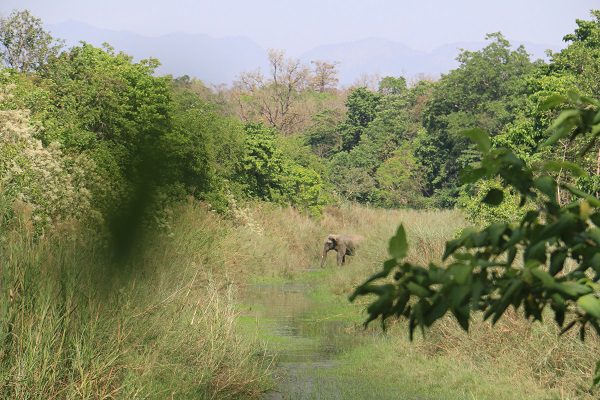 I still didn't see any tigers. We also walked to remote areas just to increase the chance but I had no luck.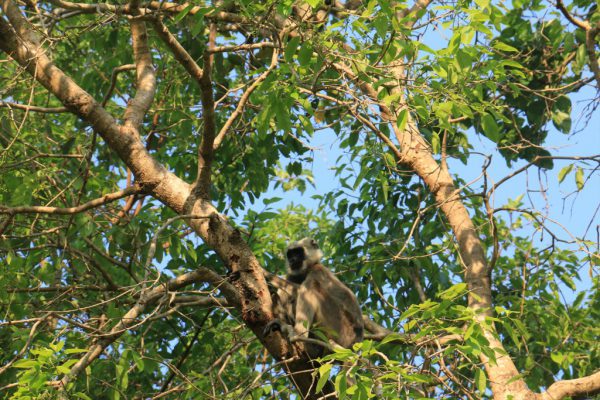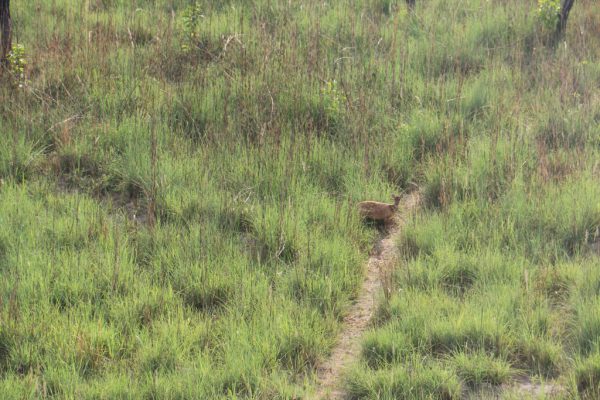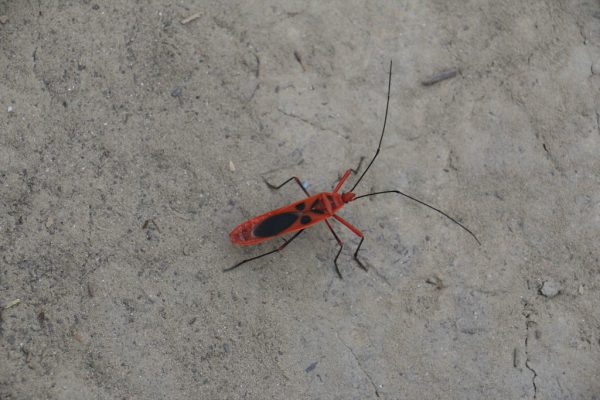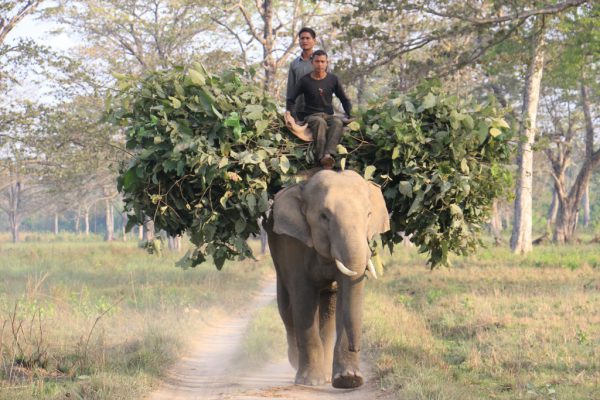 Day 3
On my third day aka my last day, we repeated the routine walking under the burning sun. In the end, we settled at the tiger spot again and spent half a day waiting just to get a glimpse of that deadly tiger. The day was close to end.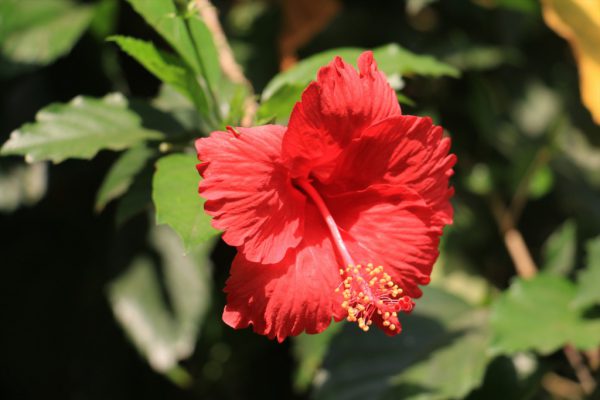 "Let's wait for 30 minutes more and if not, we will go somewhere else" the guide said. When that time was up and just when I insisted him to leave this place, we heard a high cry of a peacock somewhere in the jungle.
The look on my guide's face quickly changed to a serious one. "That is a warning call to the other animals. Probably the peacock saw the tiger from the tree. Let's wait, he might appear soon."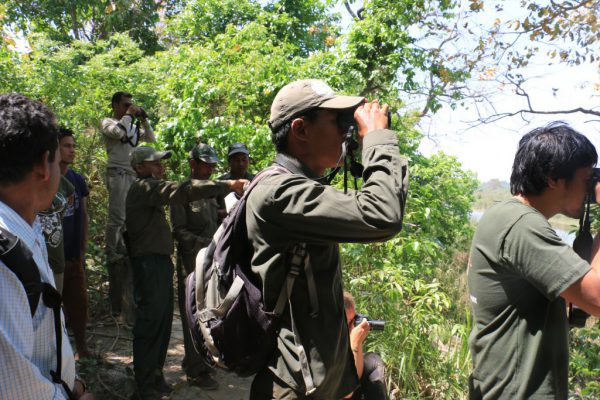 The atmosphere in the tiger spot changed. The other tourists who were reading to kill time closed their books and looked up. Then about 10 minutes later, we heard a big movement and a hysteric cry of a deer from inside the jungle.
"Tiger!!" someone shouted in a low voice.
Suddenly everyone started to run away so I panicked and ran as fast as I could with my short feet. "Oh my god, oh my god!" It was obvious that with my poor running skills that even my disabled classmate beat me in junior high school, I was the first prey for the tiger.
Then they all stopped and my guide told me, still trying to catch breath, that that was exactly the sound of a tiger hunting prey.
…I don't know why we had to run then.
The next moment my sight followed the finger tip of the guide and further away in the river, so far that I could barely see with my own eyes, the tiger appeared. He walked out from the tall grass and slowly entered the water, his gaze fixed at us and never looked away. Between his jaws was the deer that he just caught in the jungle. As he went in to the river, the water around him turned red from the blood of the prey.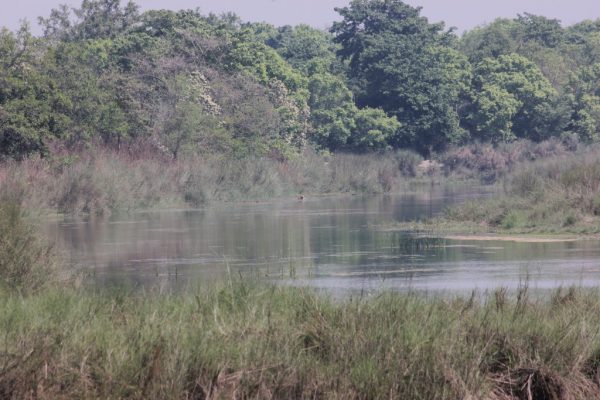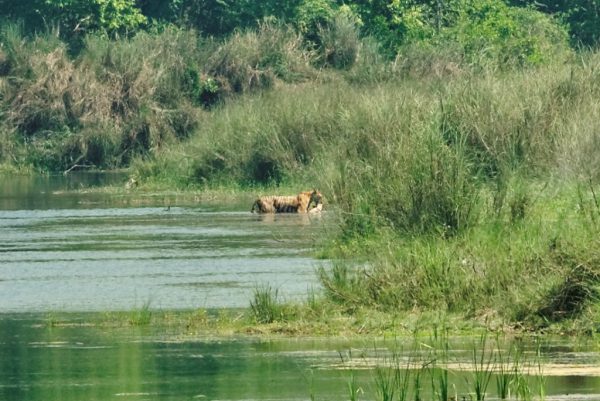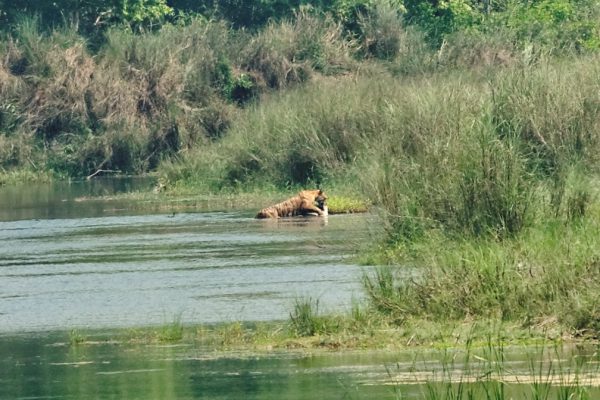 "I have been working at this park for more than 20 years, but this is the third time that I saw such a scene" my guide said looking into the binoculars. For more than half an hour, the tiger stayed in the water looking at us. His gaze were so strong and intimidating even though he was very far away from us. Then after that he slowly crossed to the other side and disappeared into the jungle.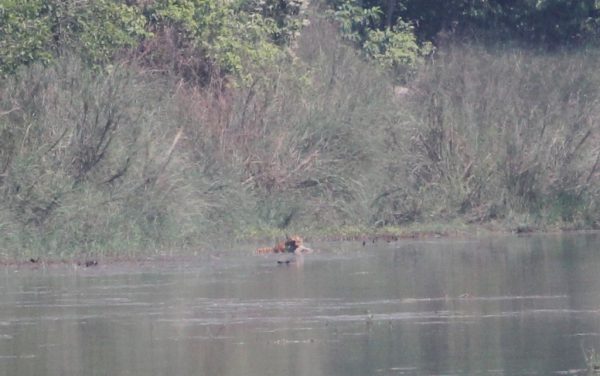 When I told what I saw to the staff at my camp they were also surprised and said they have lived here all their life but had never encountered such a moment. Indeed it was a special moment in my life. After all that gruesome journey Nepal finally blessed my arrival.