My flight took 4hrs arriving in Yerevan in the early morning next day. I have agreed to share a ride to the city with the Italian photographer, but because I had to wait a long time to get an arrival visa, they were gone by the time I walked into the arrival gate. To save taxi money, I waited at the airport until sunrise and took the first marshrutka; a public mini bus to the city.
On the way I saw a garbage pickup truck. Unlike most countries, they didn't set a collection point so the car stopped by every 10meters and a guy scooped the loose trash from the ground with a metal shovel and threw it above his head on to the truck. I imagined how much muscle pain he had suffered from. I had no idea how many days it'll take for him to collect all the garbage in the city. No machines or efficiency, the country was still developing.
The hostel that I had an eye for was located in the centre of the city. It was 8USD with breakfast and the washing machine was free of charge. Ever since Russia, I had only traveled to expensive countries so I felt relieved to finally come to an affordable country. However the Iranian dorm mate was not a pleasant guy to share the room with. He asked me to issue a visa for him to work in Japan. When I told him that I was traveling alone, he perceived me as a poor lonely girl and offered to marry him and live in his mansion in Iran. After I politely declined his offer, he got very angry. I was worried that he'll chase me all day so I ran away pretending to go to the bank.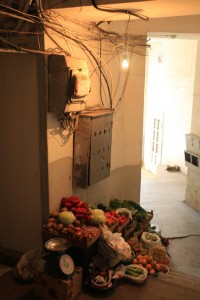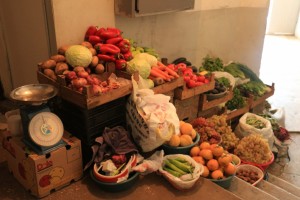 Before starting my sightseeing, I wanted to check out one place so I took the marshrutka again. Marshrutka meant mini bus in Russian. There were still many Russian words used in this former soviet country. I was able to make use of a few Russian words that I had learnt last month. After getting off at the main train station, I followed the directions that I found on the internet. I was quickly able to find "Lida's house", a guesthouse ran by an old Armenian grandmother. Well, not really a guesthouse but more like beds set up in a room of a normal home. There wasn't even a shower so guests needed to walk to the public shower. Still it attracted many Japanese backpackers because of the friendly personality of Lida and the incredibly cheap price; 3USD. Few years ago a Japanese traveler asked for a night's lodging to Lida, which is a very common way of traveling in the Caucasus region and ever since word spread that there was a good cheap accommodation in Yerevan.
The reason why I didn't come here at the first place was because I'm not a big fan of "Japanese hostels". Most of the Japanese travelers don't speak good enough English so they tended to mingle with each other and stay at hostels where the majority of the guests were Japanese. To me it made no sense to hang out with the people from the same country when traveling and I honestly felt more pressure to be with them. Our culture and language didn't allow us to talk freely at the first meeting or to be equal with people who were older. Sometimes knowing each other's previous jobs and education interrupted the relationship. This was the reason why I didn't like to stay at such hostels.
However I was always curious when I read about Lida's house on other traveler's blogs and decided to come have a look. When I entered the gate, a kind looking grandmother who I knew from the pictures welcomed me in. She spoke no English at all but understood me and showed me the rooms. There were 3 single beds in a cozy small room and the warm atmosphere reminded me of my real grandmother's home.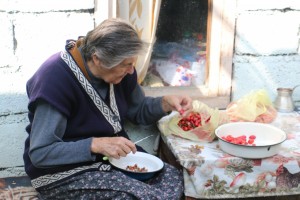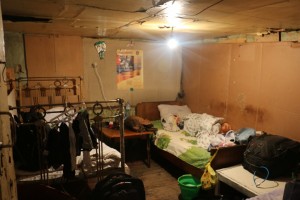 Soon an Asian guy appeared in front of me. From his dark skin tone I thought he was from Thailand, but he was a Japanese person. Yoshi was 22 years old, newly graduated from a college in Osaka this spring and came to Georgia to study the Georgian language. He was in Armenia to renew his Georgian visa. By mistake, when he entered Armenia the customs officer issued him an expensive 3 months visa instead of the normal 1 month tourist visa. So Yoshi decided to make the most out of this expensive visa by staying in Armenia even though he finished everything he needed to do here.
He was a unique guy with many episodes. One time he accidentally set Lida's cat free and felt so guilty that he couldn't stay at her home anymore and went to sleep in the forest for a few days. Sometimes he also slept on the subway like a homeless. He loved hip-hop and his specialty was to rap in 10 different languages. He was always proud that he got 400,000 views on his youtube performance. His dream was to become a famous rapper, reside in Georgia and marry a beautiful Georgian wife. He gave me lots of good information about cheap good things to eat in Yerevan. I quickly became a fan of this unusual Japanese person and decided to move to Lida's house tomorrow.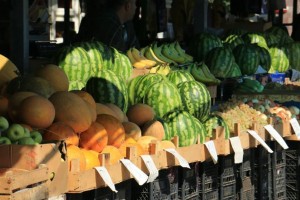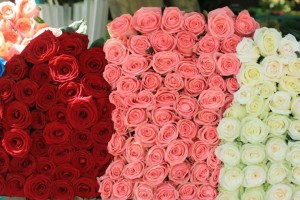 When Yoshi was showing me around the local vegetable market, I met Yohei, another Japanese traveler staying at Lida's house. Yohei was a university student in Tokyo who was traveling around the world during his last semester until graduation. He just arrived from Iran a few days ago so we exchanged some information. I left them at the market and visited the Republic Square by myself.
The Republic Square was a square surrounded by pink stone made buildings, a typical Armenian architecture style. In the middle was a big fountain where people sat around and enjoyed the sun. I loved this magnificent square very much. It was communist style but also uniquely Armenian. The colors of the stones and style were like no other. I later learned that the whole city of Yerevan was completely designed under one architect named Tumanyan. There was unity in the aesthetics of the city.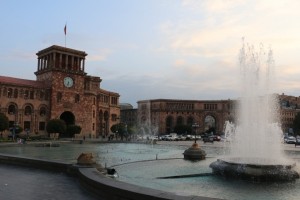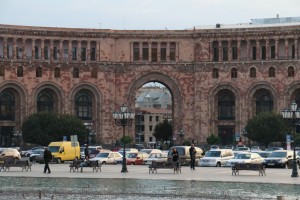 For late lunch I went to eat at a Japanese restaurant where Yoshi advised me to go. A Japanese person had just opened the restaurant a few months ago and I ordered sanuki udon, a warm noodle soup. The freshly homemade noodles were delicious. According to the owner of the restaurant, it was very difficult to get ingredients for Japanese food here.
Armenia has a very bad relationship with the neighboring countries. The border with Turkey has been tightly closed due to Turkey's Armenian genocide in 1915, where more than 1 million Armenians were killed. Azerbaijan border was also strictly shut because of the territorial disputes over Nagorno-Karabakh. Iran has been sanctioned by America and although relationship between Georgia isn't so bad ingredients like fish wasn't available from either countries. Therefore instead of sushi, he served dishes like noodles and rice which were available in Armenia.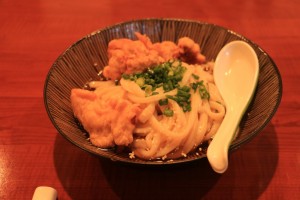 When I returned to my hostel at night, I met Vaidas, a Lithuanian backpacker. He was crossing the Eurasian continent by land mostly on hitch-hiking. He only had 20 USD with him which knocked my socks off. Apparently he had 500 USD in bit coins and until he exchanged that to cash in Iran, he was living on a thinner than a shoestring budget. I would not have the courage to travel like him. Of course money isn't everything but money sure gave me confidence. Also I would be too shy to ask for rides, food and shelter every day.
He passionately told me how smiling and nice words brought him a long distance. When he explained how many times he was saved by locals and how many offers he has received because of smiling and kind words, I was impressed and confused at the same time. For me it didn't seem appropriate to live on the kindness of people who were poorer than us. We are poor backpackers because we chose to be that way. If we return home we can quickly make a few thousand dollars every month. If someone offered me food or shelter I would gladly take it but I wouldn't be able to go up to them and ask for something from the little money they had. For them of course they'll give us the best they can because of general hospitality and maybe for the pride of the country. For us it's something we receive so often that we forget after a while. I knew that these experiences made the travelers less sensitive and thankful as they went on.
The next day Vaidas planned to pickup his Iranian visa at the embassy so I decided to go with him. In the dorm we also became friends with a Russian girl named Marina and another friendly Iranian guy. We enjoyed talking in pajamas until late night. Next morning I took a walk with Vaidas and Marina to the cascade, a giant staircase on a hill which was also an outdoor museum.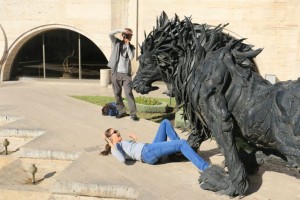 From the stairs we were able to see the dynamic view of Mt. Ararat, a mountain which was the Armenian people's cornerstone of the soul and mind. However the mountain itself was located in Turkey and Armenians could only look at it from a distance. I wondered how they felt that the mountain they worship and even used as the stamp design on the passport is located in a country that they despise the most and wasn't visit able.
Later that week when I went to eat lunch at a food court where I made friends with an Armenian girl. She asked me which countries I've visited so far. I won't forget the deep sadness in her eyes when I said I've visited Turkey last year and I loved it. "It's a very bad country. They tried to destroy the Armenian race." She recommended me to visit the Armenian genocide museum but it was closed due to the preparation of the 100 year anniversary exhibition in next year, 2015.
On the very top of the cascade led to another part of the city where the Iranian embassy was located.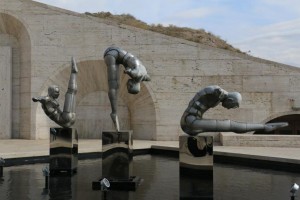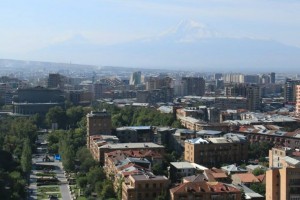 We walked about 30 mins to get there. The women had to wear a scarf inside. I didn't know that it was possible to get an Iranian visa in Yerevan, so I asked many questions to the officer. Vaidas looked very happy to receive his passport with a nice visa on it.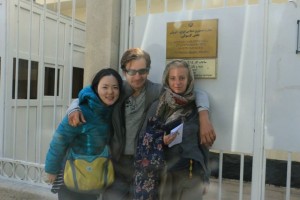 When I told him that I was moving hostels he said he wanted to come too so we took the subway together. The subway was an old fashioned soviet one with high speed escalators. Lida's house was fully packed with Japanese backpackers who arrived last night so Lida let us sleep in her living room.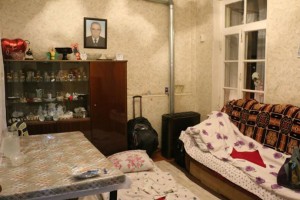 Some travelers were cooking a big sturgeon in the kitchen so we paid some money and joined their meal. At the end we were at the dinner table with 9 other Japanese travelers. It felt like home to hear and speak in Japanese but felt sorry for Vaidas. The sturgeon soup was very tasty.
Lida always smiled peacefully and often said "arigato (thank you)", the only Japanese word she knew. I felt so cozy in her living room and slept very comfortably in a fluffy blanket. Vaidas left the next morning saying that he'll camp in a park tonight to save some money.
When I was eating some grapes for breakfast, Yoshi offered me his bread. Yoshi loved bread and his daily routine included going to the bakery inside a big super market just before closing to buy half priced bread and pastry. One of his joys were to feed other people with his favorite bread and surprise them by how little price he got it for. When I saw Yoshi with a proud big smile holding 1kg of bread in a plastic bag which he bought for less than 2USD, it reminded me of my mother. He made me feel home more than ever.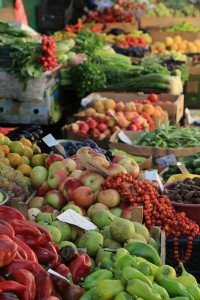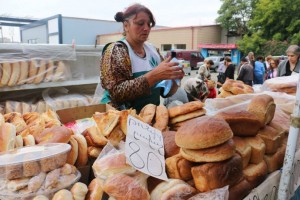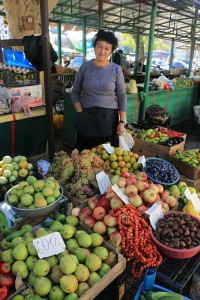 That day I walked around the city by myself, got a haircut and met up with Vaidas for dinner. He was waiting for his travel buddy to arrive in Yerevan so we waited for him at the hostel we checked out yesterday. We became friends with a couple who were staying there. They were Zaza and Yana, respectively from Georgia and the Czech Republic. While having dinner together Zaza offered me a ride with him to Georgia when he goes home the day after tomorrow. I was planning to visit Georgia and had to return to Armenia anyway in order to get to Iran so I gratefully received this offer. We exchanged emails and I went back to sleep in Lida's house.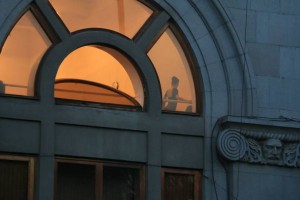 The next day I went to see another hostel. Vaidas was staying there 1 week ago and kept telling me how amazing it was. For the price of less than 6 USD, he got to stay in a mansion with an indoor pool and a sauna. I liked Lida's house, but was a bit inconvenient sometimes because of no shower and one toilet for 13 people. I decided to move hostels for just 1 night. Usually I don't switch around hostels and like to stay at one place for the whole stay, but I kind of enjoyed moving around this time.
I invited Yusuke, my dorm mate from Lida's hostel. He was the same age as me and traveling around the world for 1 year and a half now. Yusuke had experience earning money on clinical trial in London; basically being a guinea pig for testing new medicine. He made few thousand dollars in few months. I knew that this was a common way of making money for Japanese backpackers but never met anyone who has actually done it. He was the center of attention at Lida's house because everyone wanted to know about his experience. Yoshi called him Mr. Trial and eagerly asked questions. After settling down in the new hostel with Yusuke, we went to see the flea market and enjoyed smoking shisha pipes.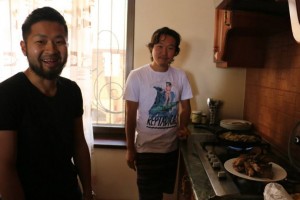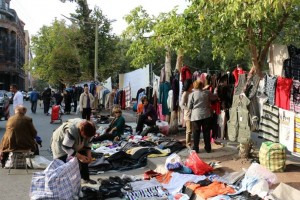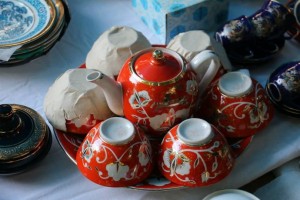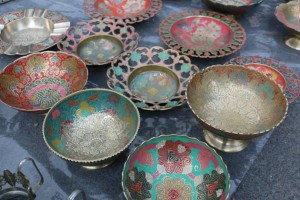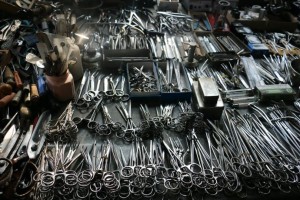 The next day I cooked farewell lunch with Yusuke, Yoshi and Yohei and went to meet up with Zaza for our road trip to Georgia. Yoshi decided to perform his rap in Georgian in front of Zaza and Yana. The expression on their faces was hilarious.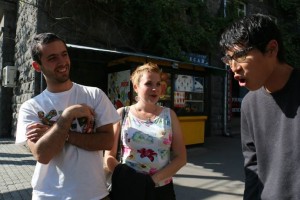 I thought that Yana was going to Georgia with us too, but she instead flew back to Moscow where she worked. Plus they weren't couples. I said goodbye to my Japanese gang and drove out of the city of Yerevan.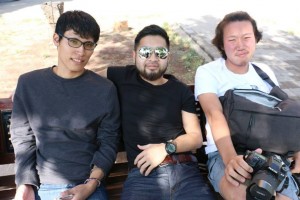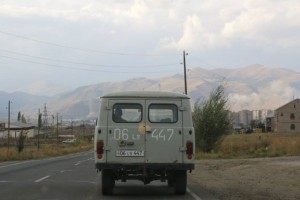 Zaza stopped the car at Lake Sevan and we went for a walk.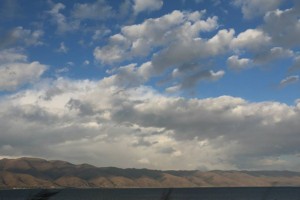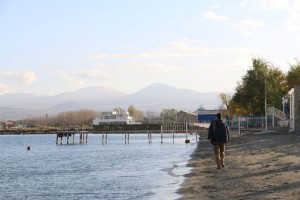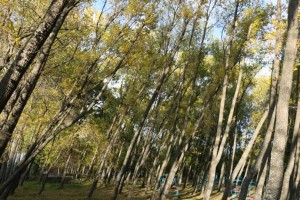 Although he hesitated, I treated him for dinner on a lakeside restaurant. I was always cooking my own food in Yerevan so it was my first time to taste real Armenian food. We had shawrma, a minced chicken grilled on a skewer with some baked potatos. It was incredibly delicious. I wasn't expecting much as the restaurant looked like an empty garage and the plates and tables looked like it wasn't used for a long time. I regretted not eating out in Yerevan.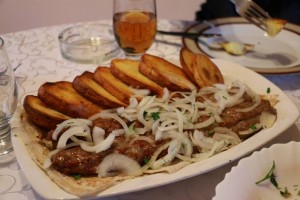 We drove the mountain road for many hours and by the time we reached Zaza's home in Tbilisi it was far past midnight.