On the 5th day we visited a sacred mountain. People believed that there was a god who lived there so it was prohibited to climb it or even say the name of the mountain near it. A river flowed along the mountain and I saw many horses gathering in a circle. They moved their heads and tails looking like they were having a discussion. I've only seen such scenery in fantasy games so this looked far more sacred than the mountain.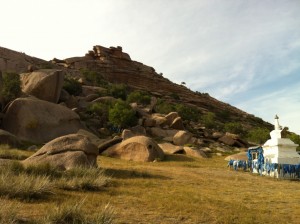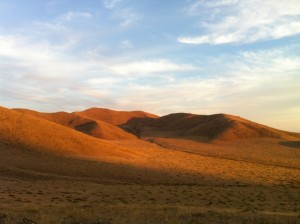 Our jeep arrived at a nomadic family's home in the afternoon. In Mongolia, they always offered guests milk from goats, camels, and horses as a sign of welcome. Airag, the horse milk was the strongest among all. Despite having such a strong smell already, the Mongolians mixed the fresh milk with old fermented milk that they kept in a bucket which they stirred up with a wooden stick for many hours every day. They poured it in a big bowl and handed it to me with an innocent smile.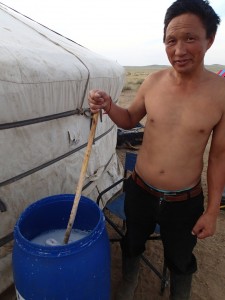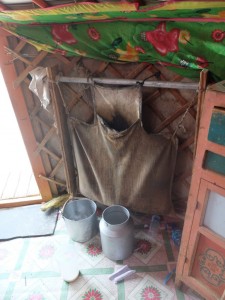 The weight of it surprised my hands and when I put my nose close to it, it smelt like rotten cheese. The warm air from the fresh milk surrounded my face. I already felt like throwing up, but this was their hospitality. I gathered all my courage to take a sip. The milk had a strong smell of ammonia and it was hard to swallow. "Why would a milk smell like ammonia?!" I was totally confused but instead said "It has a rich taste". The Japanese were professional when it came to saying compliments. The family smiled and Dogi said that the guys should drink it all to show respect. Girls didn't have to. Still I felt like it was polite to finish it all so I drank it until the very last sip. The guys gave me thumbs up. I was proud of myself.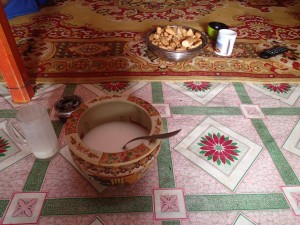 I heard from Dogi that the Nomadic Mongolians don't eat any solid food during the winter and instead just drank this. It was rich in nutrition and very filling. Indeed it was very filling because after this bowl I didn't feel so hungry for 4 days. At the same time I suffered from diarrhea for 1week. The guys had the same and we felt united after this experience. We helped the family milk the cow and set up a tent to sleep in the grassland.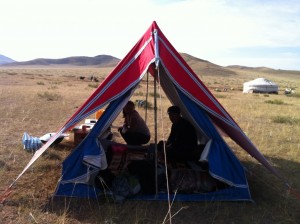 On the 6th day we went to Terelj National Park, a touristic place in the mountains to do horseback riding. There were many tourists who came in big busses; we even met a Japanese group. I felt sad that the days we spent camping by the rivers and grasslands were over. Horseback riding was fun. The landscape from the horse was slow and peaceful. The warm sun and gentle breeze enhanced the beauty of the country. We strolled around on the horse for a few hours and chatted in the tent playing traditional games until midnight.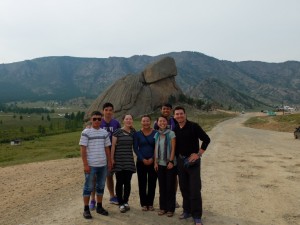 I went to sleep thinking how fortunate I was to have good tour mates. The condition of the tour was harsh. We had to be packed in the back of the car for less or more than 10hrs every day under the scorching heat. We were sweating just by sitting in the car. The hard narrow beds didn't give us the best sleep ever but we had to wake up early every morning. Greasy sheep meat every meal. I was quite stressed at one point and caused a bad atmosphere arguing with Alex. Despite of this, everyone accepted me again and cared for me by saying funny jokes. I couldn't ask for better company.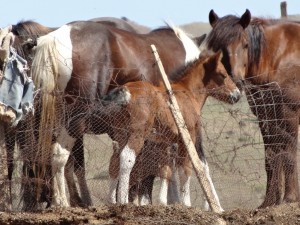 On the last day, we went for another horseback riding in the morning and visited the Chinggis Khaan statue in the afternoon. Chinggis Khaan statue was an iron statue that was made a few years ago and it was the second biggest statue after the Christ statue in Corcovado, Brazil. We left after taking some photos inside and in a few hours the jeep arrived to our hostel in Ulan Bator.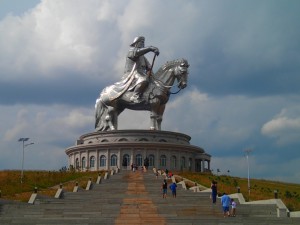 I said thanks to our wonderful guide Dogi and the great driver Ganzorig. He was young but a professional driver. He drove in off-road everyday for 10hrs without much rest. He worked the most but ate a little. When we got a flat tire in the middle of the burning desert he fixed everything in great efficiency. At night he would always sleep on the car with a thin blanket and his favorite drink was horse milk. He was strong and modest, a real man of the grasslands. During the tour he had started to like me very much and when I heard from Alex that he was crying after I said goodbye to him, I felt so sorry. Compared to him I was not innocence and felt that I wasn't worth his tears.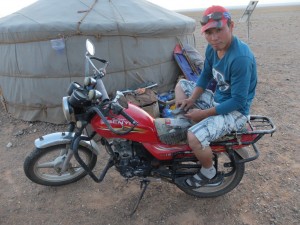 When we got back to the hostel everything went back to usual. The rooms were warm and the beds were soft. We still couldn't get hot water but we had plenty of tap water. The tour mates, who I spent an intense time with, were busy socializing on the internet and stopped talking to each other. We didn't need to find underground water in the deserts or hide behind the car to take a pee because there was nothing to hide behind. No more hole in the ground toilets, no more sheep meat and no more tea smelling like the food we last ate because of the lack of water to wash the cups thoroughly. But all of these inconveniences made our trip an unforgettable one. The great nature of Mongolia made us forget about the small things.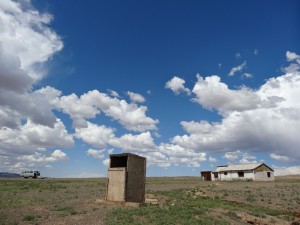 I promised myself that if I ever have children I will take them to Mongolia to learn the life styles of the Nomadic families who knew what happiness was. I loved the Mongolian people. Even the ones in the city were very kind, welcoming and always willing to help me with a shy smile.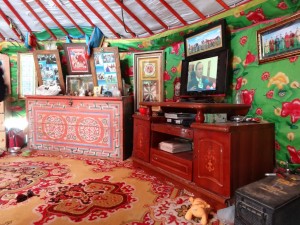 I rested for 1 day in Ulan Bator and said goodbye to the other tour mates heading in different directions. Yuki was going to China and Tibet, Alex was planning to take a horse over the Ural Mountains to see Kazafstan and Brian and Desmond were going back home in HK. I dragged my suitcase and went to Ulan Bator station. The platform was packed with people. I found my train, the Trans Siberian to Russia.