From Mersin I took a bus to Cappadocia, a region in Central Anatolia famous for its fairy chimneys and cave dwellings where early Christians lived. Luckily I was able to find a workaway at a cave hotel so I didn't have to afford the expensive accommodation by myself. Tolun, the hotel owner wrote on his workaway profile that he was an active member of Green Peace and that he is the official interpreter of their activities in Turkey so I was a little afraid that he is an environmental fanatic and maybe go through the whole Japanese whaling discussion. However, when Tolun picked me up at the bus stop, I was surprised by how gentle and soft he was. He even learnt Japanese by himself to communicate with tourists, so we often talked to each other in Japanese. It was strange because I haven't spoken my language for over 2 months.
His cave hotel was located in Uchisar, a small town not as crowded as Goreme where most tourists stayed. Alyona, a Russian girl who also started workaway a week earlier welcomed me into the room. Our job was to translate Tolun's website into the respective languages. Tolun gave me a brief tour of the lodge, which were just 3 rooms at this point.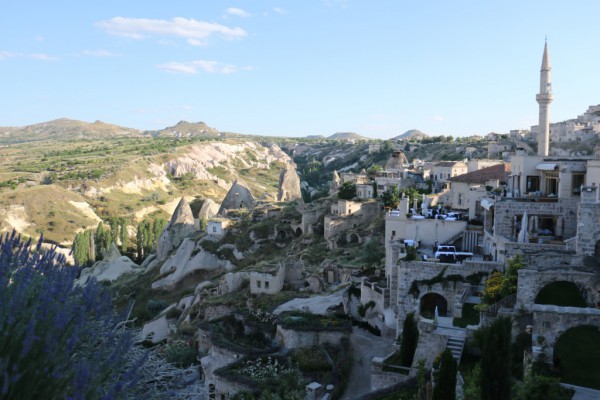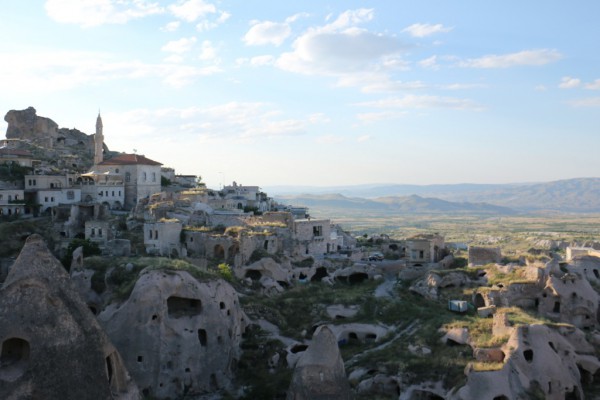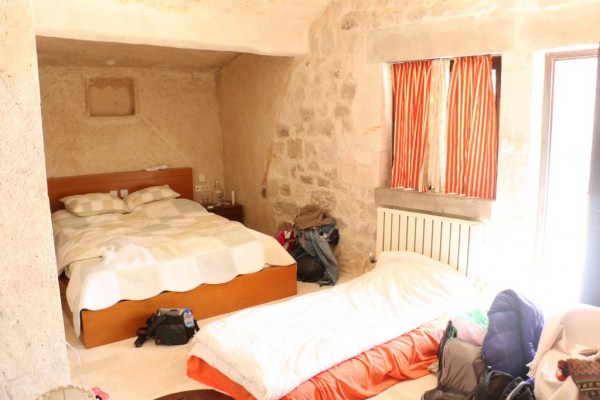 He explained to me how to use the shower and where to hang the towels and so. Then he opened a wooden door next to the toilet. I thought it was a linen storage until he unlocked 2 keys and suddenly a tunnel opened in front of us. "This is part of the underground tunnel network which dates back to the early Christian times. It goes on for 3 km if you take the right and 5.5km if you take the left." And he said it as if he was explaining to me how to use a coffee machine. I had the feeling that this place is going to be far beyond my expectations.
When I woke up the next morning, Alyona was already gone from her bed and had already started to prepare breakfast for us. While she was cooking, Tolun introduced me to his only one employee Suleyman, a young student who was helping with the construction job during the summer holidays. Despite the fact that it has already started a few weeks ago when I was working at Cem's farm in Bodrum, Suleyman was the first person I met who was practicing Ramadan. After a while especially during hitchhiking I realized that in the Cappadocia region, people took Ramadan seriously because many drivers didn't accept my fruits and candies saying it was forbidden.
Alyona and I sat at the breakfast table and ate gozleme, a Turkish style crepe with a lot of goat cheese filling. I learned that she was not originally from Russia but from Ukraine like most of my friends who claim to be Russian. She moved to Moscow when she was young and was working as a freelance translator for the past 3 years. Her dream was to become a space doctor and was anticipating to get accepted in a German university this year to study medicine. She was a hard working girl who not only did her translation jobs while traveling but also studied German and listened to online lectures about science and medicine. Space doctor seemed no joke. We were the same age both 28 years old. Because she had a good sense of humor and was also very sweet, I quickly warmed up to her and was soon doing everything together.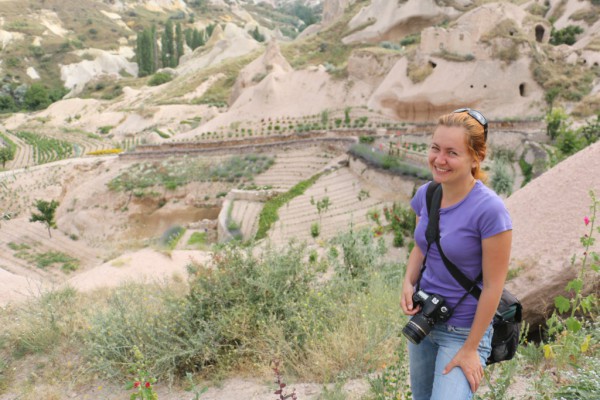 We both loved cooking and was a good team sharing tasks and helping each other. It was special for me to have such a good relationship with a female traveler. There weren't so many of us on the road at the first place, and if there were, they were usually with a boyfriend. Even if they were single I usually didn't get along with them for some reason.
The translation which Tolun assigned to me was quite a large amount so for the first 2 days I didn't go outside and focused all day on work. Alyona also worked in the same room as me and the thought of both people doing the same task somehow encouraged me to work harder. Her presence was a good stimulation for me. Even though sometimes I felt that this translation work was way more demanding and time consuming then normal workaway like cleaning, I enjoyed it. Alyona wasn't complaining either until I discovered that she was actually translating a different website with a smaller volume (!)
After 2 days of intense working, Alyona took me to walk around the village. Just 5 mins away from the hotel was a place called "small castle" with lots of cave dwellings and pigeon holes which people used to keep pigeons to collect their feces as fertilizer. I was completely captivated with these ancient homes still remaining the same and the beautiful landscape of Cappadocia. No wonder why the area attracted so many Japanese tourists for a long time. It really is extraordinary.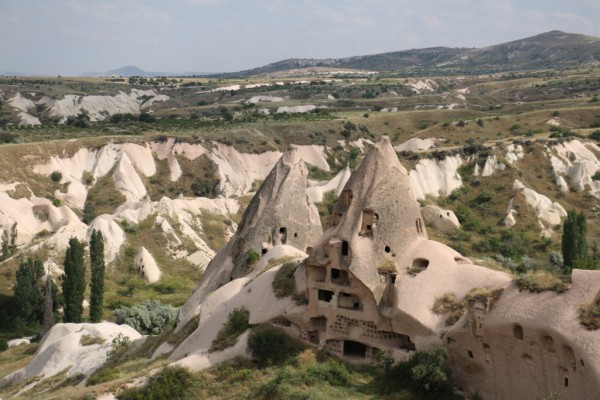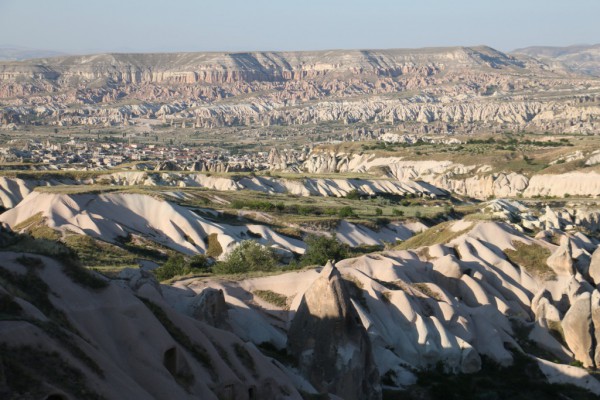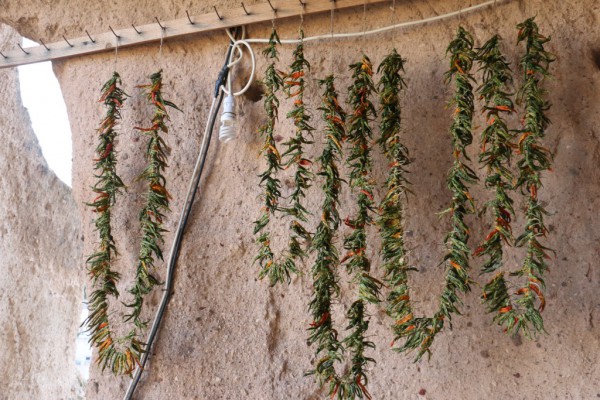 The next day we both took a break from work and went off for hiking. We hiked Pigeon's valley which connected our village Uchisar and Goreme. The trail was poorly maintained despite registered as a world heritage site. All the area is made from volcanic ash so it was very slippery with powder and you couldn't really hold onto any rocks; it quickly fell apart. Alyona carefully supported me as if I was her grandmother.
The trail was surprisingly rich in flora. There were beautiful flowers and fruit trees blooming everywhere. Apples, apricots, plums, mulberries, figs and olives. We made small snack stops each time we saw a fruit tree and was never hungry throughout the long hike. We saw many gardens in the valley. Farmers planted all sorts of vegetables and just let it in the hands of nature to grow. I never saw farmers working in these gardens but everything grew well and big without any water. The land was extremely rich with volcanic ashes which helped hold the water for a long time and the use of pigeon dung from the ancient times helped enrich the soil.
The next day we also ditched work and hitchhiked to another town to start a trail from there. First, we had a Krudish driver who drove insane. He was completely driving in the opposite lane so we were so relived to get off their car. Next we were picked up by a guy who owned a restaurant and hotel in Mustafapasa, a small village where we planned to start our hike from. His hotel was a historical building which used to belong to a wealthy Greek family in the past. He and his family invited us in and gave us a little tour of the building. The place was old and beautiful. After the tour he gave us tea and even offered to come again to eat lunch another day. On the wall of the restaurant, we saw many pictures of Turkish celebrities who visited and even photos of the American TV host, Martha Stewart who came to film her show in their kitchen.
It was Alyona's first time hitchhiking but she quickly became very fond of this new activity. "It's incredible. It's so different than just taking a bus. Transportation itself becomes an adventure." I was happy to have a hitchhiking partner too. I was pretty reluctant to do it by myself these days.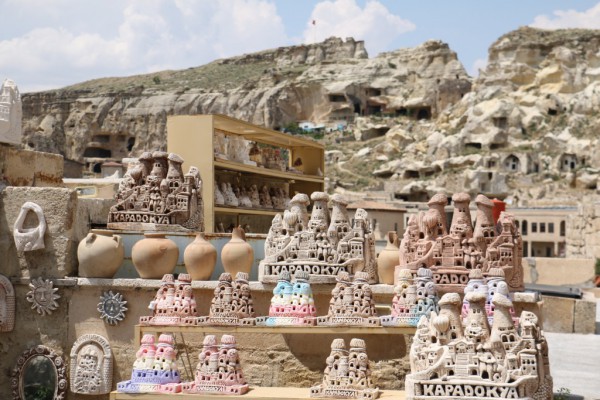 We hitched a third car to the entrance of Gomeda valley, a trail recommended by Tolun which was not touristic at all. This was so far one of the best hikes that I ever took in my life. It was a 3-4hr trail that continued to surprise us with its magnificent scenery throughout the whole hike. Everything was beyond words. I couldn't believe what I was seeing. It was so surreal, the landscape gave me shivers. And there was not even a single shadow of another tourist the whole time.
After finishing the trail we walked an extra 4km to catch a minibus from the small village of Ortahisar. When we finally arrived to Ortahisar, the sun was setting into the horizon making everything pink. It was an incredible day. We got a free ride from a fruit seller's truck and slept like a dog that night.
We continued to go hiking every single day to many different valleys. We saw countless caves, pigeon holes and cave monasteries. One day we met a very nice Russian couple Mimi and Max from St. Petersberg and hiked together in Goreme. This day we wanted to hike the Rose Valley, the most well-known valley where the rocks are pink, but due to false information from a local cafe owner who insisted us to take another route, we weren't able to reach our destination. He was telling us that it will take too long and that "it is impossible" for us to walk such a distance if we went with our original plan.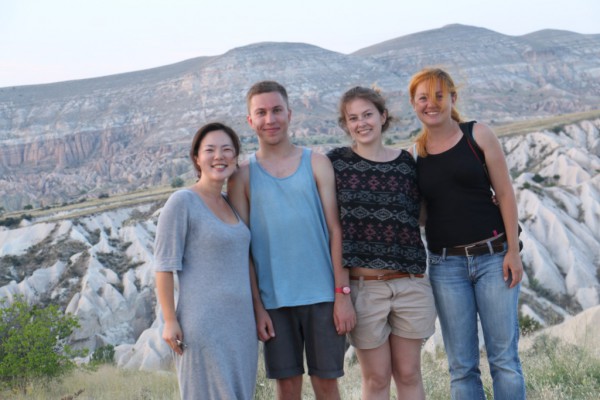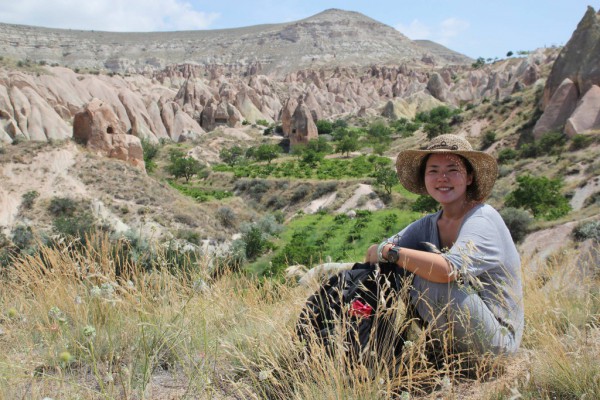 I find that not only in Turkey but in Muslim countries people REALLY can't walk. For me walking for 2-3hrs is nothing, 5-6hrs is satisfying, especially if we came for a god damn hike! However for Turkish people walking was nothing but torture. They went anywhere with their car, not even a bicycle. Another day when I was hiking alone in a remote valley, a tourist van pulled up and the Turkish guide asked me if I wasn't scared of snakes. So when I encounter these pussy people who try to stop hikers according to their "Turkish standards" it really pisses me off. It was so stupid for us that we believed the local guy in Rose Valley. I cursed him through the entire trail.
When Alyona was exhausted I even went alone to hike but there was nothing that topped our experience in Gomeda valley.
When I hitchhiked alone, I had a bad driver who started to stare at my whole body after asking me if I was married or not and tried to touch my cheek. It was very creepy, so I got off his car in the middle of the road. After that, I always told the drivers that I was married and that my family was waiting for me at the destination.
The cave monasteries were amazing. Sadly most of them were in poor condition but the remaining colors of fresco paintings were still vivid. It's incredible how religion motivates people to carve a stone into a building.
An exciting event for me was to purchase a kilim in Cappadocia. I have bought my first one in Shiraz, Iran last year and ever since I was captivated by this art of weaving. Even though Tolun told me that Cappadocia isn't the best place to buy these things because it's mostly a tourist trap, I walked around all shops in Uchisar to find the only shop with a reasonable price. For example I bought these two kilims for 300TL (=100USD). The initial price was 700TL so I went twice to the shop and negotiated and talked for hours. In Turkey I find that it's most important to be liked by the merchants personally in order to get a good price. The fact that I learned a lot of Turkish words helped. I usually don't buy any souvenirs but these were irresistible.
On the 10th day of my stay, Alyona and I left Tolun's house to Kayseri in order to catch a train to Erzurum, the biggest city in east Turkey. I really wished I could stay for a few more nights in Cappadocia, but Tolun seemed like he wanted to get some customers instead of hosting us two. It was a bit strange because at first he did say that we can stay longer, but his actions went against his words and finally said that we couldn't. This was not the first time he did something like this. His behavior somehow reminded me of people from my own country who didn't always speak his mind. People like him were very odd in Turkey. Anyway, I shouldn't complain so much. If he didn't host me, there was no way I could afford staying (at a cave hotel!) in Cappadocia by myself.
Getting to Kayseri was quite a hassle. We booked a bus to Kayseri departing from the main bus station in Cappadocia, but the shuttle bus that connected Tolun's village and the main bus station was running late. In the end, we had to wait 1hr for absolutely nothing. The tiny shuttle bus was completely packed and even worse, we got stuck in a traffic jam. An angry passenger was shouting and yelling to the driver and another fight started on the bus. It seems like Turkish people couldn't hide their emotions. When we did get on the bus to Kayseri, a woman with a baby claimed Alyona's seat. Alyona showed her ticket to the lady, but she just said "fake ticket" and took her seat. We later understood that the bus company did some over-booking, but the attitude of the Turkish woman was rude and irritating.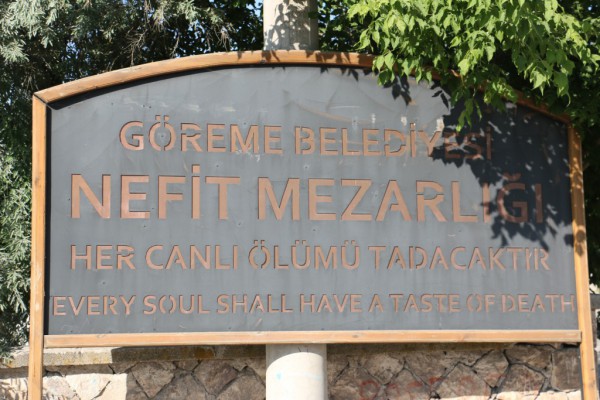 From Kayseri, we took the bus company's shuttle bus to the train station. While on this bus, I looked at Alyona and told her how much I appreciate her company and how great it is to not have to go through this hassle by myself. She nodded too and told me that she was thinking the same. I rarely travel together with other people for a long time, but really enjoyed it when the company was pleasant. When I look back at the great moments of traveling, it's usually shared with other friends. It was still early for our train so we went into a fast food shop. While sipping some tasteless soup together close to midnight, I felt like the long train ride together was a slumber party and got excited as a little child. My excitement lasted until when I got on the train and discovered that it was not a sleeping car.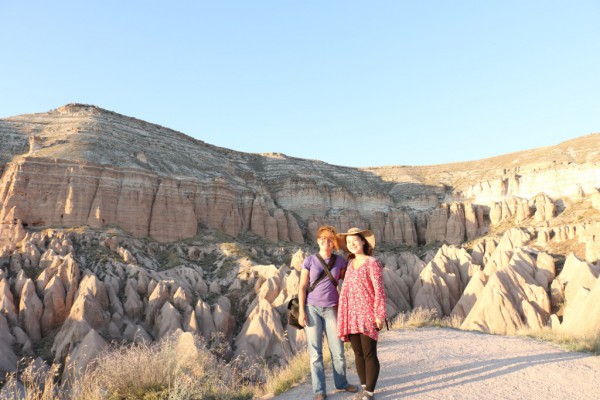 *A Little Favor*Please help my blog gain publicity by clicking on the "Japan Travel Blog Ranking" banner on the left if you're a PC user or at the very bottom if you're browsing through a smartphone. By clicking once a day from one device, you'll help me raise my ranking which will attract more people and businesses to view my blog. Clicking is completed once you are sent to another website with a list of blogs. Thank you very much!