Traveling from India to Nepal crossing through the Banbassa /Mahendranagar border was a really tough one.
From Rishkesh it took 5 buses, 1 night train, 2 rickshaws and 1 motor taxi in a total of 24 hours to arrive in Bardia National Park in West Nepal.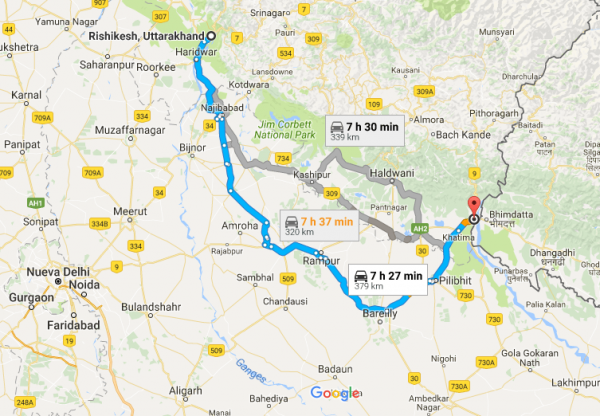 This maybe not the most entertaining detail but for those who wish to follow this route in the future, I will write down my experience here.
From Rishkesh, one must head to Haldwani. The best option is to take a night train from Haridwar (which is only 1hr from Rishkesh on bus) to Haldwani, but because all seats were sold out, I decided to hop on the night train from Moradabad.
・Rishkesh to Moradabad
From the local market, hop on a bus that goes to straight to Moradabad. It's super packed and the drive is very thrilling, if not killing. (3hrs)
・Moradabad to Haldwani
I took the "14120 Dehradun – Kathgodam Express" that departed Moradabad after  3:30am and arrived in Haldwani before 7am in the morning. This runs everyday but is often sold out.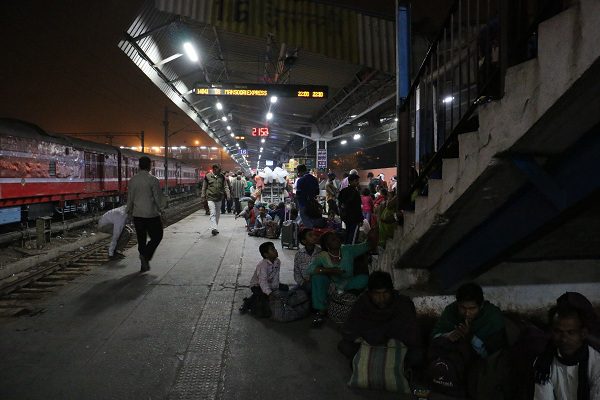 There were many hours to kill in Moradabad. I ate my last Indian curry and sipped my last chai in a family restaurant that made me super nostalgic. The intense 4 months flashed back to me and made me so reluctant to leave! Then I went to the toilet and thought ok, maybe not.
・ From Haldwani to Banbassa
From Haldwani, I walked out of the station, caught a tuktuk and went to the bus stop. From there you could catch a medium size bus to Banbassa. (3 hrs) Banbassa is not the last stop and not many people get off there so remind the conductor many times.
The ride is beautiful. From the window I saw farmers harvesting golden crop that looked like a picture. The bus also crossed by a nice dam lake called Nanak Sagar.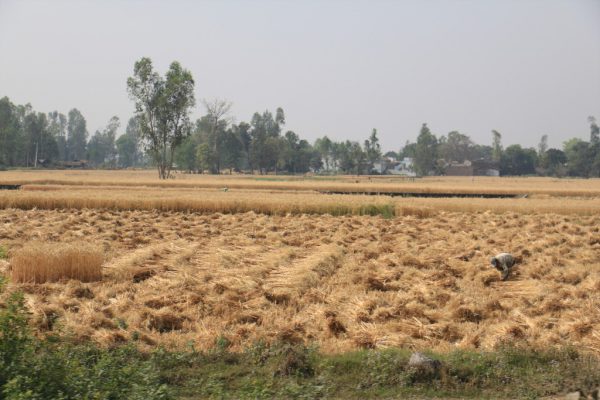 ・Banbassa to the border
Take a motor taxi or a horse carriage to the Nepali border. It should cost around 100rs. Make clear that they take you to the Nepali customs and not only until the Indian customs. Prepare to wait 10-15 mins at the Indian customs for exit stamp.
In Banbassa, horse carriages are still common. At one point my motor taxi crossed a long bridge where we passed numerous horse carriages. That was a nice scene until I realized that more than 20 people and their bags were pulled by one skinny horse. Probably its cheaper than a bus. I felt sorry for the poor little thing.
・Entering Nepal
The immigration office in Nepal was a small wooden hut where the officers kept track of tourists on a notebook. Quite a difference from the Indian customs where they even had a satellite telephone.

At the Nepali customs, the visa fee was 40USD for a 30 day visa as of April 2016. They only accept USD and the note must be free of tears or stains. Prepare this with exact change in Rishkesh as it is not possible to exchange money anywhere further. Better to prepare extra $5, $10 notes as the visa fee often change without notice.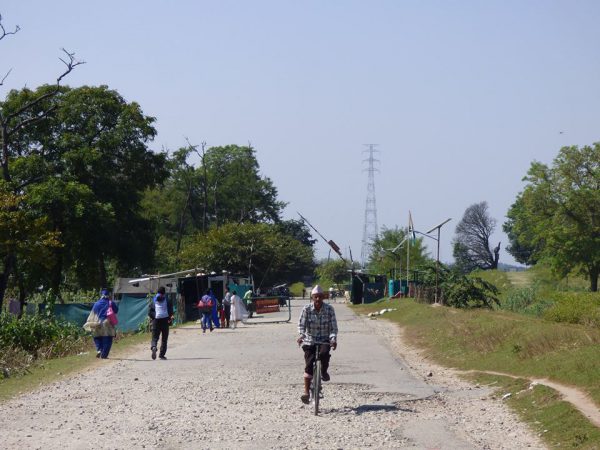 ・From Nepali border to the bus terminal in Mahendranagar
Take an overloaded local bus or rickshaw for 5-10 mins. This area is notorious for the heat in spring and summer so better not to walk.
・Mahendranagar to your destination in Nepal
Most of the tourist destination in Nepal is not very close from this border (ex. Both 16 hours to Kathmandu and Pokhara) and believe it or not, the bus comfort level drops down to half from India to Nepal (beaten up Tata buses with small windows, no AC and broken fans in unbearable heat…)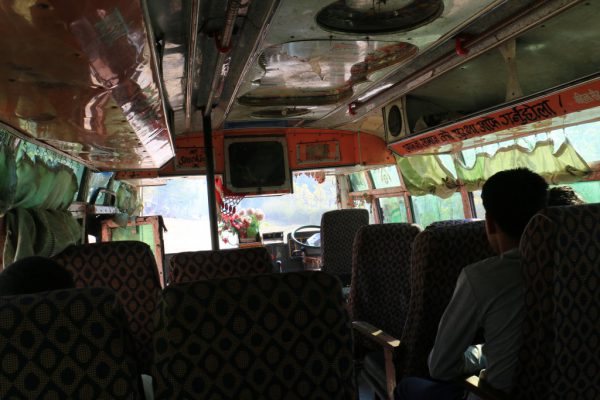 So it's better to rest in Mahendranagar for the night and start very early in the morning the next day. If you think you're too tough for this option, continue your journey on the buses leaving at all hours…like I did (and I really regret it!)
My destination was Bardia National Park. This is the 5th largest nature reserve in Nepal, home to various animals such as elephants, rhinos and many many tigers! Luckily I met a guide at the Nepali customs returning to the park so I followed him.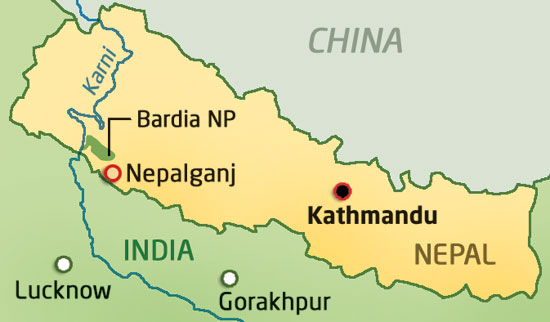 Mahendranagar was deadly hot. I walked to 5 ATMs until I could receive cash. The bus systems in Nepal were really out of order because they were all owned by different individuals. They aggressively fought for customers but in the end none of them had enough passengers to start the journey so they traded us. *shakes head*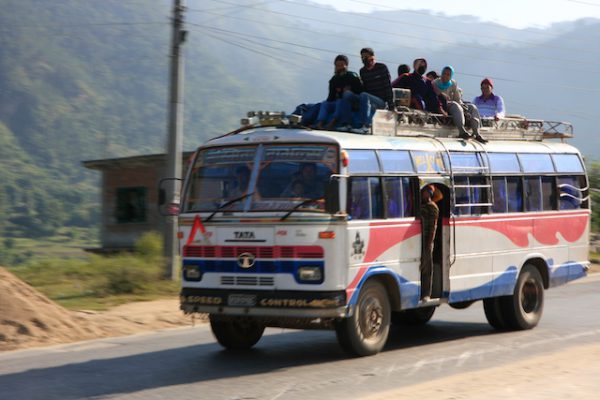 Looking out from the tiny window I noticed that Nepali people had significantly different features from Indians. The women were slim and their faces had more resemblance to East Asians like Tibetan or Chinese minorities. Most men wore traditional hats woven in warm colors.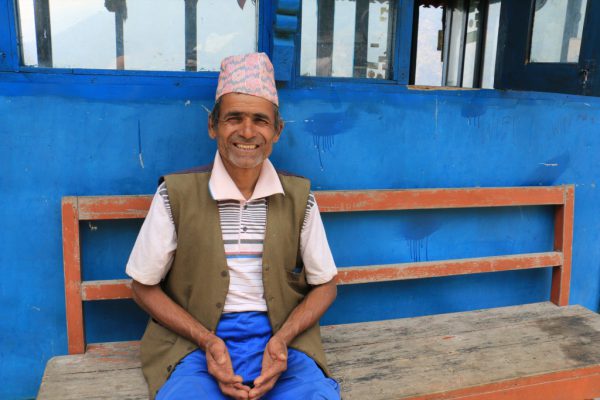 Outside, houses looked more basic than in India. They were made from mud and straw and if not for the occasional satellites or the solar panels, one could easily forget that this was in the 21st century.
However the towns and villages looked quite organized. There wasn't much trash on the roads and I didn't find many unfinished construction like in India.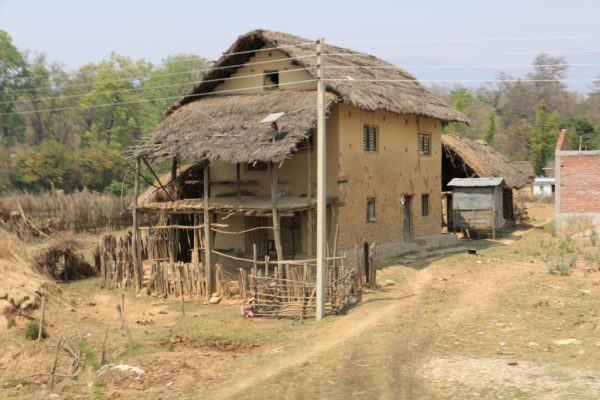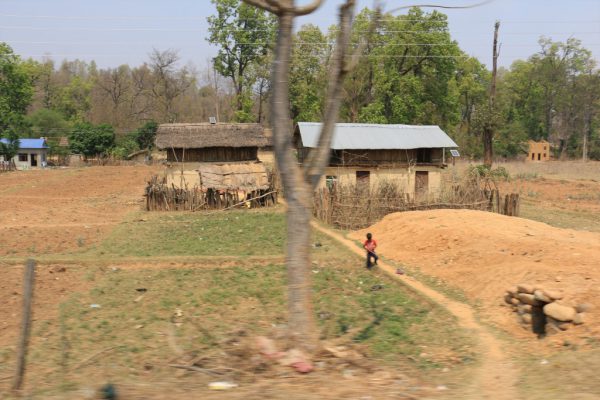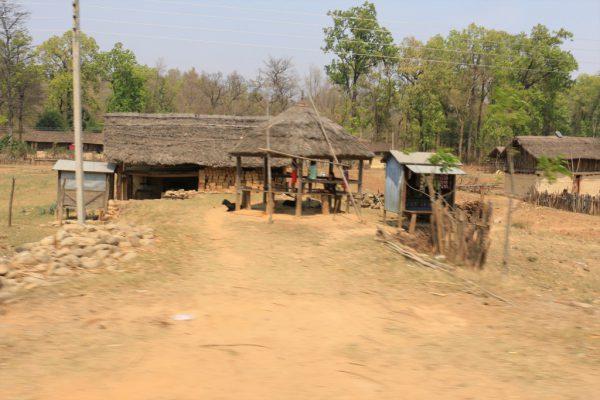 The bus sometimes went back to the way we came from just to find more customers. I was quite furious about this disorder.
Every time the bus slowed down, some vendors jumped on or raced outside to sell various food items in their baskets. Some were young children. For the first time in a long time, I saw some running pigs on the streets.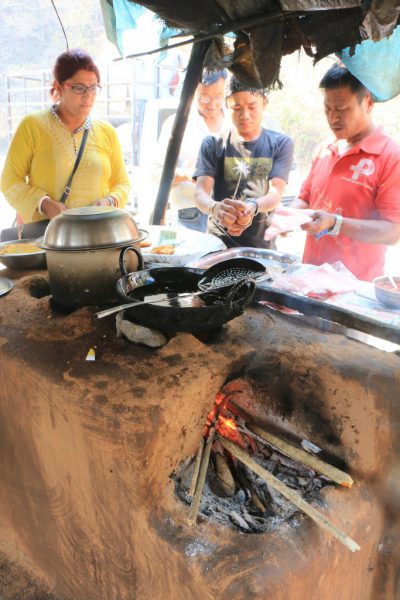 The bus drove on the side of a mountain. It was so hot and dry that small fires were starting here and there. The air was dusty and smoky. We passed by an unfinished hydro dam which maybe one of the reason for this dryness.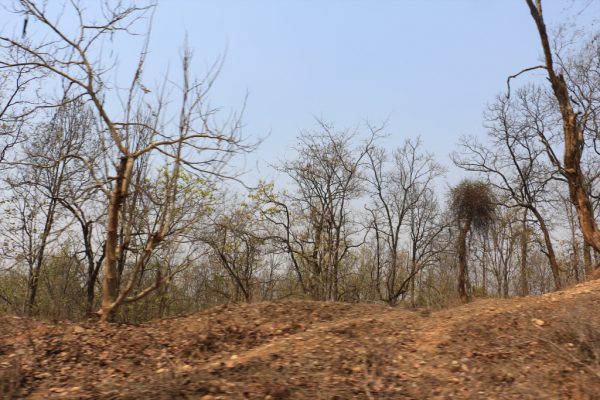 In the middle of nowhere an old blind man entered the bus to beg. He looked so poor and miserable that everyone including myself gave him some change. 5 minutes later another blind man hopped on and did the same.
The safari guide and I got off the bus at the entrance of Bardia National Park after 4 hrs, even though it was scheduled to be 2hrs. Then I took another bus going closer to the actual village. We hopped off at a gate that said "Bardia Tourist Camp" and from there walked 30 mins in the jungle.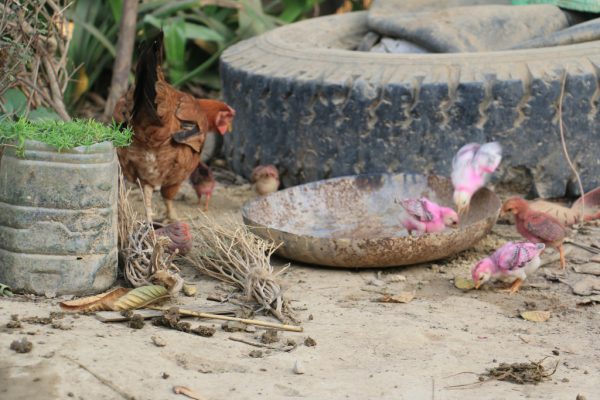 This was a buffer zone to the park which turned into a playground for leopards at night. "People are afraid to pass here after sunset. Last month 2 villagers were attacked here" the guide said. It was already sun down so I tried to walk as fast as possible with my heavy backpacks on my back and on my chest. This is when I absolutely hate backpacking.
By the time I checked into Bardia Adventure Camp and sat down in my private mud hut, I realized 24 hours had passed since I left my ashram in Rishkesh. The exhaustion led me to a flu and I spent the entire next day in bed.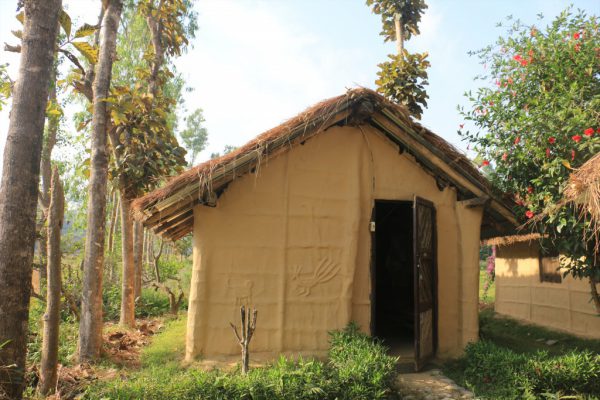 I laugh when I think about myself 8 years ago, when I took my very first night bus in Canada to visit a friend 18 hrs away. I thought it will be the first and last time to travel like that. Now I am 29 and I'm on a night bus/train at least every 2 weeks. Life is unpredictable!