My bus left Kutaisi to Turkey around 10pm. Next to my seat was another nice Georgian lady who invited me to eat khachapuri, a traditional Georgian bread baked with cheese inside so I ate even though I was completely full after dinner with Alyona.
We arrived at the Georgian/Turkish border at 2am. Customs went smoothly. After getting back on the bus, I told the bus attendant my destination twice and went to sleep thinking that she will wake me up; but she didn't. Despite reminding her over and over, she woke me up just before Rize, a city 20km after my stop. She said she made a mistake but didn't apologize. I find that in many countries people didn't apologize even if they were wrong. It may be simply not their culture to do so. I was very angry at her. There were even 2 attendants on this bus. I thought they are seriously retarded.
It was 4am in the morning. Outside was pitch dark and it was heavy raining. As soon as the bus attendants understood that they had already passed my destination, they tried to drop me off in the middle of nowhere on the highway. I asked them to at least drive me to Rize bus terminal but they refused and made me walk there. I couldn't believe it. Metro Bus Company was the biggest bus company in Turkey so I thought they were reliable but their customer service was crap and couldn't do the simplest operation of delivering the passenger to the right destination.
I walked on the pouring side of the highway shivering in cold and anger towards the bus terminal. No one was inside with just some lights on. I didn't want to wake up my couchsurfing host and was planning to spend the early morning at the bus terminal anyway so I put my sleeping bag on the bench, tied my luggage to the bench with a padlock and went to sleep. I woke up at 7am being surprised at myself for actually going to sleep in this poor condition.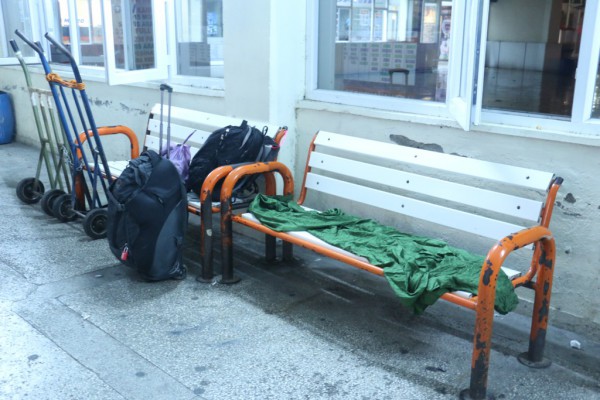 I walked to the most nearby café to have a simple breakfast of toast and some Nescafe. The owner asked me where I came from so we talked a bit in Turkish. He seemed friendly until when I asked him for a bill; he charged me more than 3 times the price of a normal café. His place wasn't even a café. It was just a shabby hut on the side of a road. I couldn't believe he would do that to me after telling him that I traveled in Turkey for almost 2 months.
When I complained he raised the price even more so I got pissed off and put the adequate amount on the table and walked out. Whenever someone tried to rip me off and I was certain that it wasn't the real price, I always paid the amount that I wanted to pay and left the shop. Most of the people didn't chase me because they knew what they were doing. This is one of the best strategies that I developed on the road.
I took a mini bus to Cayeri where I met up with my couchsurfing host, Serkan. He was around the same age as me and worked as an engineer in Baku, Azerbaijan for the past 3 years. He was about to start his master's program in Germany from this autumn. Serkan usually lives in Istanbul with his family but came back to the home village with his mother to help harvest the tea leaves. It was exactly the season for it.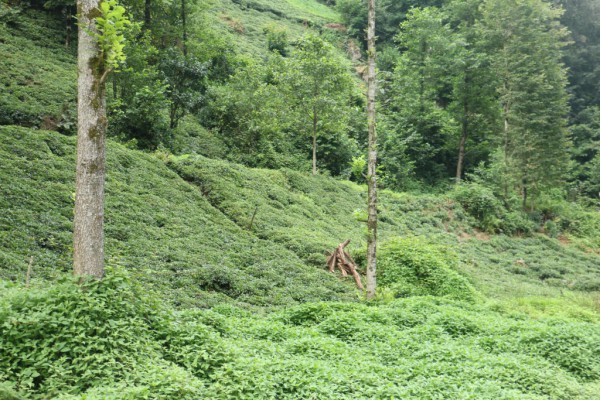 Serkan first took me to his cousin Ramazan's apartment. Ramazan wasn't like a typical Turkish guy; he wasn't friendly at all and didn't talk much. First I was a bit scared of him but gradually became fond of him for his character; he was as wild as a monkey but had a great sense of humor. I was able to understand all of his jokes without knowing the words. This guy was incredible. We all got on Ramazan's car and headed to another town where Serkan picked up 3 other couchsurfers. There I met Rui and Joana from Portugal and Erhan from Istanbul.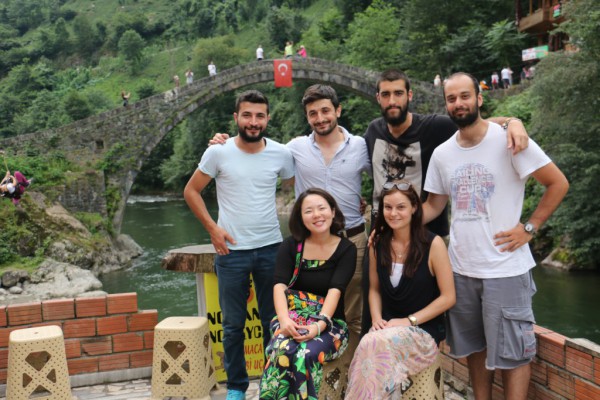 (From Left: Ramazan, Serkan, Rui, Erhan and Joana)
First when I heard that there is one Turkish guy, I immediately thought it was Rui because of his dark beard. In Ankara, where he lived and worked as an EVS (European Voluntary Service) volunteer, people often asked him directions in Turkish and when he told them he wasn't they would switch it to Arabic. We made fun of him saying he was an IS fighter. Rui was a super funny guy who made a lot of jokes and acted very freely wherever he went. He had enormous love for his home town Guimaraes in Portugal and Joana often made fun about it.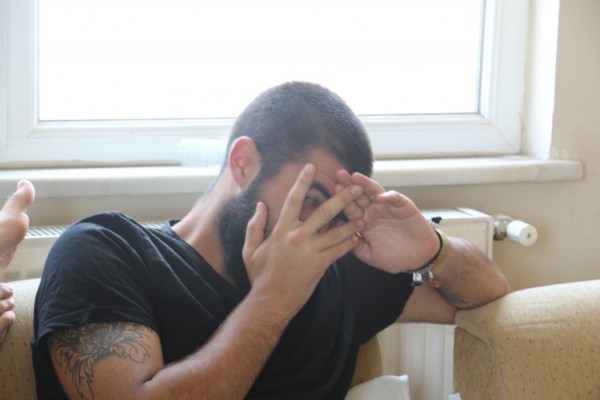 Joana also worked as an EVS volunteer in Mus, a very small city in the far east of Turkey. There she promoted the prevention of breast and skin cancer to the local women who were often ashamed of checking their own body and died from it. Joana told me that she faces quite a few difficulties living in this conservative town where she couldn't even jog on the streets because "it is too weird for women to run in public" and was often bothered by a horny Turkish colleague who believed that European women will sleep with anybody. Still she focused on the brighter aspects and enjoyed her new life in Mus, trying her best to blend in with the locals. She studied the language a lot and was able to communicate with the people very well. I admired her attitude.
Erhan is a university student who also worked as a full time chef. He was an open minded guy who was eager to learn about other cultures. He met Rui and Joana after he did a camping adventure in the mountains and ever since they were traveling and hitchhiking together. Erhan shared me a crazy story of hitchhiking where he met a drunken driver who offered him a joint as big as snickers bar. Later the driver had a fight with some of his friends using knives and Erhan had to escape from his car while they were sleeping.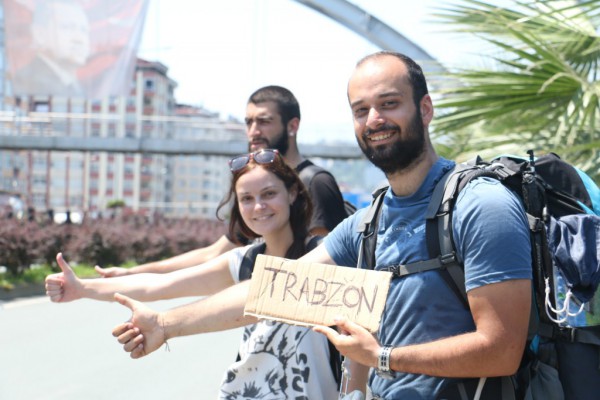 Serkan and Ramazan took us to Ayder, a mountain resort town famous for its forests and waterfalls. In this town I saw numerous numbers of tourists from Saudi Arabia. Women were completely covered in niqab only exposing the eyes. I can imagine that the Black Sea region attracted them with its cool weather that you couldn't get anywhere else in Turkey let alone in their home country. Some men were accompanying more than 2 women with them. I wonder if the wives ever feel jealous about each other.
Serkan complained about many Saudi Arabians buying properties in this area. The Black Sea was a relatively poor region with not so many industries. Many villagers sold their house in the mountains for a price that was nothing for the Saudis. "I want to bring more tourism here so that villagers can keep their home and have a better life" Serkan said.
In Ayder I tried white river rafting for the first time in my life. We did a 5km course which was exciting with many big rocks and strong currents. We also jumped in the ice cold water many times which caused me terrible diarrhea afterwards. It was one of the most exciting things that I have done. I promised myself to participate in these kinds of activities more often.
White water rafting was popular among the Saudi families too. The mothers participated with their full gear on which looked very funny. They later surprised us on the pickup van back shouting "Allah Akbar (God is great!)" all together trying to describe their excitement after the big adventure.
In the changing room I saw the Saudi mom's faces and was kind of shocked because they were completely ordinary people without their niqabs. Of course I didn't expect them to be monsters or anything but I felt so sorry and bad for them being wrapped up in black baggy clothes and taken away many freedoms. They were very sweet to me and smiled a lot which I wouldn't have noticed if they had their niqab on.
Ayder was full of tea fields. I could see farmers harvesting tea when I was rafting. They had a very cute carriage device that let them send a bag full of tea leaves to the foot of the mountain.
I promised to meet Joana, Rui and Erhan the next day and went to Serkan's home village in the mountains where his mother prepared a fantastic homemade dinner for me. His mom was one of the sweetest moms I've ever met. We communicated in Turkish and she laughed a lot about my travels and mishaps. After dinner she roasted some hazelnuts from the garden. When she learned that I wasn't able to crack it with my teeth like the others, she cracked it with her teeth and fed it to me like a mother raccoon. Serkan and Ramazan laughed their ass off. I loved her.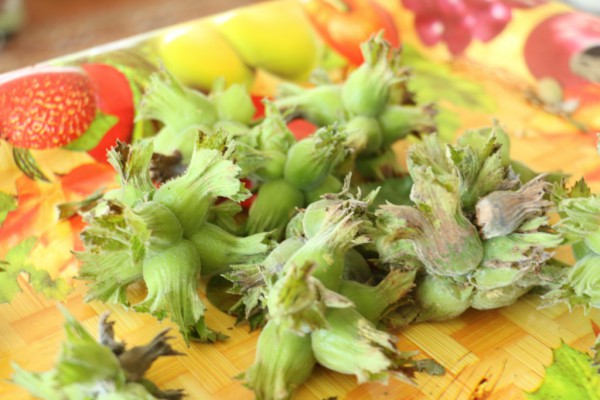 The next morning Serkan took me to visit Ramazan's parent's home. It was a traditional big house made with unique wooden architecture original to this region. His mother and father welcomed me warmly as well as his many small siblings. Ramazan was engaged to a girl and was planning to marry her after a few weeks. He "kidnapped"her in a traditional way without asking her father's approval, so her father who lived in a remote city got very mad at Ramazan asking all his neighbors to assassinate him. "But you know, it's not so easy to kill a person so he is still alive." Serkan laughed cheerfully.
Serkan needed to pickup other couchsurfers so we cut our visit short and said farewell in Rize. I ate breakfast with Erhan, Rui and Joana and afterwards headed to Trabzon. Trabzon is one of the biggest cities on the Black Sea famous for its Sumela monastery which stands on a cliff. We tried to find a couchsurfing host until midnight but we had no luck with such a big group. That night we heard a very big explosion sound close to the bar where we were drinking beer. "What was that?" I asked. A local guy explained to me that they found some suspicious item on the street so the police decided to blow it up intentionally using real dynamite. "Welcome to Turkey."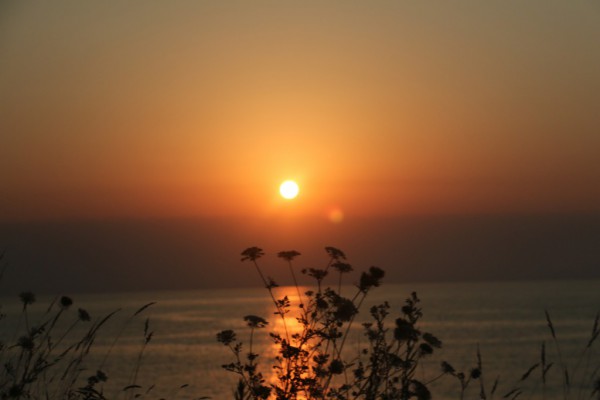 The next day we visited Sumela monastery where we met other friends of Rui and Joana. They were all EVS volunteers from various EU countries.
We met them again in the evening where Cemre, the generous couchsurfing host in Trabzon accepted to host 12 surfers at his home. As you can imagine it was a crazy night. No one hardly went to sleep and drank and made a party until the morning.
Rasta was a 19 year old guy from Slovakia volunteering in Ankara with Rui and enjoyed traveling to various places in Turkey during his holidays. He mainly traveled by hitchhiking and made cool videos about it.
Eleni was a Greek girl also volunteering in Ankara. I asked her about the relationship between Greece and Turkey. It seemed to me that most Greeks hated Turkey but Turkish people liked Greece. She told me that despite of the general bad relationship, there were also many people who had interest and had good feelings about each other.
Klemen was a Slovenian backpacker who started a trip from home to Bali, Indonesia by hitchhiking. He was very experienced and gave me a good hitchhike tip. "When you're accepted for a ride, always shake hands with the driver to see if you can trust him or not." I learned that Klemen later met Alyona in Georgia and was amazed how small the world is. Here is a link to Klemen's blog: http://pavkostrip.blogspot.com.tr/
Andrea was an Italian volunteer who used to work as a lawyer in Rome. He lived in Antalya organizing the receiving of new volunteers in the EVS program. He seemed so happy to see the other volunteers on this trip. He was very good friends with Rui and often made a friendly fight which attracted the attention of the whole restaurant. I could see that they loved each other very much.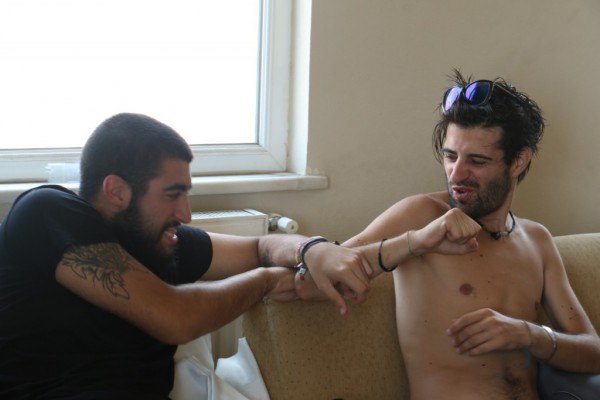 Other than us, there were 3 travelers from Spain who were traveling to Mongolia by car. How amazing that would be. They showed us their half broken car and told me that their goal is to somehow reach Mongolia with it. I wonder if I will see them again in Central Asia.
I was so happy to meet them all and had an amazing night. I appreciated Cemre for hosting us and some party monsters at his flat. There was no way I could have such a great time without the help of couchsurfing. I made the most out of my 1 day stay in Cayeri in a way that I never imagined and took couchsurfing to a whole new level in Trabzon. Viva couchsurfing!!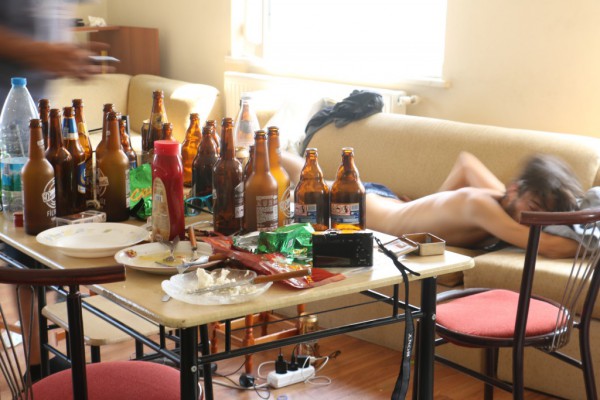 *A Little Favor*Please help my blog gain publicity by clicking on the "Japan Travel Blog Ranking" banner on the left if you're a PC user or at the very bottom if you're browsing through a smartphone. By clicking once a day from one device, you'll help me raise my ranking which will attract more people and businesses to view my blog. Clicking is completed once you are sent to another website with a list of blogs. Thank you very much!