After 2 nights at Can's camp, we promised to see each other again and I left for Antalya. First I tried to hitchhike, but I had no luck. Probably it wasn't the best spot on the road. I took a mini bus that drove along the narrow curvy coasts from Kas to Antalya which took me 4 hrs. As soon as I arrived, I went to reserve an overnight bus ticket to Mersin departing that night. Mersin was a city 10hrs away from Antalya by bus. I was a busy woman. I initially planned to stay overnight there but there were no affordable accommodation in this touristic city and also many friends told me that Antalya is not worth seeing. I was still curious so I spent about 6 hrs in the city visiting the old town and the port.
Nothing really special, as everyone told me. It was crowded with Germans and Russians, as everyone also told me. It was a very touristic city so I got hassled when trying to find something to eat. A guy from the restaurant said hi to me and pointed at a cat and asked me what it was. "A cat", I answered. Then he pointed to the roasted chicken on the spit and asked me what it was. "A chicken", I said. "Yes! We serve chicken at our restaurant! Not cat!" I was very much irritated by this stupid little show and with the fact that he thinks he can attract the Asian tourists by this.
When I tried to ignore him and go ahead, he blocked my way like a child using his whole body. I told him to fuck off and kept on walking. From behind he asked me if I was actually Korean and yelled some Korean greetings in foolish ways. The whole thing was so annoying. Why are these Turkish merchants so stupid? Somehow they think they can attract tourists by saying something which no one will appreciate.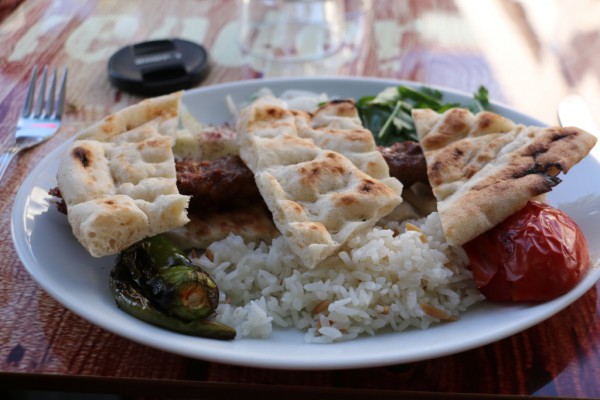 I left the city earlier than planned and killed a few hours at the bus station. When I got onto the bus at 22:30, it was incredibly packed. I said hi to the headscarved girl next to me and asked her if I can use her phone to send a SMS to my friend in Mersin since there was no wifi at the bus station or on the bus. She immediately said "No" and gave me a cold look. I put on my earphones and went to sleep.
I was planning to visit my friend Hakan in Mersin. We met with each other at a hostel in St. Petersburg last year and spent some days together with other friends. Mersin was very far away, especially because my bus company Metro made many meaningless long stops on the way. The road along the coast was very curvy and narrow.
At 6am, I woke up to a big fight on the bus. 2 passengers and the bus driver were arguing in a very aggressive way. The bus was stopped in the middle of a highway. One passenger grabbed the other passenger by its chest and was shouting something at him. The driver was telling them to get off right now. The baby was crying so hard from this incident and the whole bus was a chaos. It was the most terrible ride in Turkey that lasted for 11 hrs.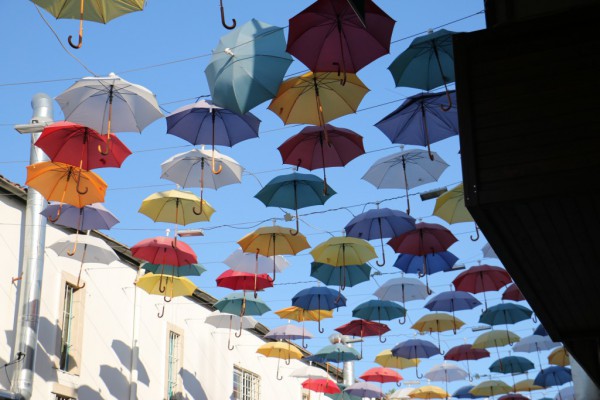 Hakan welcomed me at the bus station in Mersin. It was a weekday so I asked him to meet up after work but he kindly came to pick me up anyway. He worked as a consultant at a development agency. We went to few of his clients together. He seemed to be a very busy businessman with lots of client negotiations every day. For lunch he took me to eat a tantuni, a specialty dish from Mersin. Tantuni is a dice-sized beef or lamb fried on a pan with oil and water, wrapped in thin pita-like bread. It tasted familiar to Japanese or Korean way of cooking meat so I liked it very much and ate 2 of them.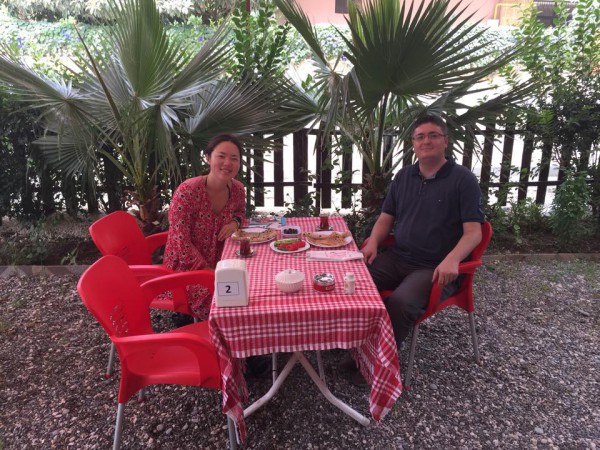 In the evening Hakan and I swam in the swimming pool of his apartment. Mersin was brutally hot so it was great to be in the water. There was a argument at the swimming pool where a Turkish resident was trying to tell the Syrian refugee family from the same apartment not to swim with full clothes on. Not only the girls but the boys were swimming with the t shirt, hoodie and jeans. They couldn't understand each other's languages so it seemed very difficult to communicate.
Hakan said that there are more than 350,000 Syrian refugees living in Mersin today and that soon when they run out of money to live, they might be causing big problems. Due to the Turkish president's refugee receiving policy, Turkey was flooded with Syrian immigrants who often lived without homes and always came up begging at restaurants and on the streets. No Turkish person who I met liked this situation and was always complaining about it. "Now we finally understand what Germans feel about the Turkish immigrants" Hakan said, ironically.
The next day Hakan gave me a city tour of Tausus, an ancient city where St. Paul was born. It was a city where Mark Anthony and Cleopatra had their love affair too. In the centre of the city there is a gate where history says that Cleopatra entered through. There we visited an old mosque and hamam (bath house). For lunch Hakan took me to a restaurant next to a waterfall which served the best chicken kebab that I have ever eaten. It was a great day.
While I was in Mersin there was an incident in Istanbul where a Korean tourist was attacked by a Turkish group protesting against Chinese government's oppression towards the Uyghur-Turks in Western China. When I was walking in downtown Mersin with Hakan, two young guys made fun of me pointing fingers at me and saying"Chini! Chini! (Chinese)". It was something that happened to me very often in all the Muslim countries that I traveled to. Even though I was kind of used to it by now, it was a while since I last received these mean calls so it made me upset. When I told Hakan that it often happens to me, he speculated that at least in Turkey, the reason why some people despise the Chinese is because of this Uyghur-Turk problem.
It seemed that anywhere I went to, most people weren't big fans of Chinese people for their rude behaviors and bad manners. It often seemed like people didn't like how the Chinese people settle down and start a business all over the world; it could be taken as small invasions. It was a problem for me too, because nowadays Asians meant Chinese people and I was often mistaken as them.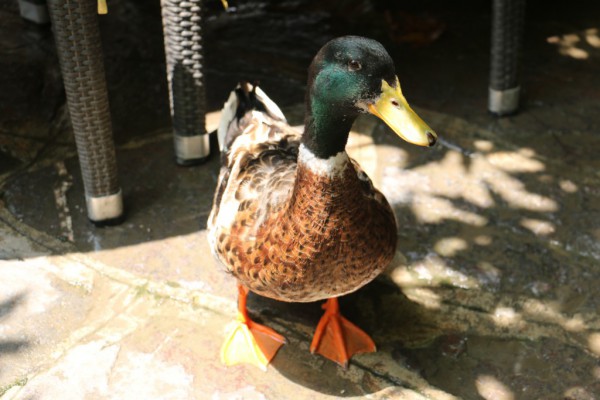 I remember the terrible discrimination I received while traveling alone in Iran. Especially in small towns and religious cities, people often came up to me and said very rude things like "Chin chan chyon" or "Made in China!" Many people clicked their tongues when they were passing by, sometimes right in my ear and one time someone spitted at me. It was usually young men but also women too. It was never old people. Small children also came up to me, sticking their tongues out and made a "Chinese face" by lifting the end of the eyes.
One time when I received more than 10 of these rude insults in less than 100 meters, I was so shocked that I couldn't walk outside anymore and left the city without sightseeing. In Iran there were a few factors that caused this harassment and one reason was the terrible quality Chinese products that occupied the markets. Some people seemed to think that the Chinese were untrustworthy people who were stealing their money with these poor products.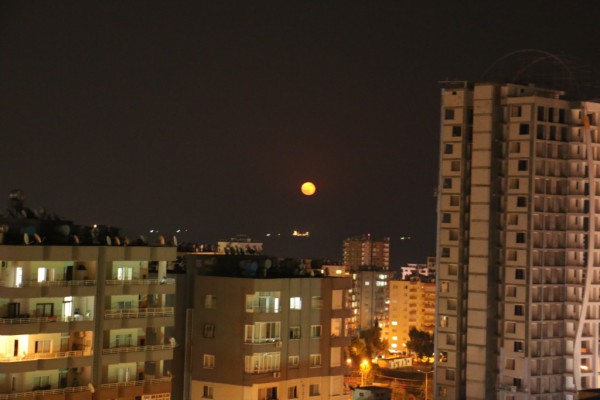 Even though my experience in Turkey was absolutely nothing compared to the ones I had in Iran or Palestine, I felt that I couldn't take anymore of this nonsense and didn't want to come back to Muslim countries for a while. It was sad because I wanted to see deep inside the country but the further east I went I encountered more of these problems.
Traveling on my own made me realize that the country will not always show me its natural face because I am in the picture too. I often watched travel documentaries where the camera works were so natural that the viewer felt as if they were looking inside the local's life like invisible people. Reality was different. I was completely standing out and catching everyone's attention. In countries where I got a lot of these harassment and discrimination, I often wished that I was not in this picture and could see everything from another person's eyes.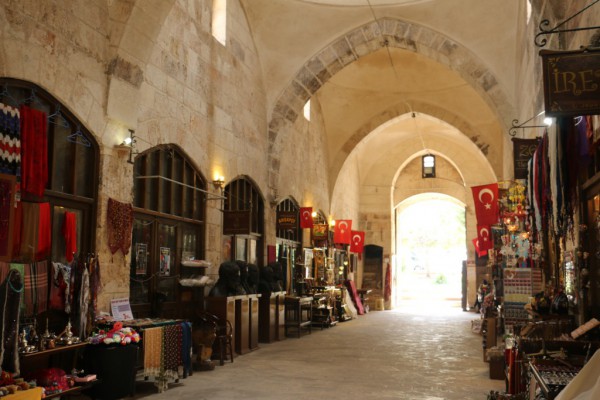 I departed Mersin after 2 nights. When I was trying to get to the main bus station using the local mini bus, everyone was staring at me as usual so I was looking down. However a young girl offered me to hold my backpack while I was standing and another teenage boy walked me to the bus station carrying my heavy luggage. I told him that I can hold it by myself but he strongly insisted. "See, it's not always bad." I told myself.
Attention didn't always mean bad. Some people just wanted to help and that's why they were staring at me. I told myself that I shouldn't judge everyone based on the bad experiences of the past. There were so many nice people too. What was I traveling for if I didn't want to talk to anyone in the country? I said "Tesekkur Ederim (thank you)" many times to the girl and the boy and sat on the long distance bus to Cappadocia with a warm feeling in my heart.
*A Little Favor*Please help my blog gain publicity by clicking on the "Japan Travel Blog Ranking" banner on the left if you're a PC user or at the very bottom if you're browsing through a smartphone. By clicking once a day from one device, you'll help me raise my ranking which will attract more people and businesses to view my blog. Clicking is completed once you are sent to another website with a list of blogs. Thank you very much!