One week later I left Bodrum for Kas, stopping by at Oludeniz beach in Fethiye. However a problem occurred when I arrived at the bus station in Fethiye. The rear of my backpack was somehow damaged and there were a few holes on it. It seemed that the bus driver loaded it in a rough way that the backpack was always rubbing on to the metal and it ripped.
When I complained, the bus company said that it's not their fault and it's none of their business either so I got very angry and called the police next to the bus station. Unfortunately the police wasn't helpful at all so I gave up with them and negotiated directly with the bus company. I explained to them that the bag cost me $250 USD, that it's a very sturdy bag which didn't have any problems during 1 year of heavy traveling, and that as long as you didn't treat it so rough this wouldn't have happened.
Although receiving compensation wasn't my biggest aim in the beginning, I felt that I need to teach them a lesson; that one cannot just get away with damaging someone's backpack. After 1 hour of arguing, I finally received 100TL ($35USD). It wasn't much and I was really exhausted, but it was simply not possible for me to walk away. 100TL would at least feed me for 1 week too.
From my experience in Bodrum with the not so clear beaches, I was getting skeptical about beaches in Turkey, but Oludeniz proved me wrong. The water was milky blue, a type of color that I've never seen before. I got too excited when I saw the beach that I didn't realize that there was water drainage right in front of me and tripped and fell in front of everybody. It was so embarrassing. After swimming there for a few hours I took a bus again to Kas, where my couchsurfing host waited for me.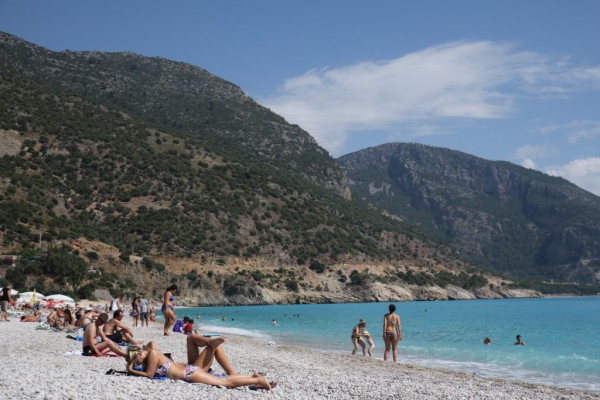 Deniz picked me up from the bus station and drove me to his beautiful flat overlooking the town of Kas and the Mediterranean Sea. He had good reviews on couchsurfing, and was the same age as me so I picked to stay with him. He worked at a marble company and seemed to have a wealthy life style. For dinner, he made a nice BBQ for me on the balcony and poured me some wine.
After our conversation warmed up, I noticed the unnaturalness in his actions because he sat right next to me, put his face very close to mine and tried to share a blanket with me. He also asked me to dance with him to some baby making music. "Not again!" I thought. Is he another couchsurfing host who is trying to get laid with his surfers? I had quite a few awkward experiences on couchsurfing so far and felt the need to make clear of myself, so I told him that I wasn't interested in anything more than friendship; that some people look for sex on couchsurfing but I didn't. Deniz felt very offended with my statement and told me that his actions were completely normal in Turkey and that I needed to get used to the "European way".
I explained to him that I have spent 5 years in US and Canada and fully aware of the western style of communication; however that he was taking friendship too quickly. It was very bad arguing with him. He didn't understand anything I was trying to tell him and blamed everything on my "close-minded Asian culture". I was so exhausted. The last thing I wanted to do was to argue with my couchsurfing host; I just wanted to have a place to stay especially in an expensive town like Kas.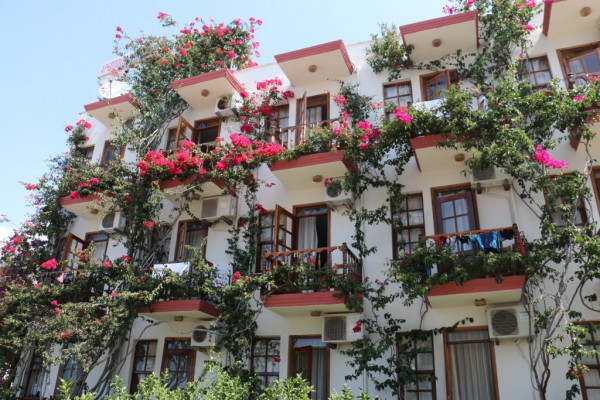 Why couldn't guys respect female couchsurfers and treat them the right way without making us so uncomfortable. I thought about leaving the house many times but didn't. I thought that it's the easiest way to end everything, as I often did so with many people and things in the past. From Deniz's argument I understood that he really didn't have any bad intensions and his approach to women was just very different from others. As a way of compromising with each other, I made some dinner the next day and tried to have a friendlier conversation.
It wasn't so bad until he expressed his anger towards Chinese people eating cats and dogs to me. I tried to explain him that I'm from Japan and we don't eat such animals in my country. For Deniz, it seemed that all Asians were the same. From the aggressive way he criticized the Chinese and their weird eating culture, I felt the need to stand up for my fellow Asians.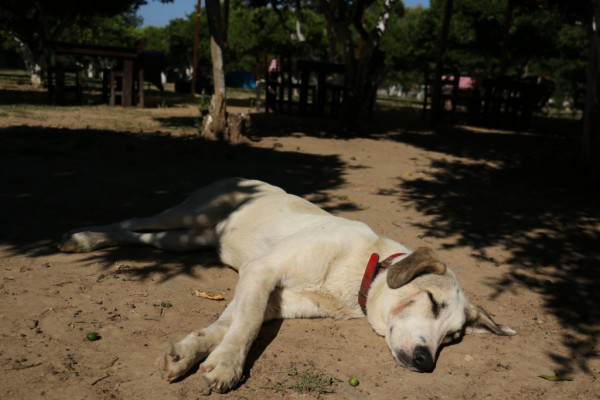 My opinion is that every country has different eating cultures and history so you couldn't just criticize a country for eating different things from the others. Why couldn't you eat dogs but not cows or chickens? They are also friendly and cute. Is it more ethical to eat cooped up chickens and cows who never seen day light then eating a dog or a cat who can walk around freely? There are always reasons why these countries eat such things. In poorer countries where not anyone could afford meat, people ate insects as a source of protein. How can someone judge about what is good to eat and what isn't? It really makes me mad to hear these stupid people from the west who think they're sophisticated and others are impoverished.
Sadly the second night with Deniz ended with more stress than the first night. He tried to make things better by having a friend over and inviting me to go out to a bar but it didn't really fix our broken relationship. Soon I left the house with a lot of exhaustion. Should I have left after the first night? Did I try too hard to make a better couchsurfing experience? Is it a bad idea at the first place to stay with male hosts in muslim countries?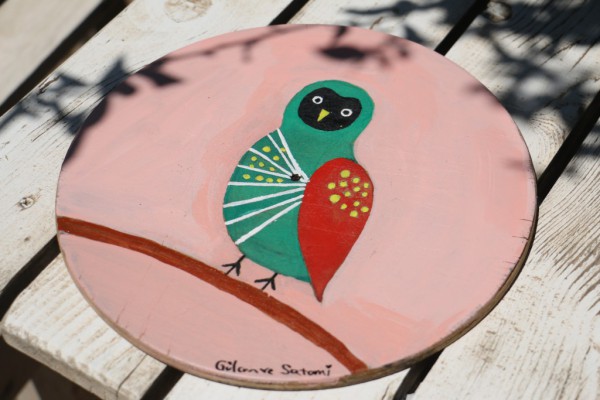 The day that I left Deniz's home I took a day trip to the Greek island of Kastellorizo. It was a small island located 3km away from Kas. From the ferry, the first thing I saw on the island was a nudist couple swimming in a small bay. I was amazed how cultures can differ in a very small distance. In Turkey I wouldn't even dream about seeing a naked woman on the beach.
When we arrived to the port of the very small town, most of the European tourists chartered a small boat to visit a far away beach and a blue lagoon cave. Of course I couldn't afford that, so I walked around the island visiting some old castles and little beaches. I walked about one hour until I found a very beautiful spot with no one and I swam there for a few hours.
How beautiful these Greek islands were. It was nothing like the beaches in Turkey which lost their charm by the whole sand completely covered in sun beds and parasols, and the annoying buoys which didn't let people swim more than 50m from the sand line. This was probably the most beautiful island that I've ever visited. So small and so hidden, completely isolated and far away from the rest of the world.
The whole village was empty except from the very main street by the port. Many houses were abandoned with rusty signs looking for tenants. Falling apart old homes and even some old buildings like the mosque and the hamam(bath house) from the Turkish-ruled times made me feel very nostalgic. The island was forgotten and the villages were slowly waiting for death, like an old poet. It was at the saddest and the most beautiful state.
The water was so crystal clear that I even had the opportunity to see 2 big sea turtles. I enjoyed my probably last Greek meal at a small restaurant and took the returning ferry in the late afternoon.
It was too late to catch a bus to Antalya that day so I went to Can Mo Camp, a campsite with bungalows which was recommended by my friend Jakub and Lorna whom I met at the farm. They said they had a good time with Can (pronounced "Jan"), the kind owner and all the other friendly staff there. When I told Can that I was a friend of Jakub and Lorna, he somehow mistaken them as his very old friend Jacob and Lauren from US and gave me a very very generous discount.
Even after we found out that they're different people, he was still very nice. Maybe because I told him that I was traveling on a budget, he invited me to eat dinner at their restaurant. He offered me a vegetarian plate with 4 different kinds of tasty mezes and salads. I was quite worn out from everything with Deniz, so Can's warmth and hospitality really sunk deep in my heart. He played guitar and sang on the small stage after dinner. I really had a great evening listening to his small concert
The next morning when I was preparing to hitchhike to Antalya, Can stopped me and told me to stay for one more night. I felt very good at his campsite so I decided to extend my stay. Can kindly took me on the back of his scooter and drove me to a nice beach. He introduced me to his friend's café where I could use the sun bed for free, and drove back to the campsite like a wind.
Later he came to check if I was still ok, and then we went to eat lunch together. I really appreciated his generosity and everything. Next morning Can walked me to the hitchhike point on the highway where we hugged goodbye and promised to see each other again. My time in Kas would've been a disaster without him. Many times I blamed myself for not leaving the couchsurfing earlier but I guess with this bad experience, I was able to really appreciate Can and his wonderful campsite.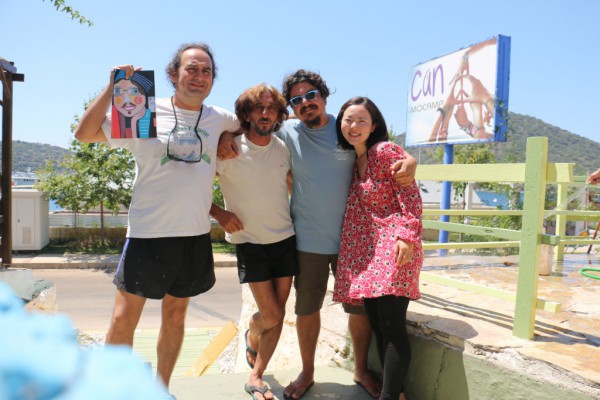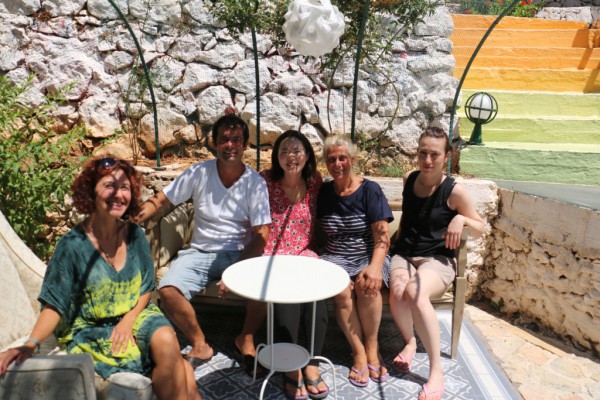 *A Little Favor*Please help my blog gain publicity by clicking on the "Japan Travel Blog Ranking" banner on the left if you're a PC user or at the very bottom if you're browsing through a smartphone. By clicking once a day from one device, you'll help me raise my ranking which will attract more people and businesses to view my blog. Clicking is completed once you are sent to another website with a list of blogs. Thank you very much!