Hello, everyone! 3 days ago, August 11 was the 1 year anniversary of my trip. It's incredible how fast the time flies. On August 10, I left Turkey where I stayed for over 2 months and took a flight to Bishkek, the capitol city of Kyrgyzstan located in Central Asia. That's between the Caspian Sea and China, if you're wondering. I just checked my watch and realized that there is only 5hr time difference from Japan.
Kyrgyzstan is a new country which made its independence in 1991 after the fall of Soviet. In the city I am able to see familiar faces of the nomadic Asian people, white Russian people, darker skin people from Uzbekistan origins and the mixed exotic faces. It is exciting and amusing to walk on the street as if it is an exhibition of the different races such as Asian faces with crystal blue eyes and Russian faces with dark skin.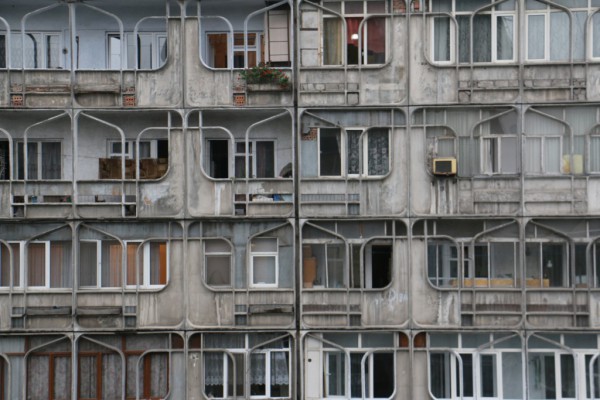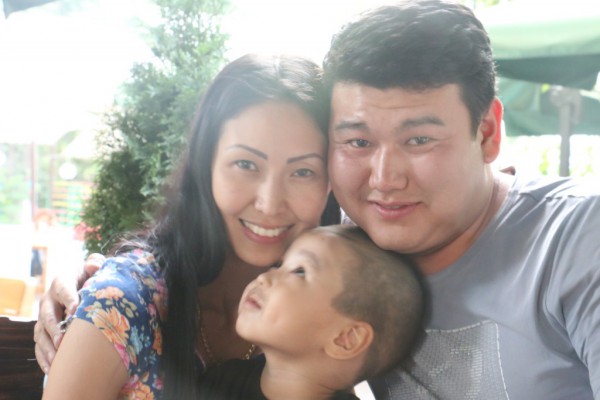 This past year was the most exciting in my 28 years of life. I was able to meet people who I have never dared to meet if I was still working in my small office in Tokyo. I had seen landscapes like never before and ate food that I've never tasted. If you ask me if I had grown into a bigger human being, I am not sure but I can definitely say that I became more tough and stronger than before. In the past 12 years I had suffered from serious sleeping disorders, but now I am able to sleep anywhere; from the benches at bus stops from the corners of airport lobbies.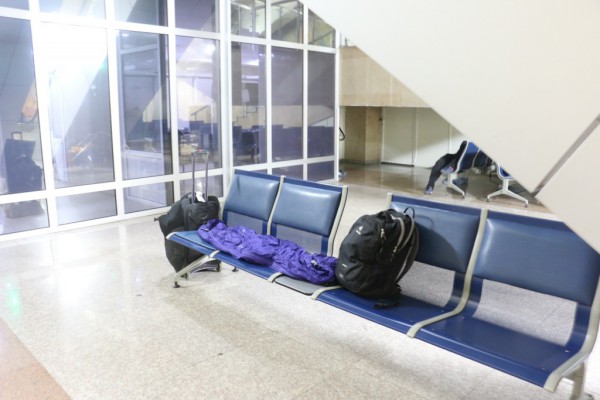 Traveling is not only about seeing beautiful places and meeting wonderful people. It is also about knowing the harsh reality of the world and dealing with various problems. I had traveled from big cities to the middle of nowhere all by myself and what I achieved is instant assessment and decision making skills. "Can I trust this person?" "How do I escape this problem?" I am sure that these skills will be useful in my future life too.
My initial aim of this trip was to see the world and that was also the biggest harvest on this trip. I learned that there are many people around the world who has completely different ideas than the ones I had known. They were living the life that they wanted, and they were happy. They made me realize that there is no need to fit into the society's need in order to attain a happy life.
At my couchsurfing host's home in Bishkek, I was able to meet inspiring travelers who supported this idea. The first person who welcomed me at the host's house was Christiana, an Italian traveler in her early 60s. She has been traveling around for over 17 years now. She is a beautiful and fashionable traveler who never forgets the importance of beauty even while traveling the nomadic deserts of Central Asia. When I arrived, she was soaking her feet in the hot water to get ready for her pedicure.
"In the beginning, I used to travel with clothes that I didn't care about. But when I looked into my closet I wondered when I will ever wear these beautiful dresses so I decided to wear the things that I really liked. Then I realized that the local people appreciate me like this too. Everyone wants to talk to me and help me." She reminded me of Ayumi, a Japanese girl I traveled together in Palestine who also has a word about fashion.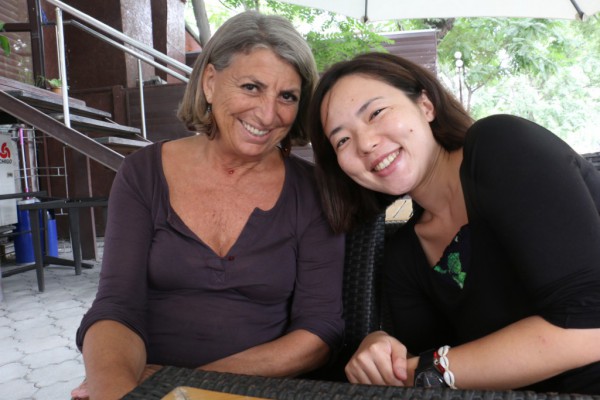 On her 60th birthday, Christiana departed her home in Trieste, Italy to travel across Eurasia on a motor bike. "It has always been a dream, to travel on a motorbike", she said. Unfortunately she had an accident in Baku, Azerbaijan so she had to give up on her motor bike and switch to public transportation and hitchhiking, but still made 4000km by herself. When I heard her story, I experienced a small electrical shock in my body. "There is nothing too late in life", I thought. Christiana humbly denied and told me that she should've started earlier with the motorbike, but my mind didn't change. Meeting Christiana and realizing this was a gift from god on my first year anniversary.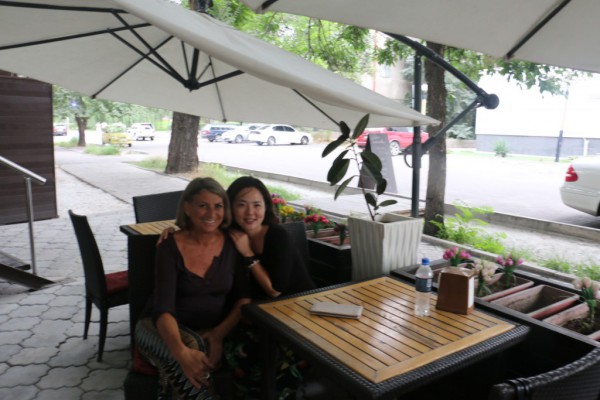 Another cool encounter was with Jerome, a 25 year old biker from Belgium. Right after graduating his university this year, he started his bike trip across Eurasia. His bike is not the sturdy, traveler kind but is more like a mother's shopping bike. On this small lady bike he made 9000km from his home in 5 months. He had experienced injuries and accidents in Germany, Italy and Georgia but he never chased down the cars which hit him and ran. Instead he just looked forward and followed his path to the east. He doesn't blame anyone and focuses on his own goal. I admire his determination and strong spirit very much.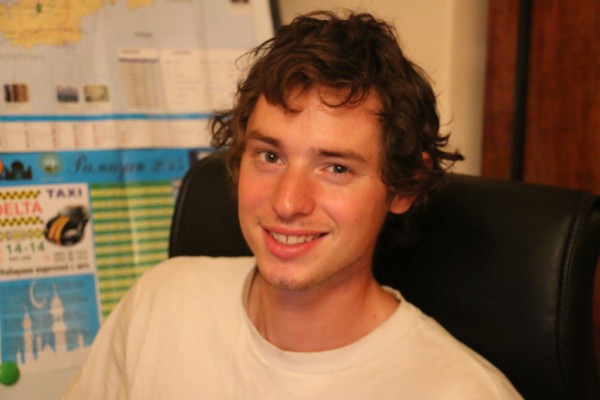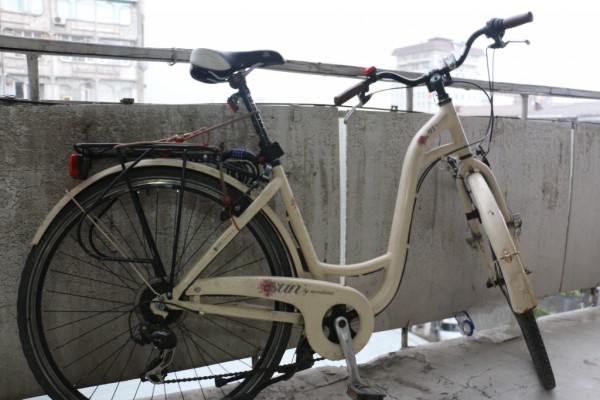 My host not only hosts couchsurfers at his home but also at his office in his used car garage. In the ghetto like car yard, I met Collie and Matthew from California. They are both 27 years old and had been friends since 8 years old. They were making a 5 month trip from Shanghai to Istanbul.
Collie learnt accessory making skills in South America and was selling his handicrafts on the road. He was invited to attend 2 handicraft fares in Kyrgyzstan and made over $1100USD from it. Considering the fact that the average wage of Kyrgyzstan is just over $200/month this is an incredible success. "There is no better way to travel the Silk Road than by trading my own accessories", he said.
Both Collie and Matthew tries their best into blending into the locals, speaking in Russian, never declining local's invitation for vodka and finishing up the greasiest meals in this region. They are liked by everyone and are an instant star of the villages. Not only that they are completely in a different level from the other American travelers but were also the most open minded, intelligent and energetic travelers I met on my journey. They have a real traveler spirit.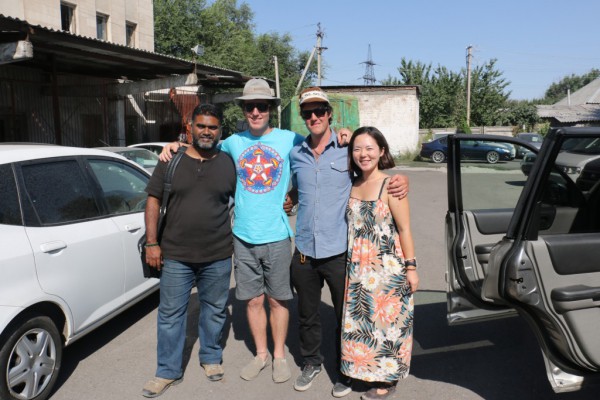 Last but not least is Jahangir, the great couchsurfing host who hosts all of us. He is a 40 year old Indian-Singaporean who deals used cars from Japan and sells it to many parts of the world. He is super smart and successful businessman who can speak English, Tamir, Chinese, Malay, Japanese and Russian. I love his personality because he is very funny and cheerful, calling everyone "bro" and talks with a Chinese-Singaporean accent. From his experience of living in Japan for 5 years, he tells me that the Japanese must open up to the world, stop being slaves of corporations and start our own businesses. His opinions and experiences from living and starting a business all over the world is simply inspiring. I am so happy to meet such a guy.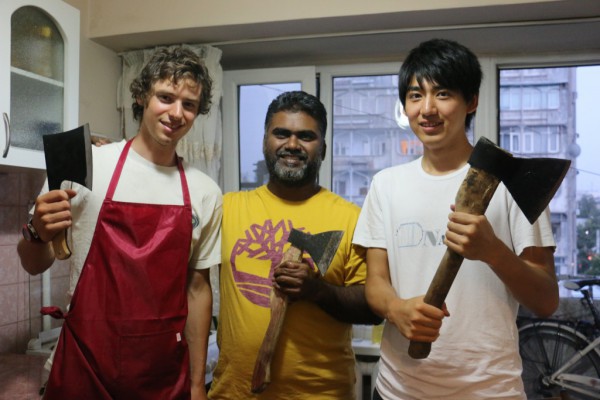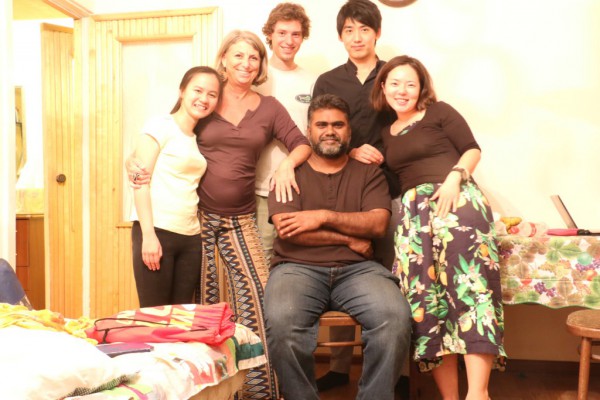 After 1 year has passed, I am no longer stressed or tired of traveling. I am really getting used to this new life style and I am excited to start my new chapter in a whole new region. I don't have any regrets about the things I left back home. I have made a great start with incredible people around me and can only imagine that my second year will be twice as more exciting than the first one.
Thank you so much for everyone who supported me during my first year. Without your help I wouldn't have been able to be here.
Love, Satomi
*A Little Favor*Please help my blog gain publicity by clicking on the "Japan Travel Blog Ranking" banner on the left if you're a PC user or at the very bottom if you're browsing through a smartphone. By clicking once a day from one device, you'll help me raise my ranking which will attract more people and businesses to view my blog. Clicking is completed once you are sent to another website with a list of blogs. Thank you very much!