Hi everyone! I am currently staying at the Hindu's ultimate holy town of Varanasi by the Ganges River in India, receiving my first blessing of diarrhea, vomiting, high fever, headache and sore throat. Who said that India is gonna be easy after being on the road for 15 months? This country is so tough that I am ready to go home now.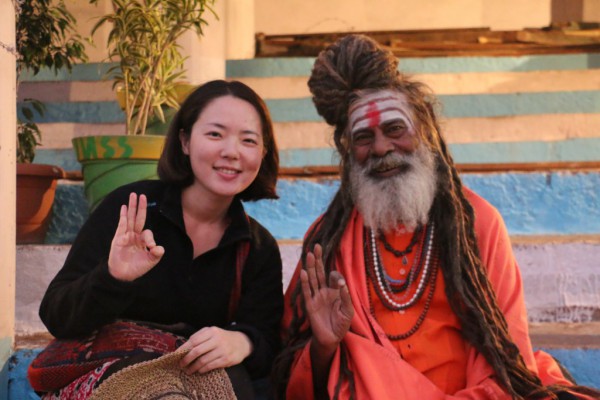 Today's post is about my first trekking experience in Kyrgyzstan. You can read about the very first days in Central Asia at http://goodgirlgonenomad.com/1-year-travel-anniversary-back-to-the-world-of-familiar-faces/
During my stay in Bishkek, I took a trip to the Ala Archa Mountain National Park with fellow couchsurfers, John and Jerome where we did a 3 day hike. John is a 23 year old Chinese guy who was raised in New Zealand and just finished his university in England. He was doing a Turkey and Central Asia trip gradually heading to his home province of Harbin where he claims to be the home of all good looking men in China.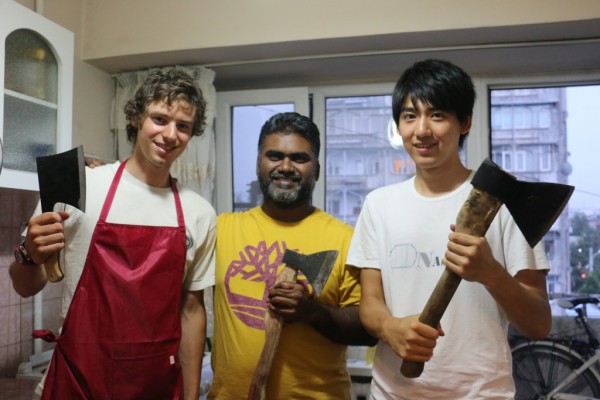 John was an extremely cheerful and bright person. I liked him from the very beginning despite having some tricky political discussions about each other's countries. I was also flattered to hear from another friend that, John made a compliment about my appearance saying that despite being on the road for over a year, I still look clean. Not pretty, but clean. Still that made my day. I wrote about Jerome, a Belgian biker friend in the last article. Check it out.
Before heading to the mountains we did some shopping at Osh Bazaar, the 2nd biggest market in Bishkek. We didn't have a very clear mind this day, so we bought just a few things like bread, peaches, grapes, carrots, tomatoes and 1 package of readymade salad.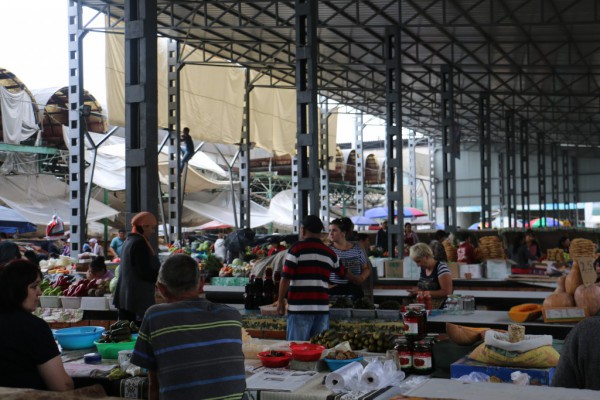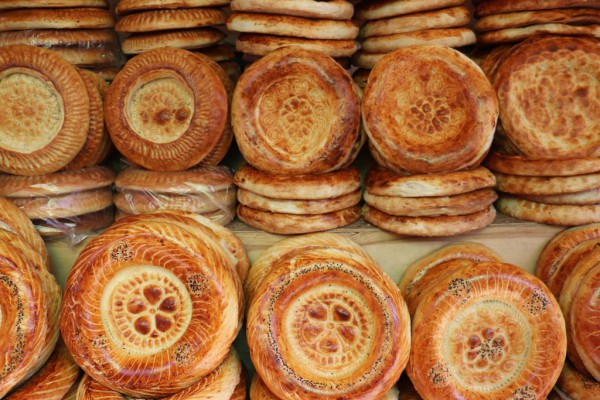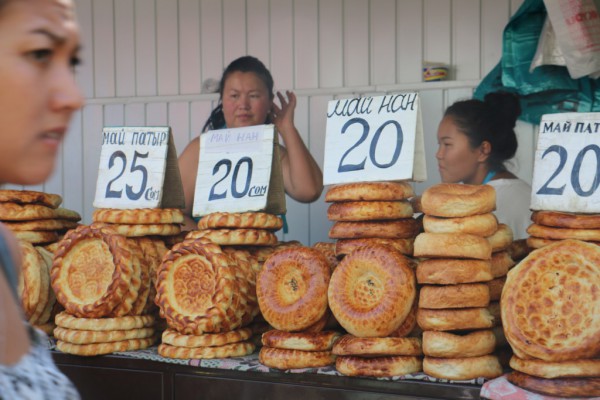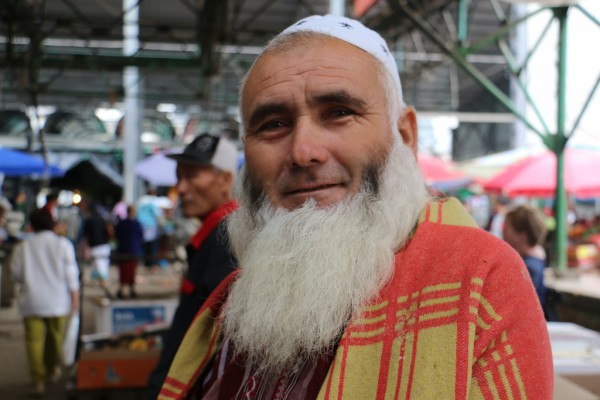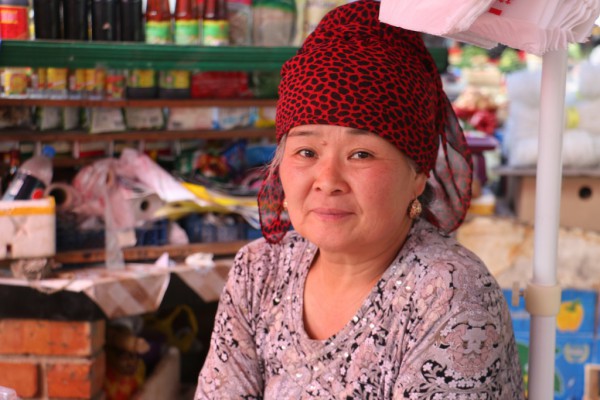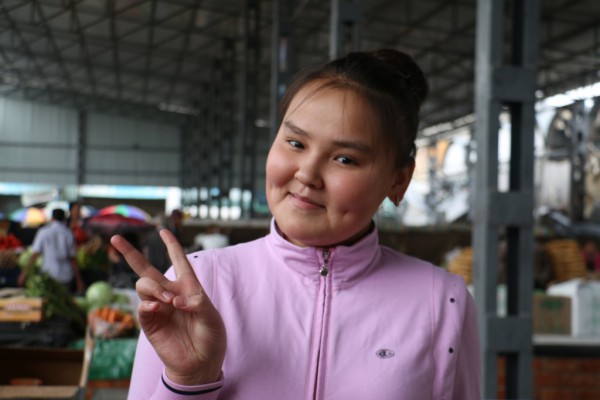 I also bought a pair of jeans and cheap walking shoes for 5USD. I had lost my trekking shoes in Jordan earlier this year and still hadn't succeeded to replace them. It was extremely difficult to buy these things in developing countries like Kyrgyzstan. Even if most of the country were mountains, the only decent pair of trekking shoes that I found was the "ecco" brand ones at Bishkek Park shopping mall costing over 270 USD. All others were fake brands sold for the same price as the originals. Things like outdoor equipment and electronics are best brought from home. When I departed Japan, many experienced travelers told me that you could buy anything anywhere. That's only true when you're willing to spend trice as more than home for less quality.
When we were leaving the bazaar, we found piles of discarded fruits and vegetables next to the ditch behind the bazaar. We picked them up and found that it was dated yet still edible. I couldn't believe that people threw away food so easily here. Before my image of poor countries were no food and hunger, but on this trip I discovered that poor countries wasted a lot more food than advanced countries. Poverty wasn't always about food but more about structures of the economy. Jerome and I both picked up a water melon to bring to our hike. This would cost more than 20 USD in Japan.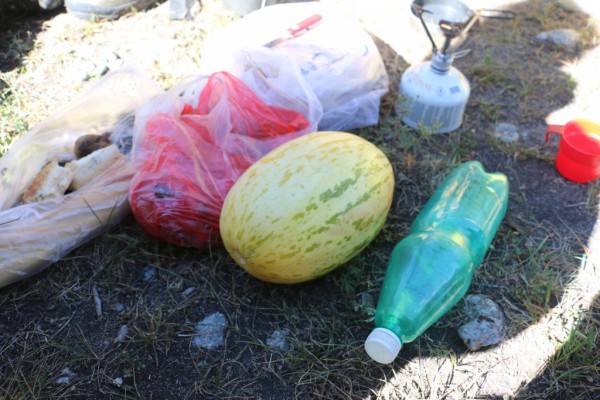 We took a packed marshrutka (mini bus in Russian) to the nearby village of Kash-Kasu and walked towards the foot of the mountain. It started to rain heavily so we stood and ate lunch under the trees. The road from the entrance of the national park to the actual starting point for trekking was about 15km apart. We could have skipped it but had no money to take a taxi and the guys were skeptical about hitchhiking in Kyrgyzstan (they were previously asked for a lot of money in another city) so we walked, in the rain.
After a few hours we reached the entrance and went inside a small place that served a simple meal. We were freezing and wanted to eat some hot food. The only menu was manti which is a dumpling with mutton meat.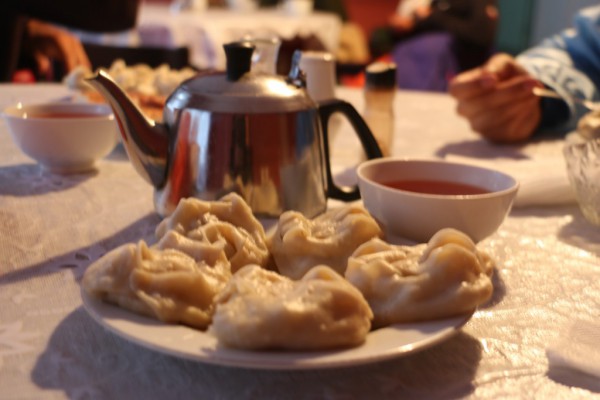 Next to our table was a French couple who just finished their trek. It was too late for them to head to the city so we both pitched our tents in the forest and had a nice talk in the evening over a bottle of wine and a bar of chocolate. French people seemed to be very good at mountains. Most of them who I met in the mountains in various countries had a lot of experience and high skills. I once climbed a big sandstone mountain in the Wadi Rum desert of Jordan with 2 middle aged French couples who moved like 17 year olds. I admired them very much.
The next morning, we woke up blessed by the sun. We shared food with the French couple and had a relaxed breakfast sitting on the grass. After an hour we folded our tents and departed for the real adventure.
We followed a river and soon started to realize that it was not the right pass. I checked my GPS map app and climbed the steep hill to return to the real pass. There were surprisingly many tourists, mostly from Europe and Russia. Some of them carried glacier climbing equipments like ice axes, harnesses and crampons. The highest peak here was over 4800m.
At the beginning, the path was flat and easy but soon became steeper and steeper. Couch potatoes like John and I had a really tough time keeping up with Jerome. He was incredibly fast even carrying the 20kg backpack for us. The trek was harder than I imagined but I tried my best. I wasn't easy with my cheap market shoes. The sole was soft and flat as a pancake.
For lunch we sat on a rock and ate bread and carrots. Due to our unplanned shopping, we were already running out of food. I asked a lady who was coming down the mountains if there were any places we can buy food on the trek. She said there isn't and gave us some left over crackers and bread. Then we came up with the begging project where we ask this same question intentionally and receive some food from nice people. Shamefully, it went well and we collected enough food to beat the hunger. I can't believe I'm 28 years old and doing this. My parents will cry.
That day we hiked for about 6hrs on the super steep path and were so exhausted that we decided to pitch our tent before reaching base camp. I checked my GPS and discovered that it was already over 3100m high. We sat on the rocks and waited for sunset. The plan was to start a campfire when we were certain that there were no more hikers. Fire was prohibited.
To be honest I wasn't that impressed with the scenery of Ala Archa during the day time. Everything changed at twilight. As the sun light slowly left each surface of the mountain letting the shadows take over, the landscape started to look very sacred. There was absolutely no one around. Behind us was an enormous glacier that looked like it could tumble down any minute. The only sound we could hear was the rapid torrent of the river beneath us crumbling up the rocks. We were surrounded by mother nature which made us feel very small. I felt a slight taste of fear in the deep silence of the mountains.
For dinner we made a pot of tea using all the sugar we had and dipped the bread in it. It was warm and we were satisfied. It's funny how something like this could make the most delicious memory of the trip. That night the temperature dropped down to minus 5. I could not sleep at all despite being bundled up in a sleeping bag between both Jerome and John wearing everything that I had. We squeezed each other to fight the cold.
In the morning, John who became fascinated by the art of fire making woke up first and made a nice warm tea to start the breakfast. Just like yesterday, we dipped the crackers and finished the tea until the pot was completely dry. I thought about warm food again and again that day.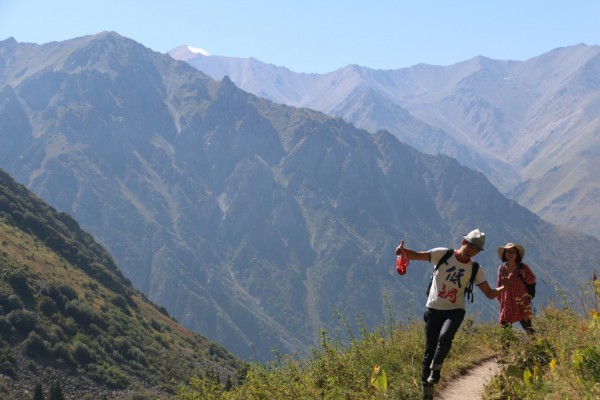 We decided not to go to the base camp because we heard that there was nothing there and were also satisfied with the camping experience from last night. We walked back the path we came and arrived in Bishkek in the late afternoon. My heart was filled with excitement when I found instant Korean noodles at the supermarket. It was my ultimate favorite instant noodle in the whole world which I lived on during university years in Canada. We made a great lunch out of it. Next day I had a lot of fun in the evening with John, Jerome and Vicky, another sweet couchsurfer from Vietnam making dumplings from scratch and chatting til late night.
2 days later Jerome left on his bike to Kazakhstan. On the same day, I started my journey again and hitchhiked towards Issyk-kul, the second largest mountain lake in the world where brand new adventures were waiting for me.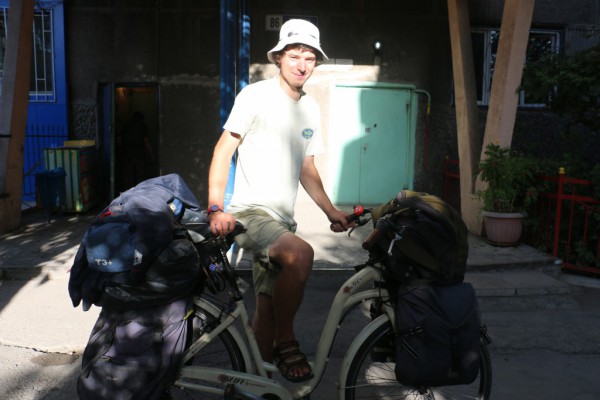 *A Little Favor*Please help my blog gain publicity by clicking on the "Japan Travel Blog Ranking" banner on the left if you're a PC user or at the very bottom if you're browsing through a smartphone. By clicking once a day from one device, you'll help me raise my ranking which will attract more people and businesses to view my blog. Clicking is completed once you are sent to another website with a list of blogs. Thank you very much!