In Fort Kochin, there is pretty much nothing to see except for a few old churches and forts from the Portuguese and Dutch colonial times. Nevertheless, the city was flooded with tourists; not only backpackers but also families from Europe arriving on cheap flights.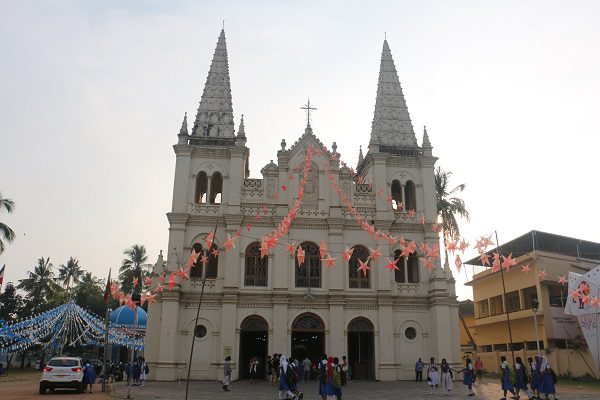 The only thing that made my stay worthwhile there was seeing the traditional theater, Kathakali.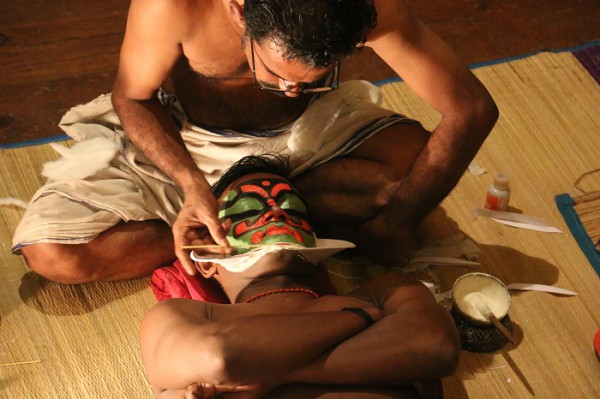 Kathakali is a silent theater performed by actors accompanied by a singer and drummer. The story which we saw was only 30 minutes long and the line was very  simple. The heroin is abused by a villain so the hero comes to defeat him. Although I couldn't understand any of the local narration, with the actor's facial expressions (including intense eyeball movements) and hand gestures it is very easy to catch the scene. It reminded me very much of a traditional Japanese theater called "Kabuki" which is also a play with flashy makeup and costumes.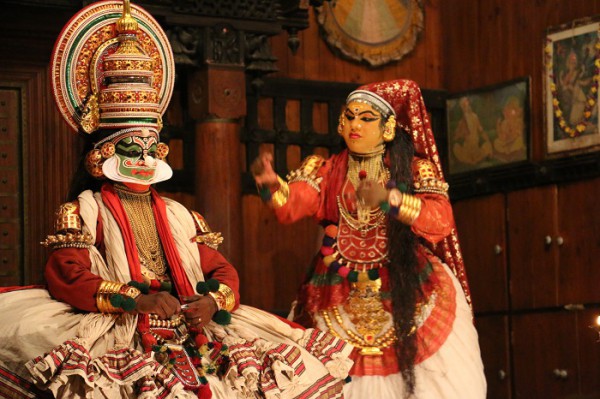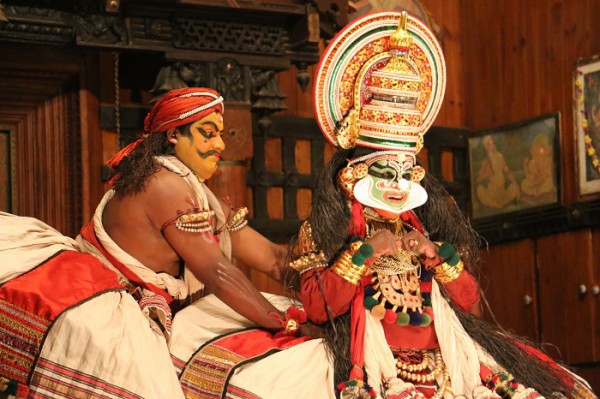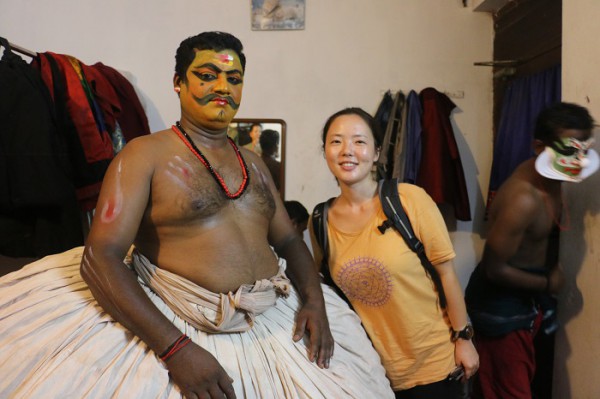 From Fort Kochin, Thomas and I started the backwater trip. The backwaters are a water channel connecting rural villages between lakes and paddy fields. It was supposed to be one of the highlights in South India. Wealthier tourists usually hired a house boat, a boat that has everything from bedrooms, kitchens, balconies and private chefs to enjoy the cruise. It cost about 100USD per night, where as the ferry was less than 5USD per ride.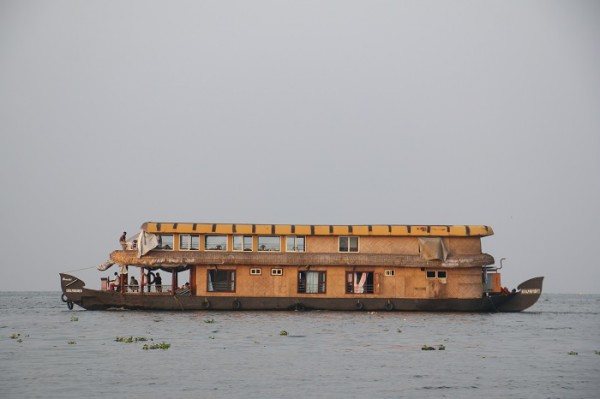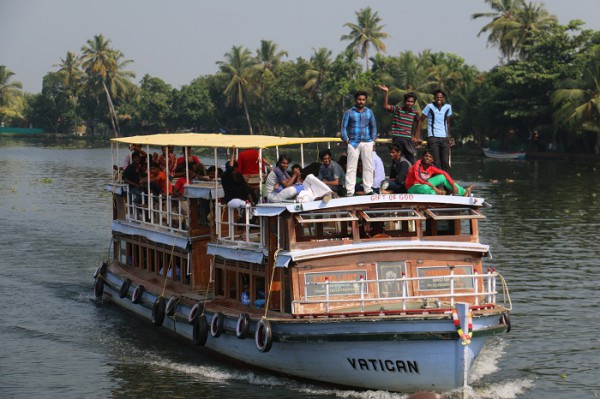 On my ride, the main passengers of these public ferries were local kids going home after school. From the boat, I got to take a peek of local life in Kerala from laundry in the canal to duck-chasing. The countryside in Kerala was incredibly peaceful. I noticed that the life standards are higher than other parts of India. The houses were well made and gardens were well kept. Herons lived everywhere hunting in the fertile lakes.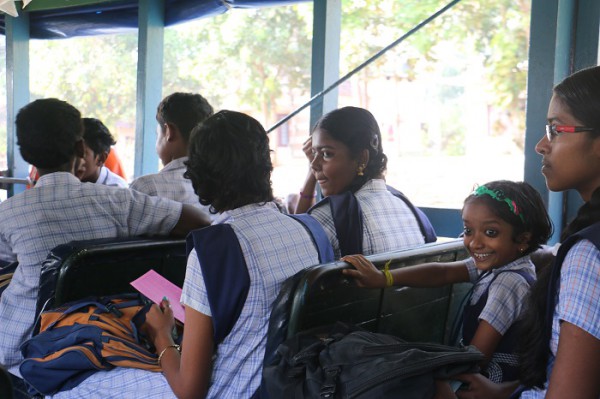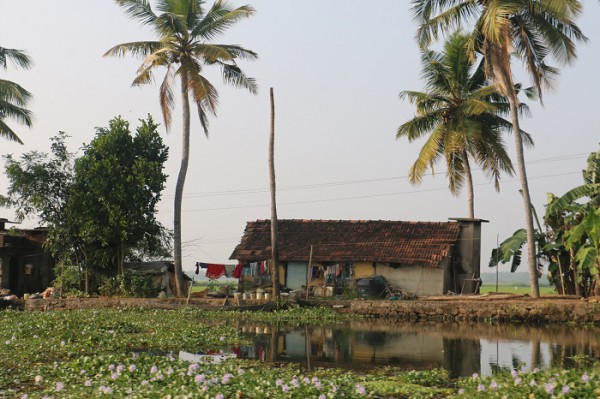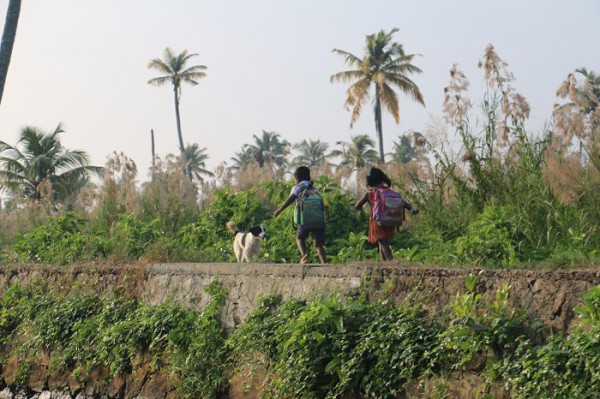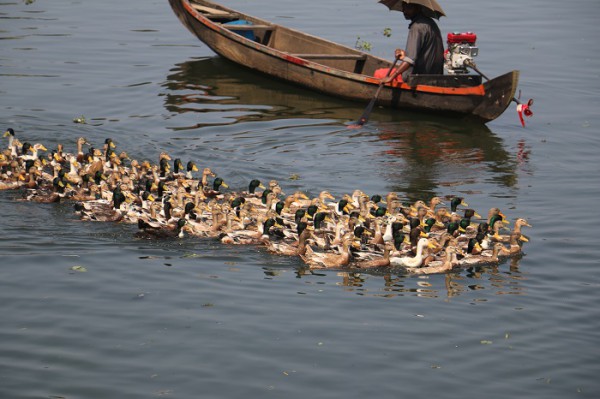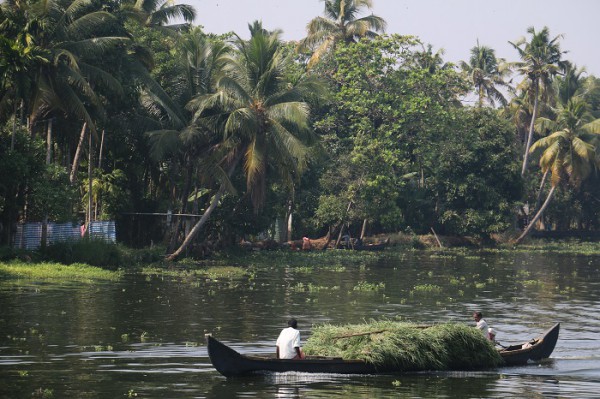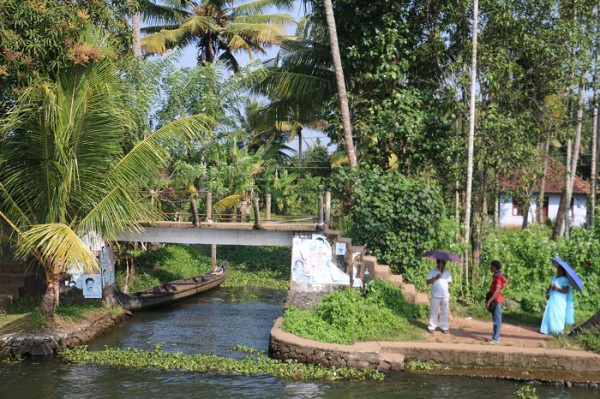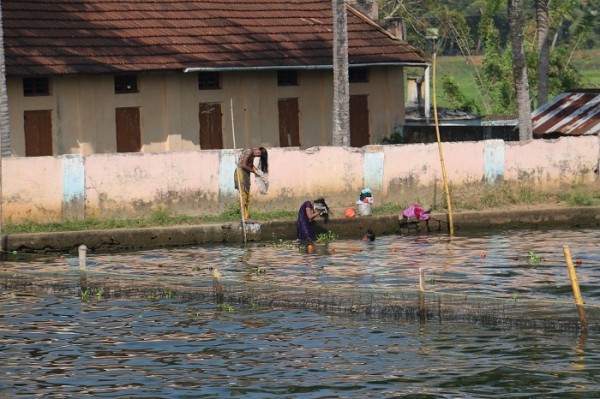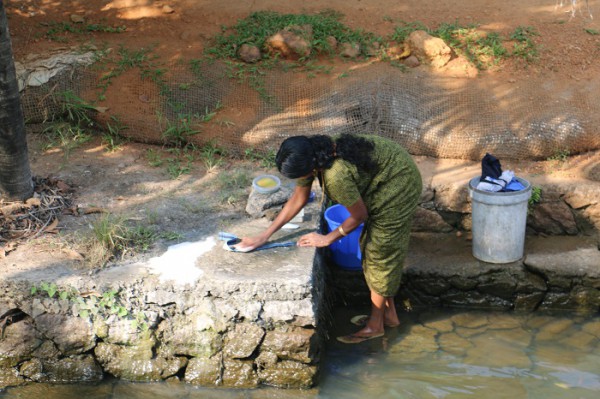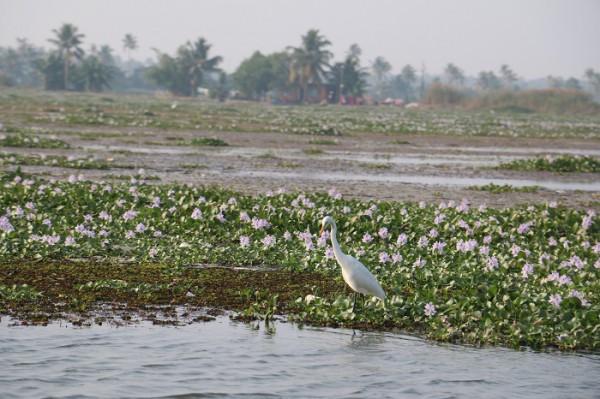 About 3 hours later at sunset, we arrived to a town called Alleppey, known as the backwater hub. From here, one could easily organize house boats and private tours. The canals were packed with house boats and also filled with sphagnum moss, which is a sign of dirtiness in the water. The water smelled terrible. Asians should stop calling any city with canals Venice of the East, because it's nowhere close.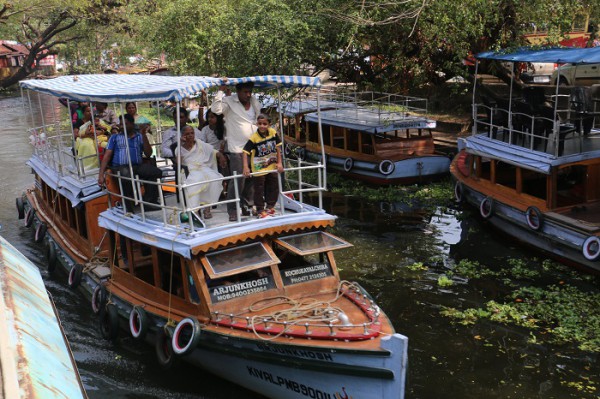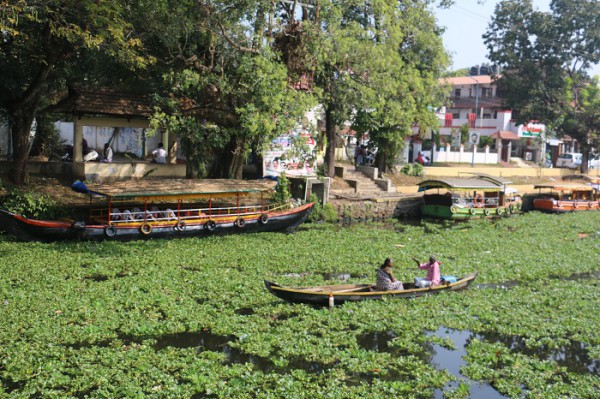 For dinner, we visited a local restaurant where I ordered a fish steamed in banana leaves. The meat was tender and had a nice aroma from the leaves. Thomas, who liked my order so much, ended up eating half of my plate and that night he suffered from terrible allergy. A few people I knew had this trouble in India where their skin got red rashes from eating seafood. I also noticed that I couldn't bear to swim in Indian beaches for more than an hour because of the terrible itch it gave on my skin. Water contamination seems to be a serious issue.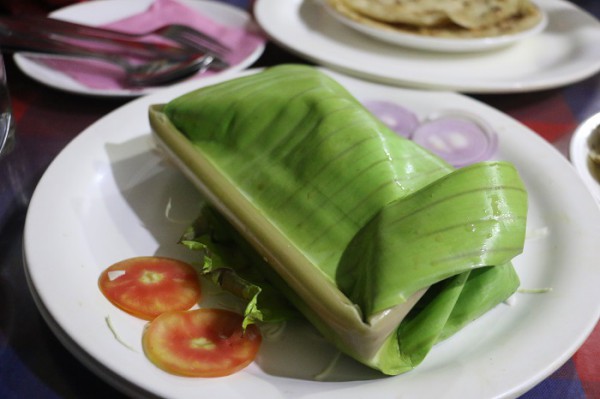 We stayed in Alleppey for the next few days exploring beaches and taking short trips around the nearby villages with a public ferry. I liked the backwaters very much. I never got tired of watching the scenery.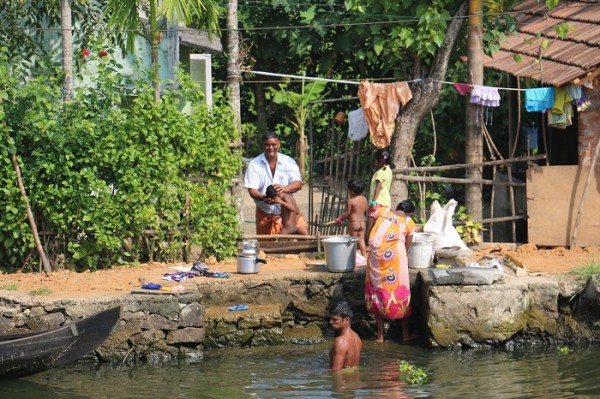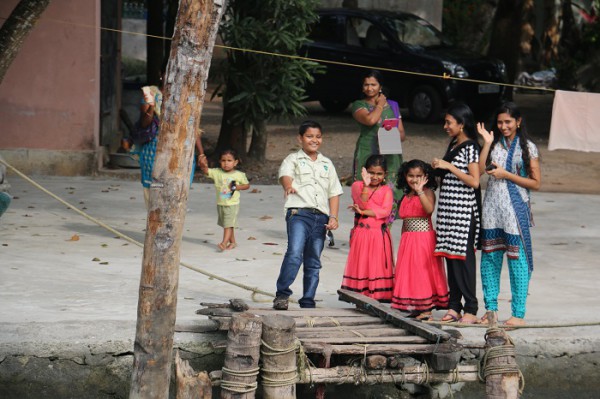 3 days later, we departed Alleppey again with the public ferry further to the south. On the way, we saw real Chinese fishermen nets in use, unlike the touristic fake ones in Kochin. This method of fishing setting up a huge net in the sea and pulling it up by lifting the counterweights were introduced by traders from the time of Kublai Khan.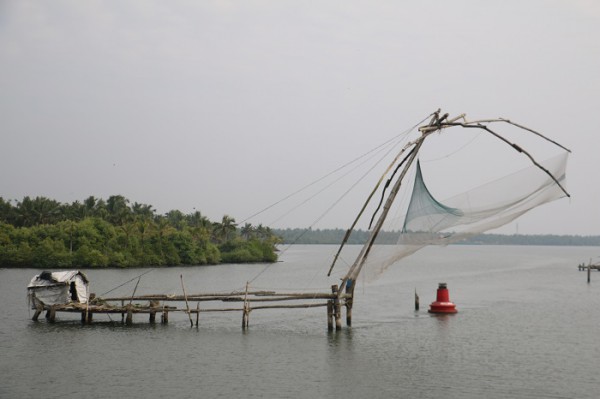 After 6 hours of being on water, an enormous pink structure appeared in the palm tree jungle. This was our destination, the Mata Amritanandamayi Math aka the "Amma ashram". Amma, the guru of this ashram was called the "hugging mother" who claimed to have hugged more than 33 million people in her life. Not only in India but also from North America, Europe and even from Japan, thousands of devotees came here to receive her embrace. Although not in need for any blessing or relief, I decided to visit there to experience the life of the ashram for a few days. (To be honest I heard that the food was good)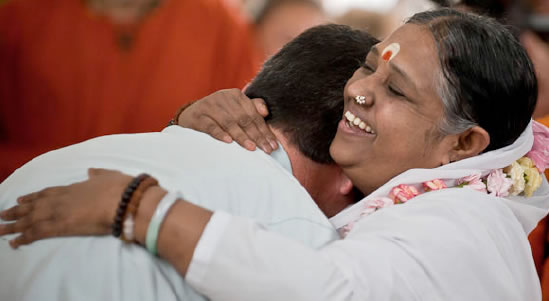 Thomas and I were both surprised to see the room which was more like an apartment rather than an ashram and also the stunning views from the window; endless palm tree forests of the backwaters on one side and the Arabian Sea filling up the horizon on the other. For this view and 3 meals I only paid 250 rs (4USD) per day. I was worried before when the Spanish lady Olga told me that the ashram is so filthy that the rooms are like a prison in Thailand. Clearly, Olga has never been in a prison in Thailand.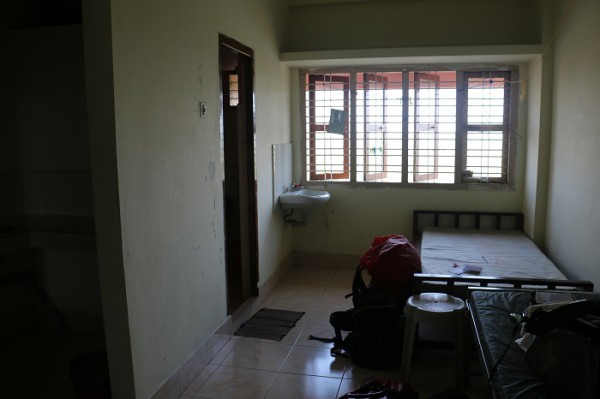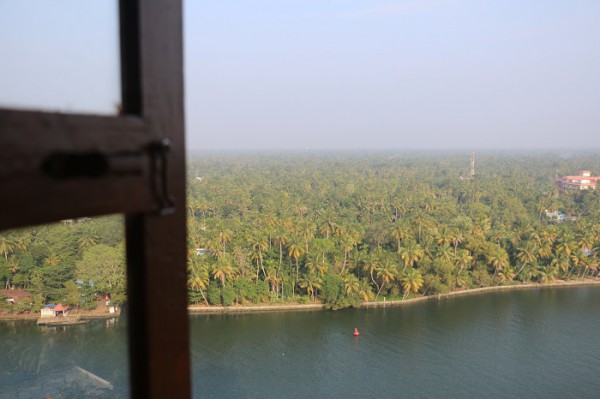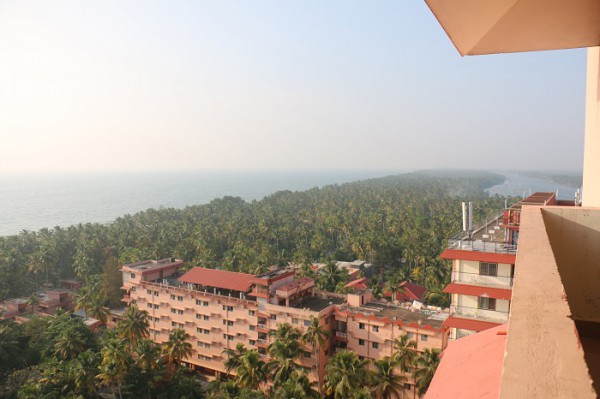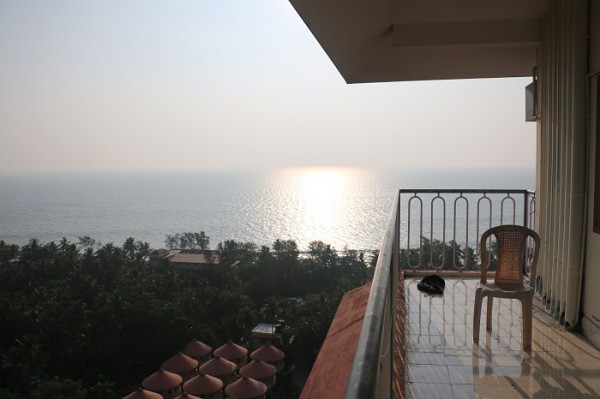 Unlike traditional ashrams, the Amma ashram was very liberal. Men and women were allowed to stay in one room if they were a couple, they didn't oblige guests to follow the daily schedule starting at 5am and even had a "Western Canteen" serving pasta and real cappuccino for foreigners. I loved this liberalness but at the same time I felt like I had arrived to a spiritual resort.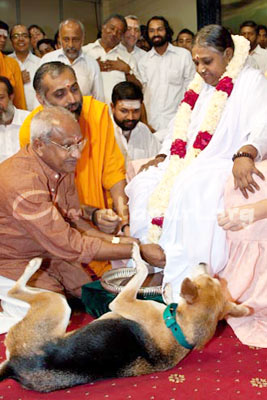 Most of the devotees dressed in pure white from head to toe making a cult like atmosphere. Some of their eyes were crystal clear which you could almost see through the other side. The fragile air surrounding them made me want to avoid them at first, but later when I got to talk to many individuals I learned that most of them had a balanced mind and their own opinion about the ashram or spirituality. I felt bad that I judged them.
Amma was away on a hugging tour when I arrived so unfortunately I didn't get a hug. But she appeared everywhere in the form of stickers, posters, dolls or paintings. She was painted in the same line as Jesus or Lord Shiva. At the ashram shop, one could purchase a dress she wore or an earring she put on for a ridiculous price. I was shocked when I tried to sign up for a week long intensive yoga course; they were asking for 400USD.
Almost all of the work at the ashram, from cultivation of the vegetable garden to the drying of dishes were done by devotees. "Why wouldn't they employ the locals and give them labor opportunity?" Thomas said. Simply because then it won't be free. Since Amma wasn't present, the ashram was half empty but still there were more than 500 people.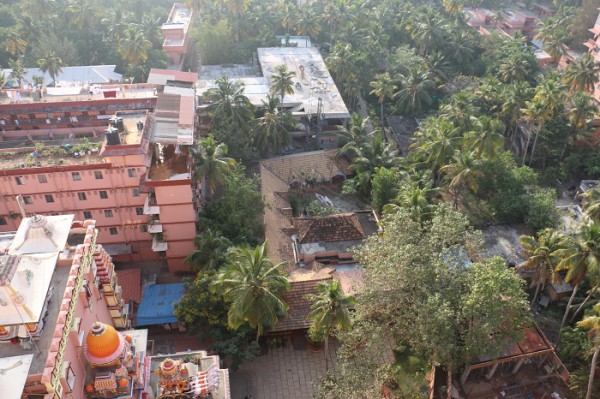 I shouldn't say only bad things about the ashram though, because they also had good projects such as sending 100 volunteers to 100 rural villages across India to teach perma culture. They wanted to teach locals that without the use of toxic chemicals it was possible to cultivate healthier vegetables and harvest more.
During my stay at the ashram rather than practicing yoga or meditation, I shamefully got into playing Candy Crush for the first time in my life and was begging Thomas to lend me his phone as soon as the sun rose. I was so addicted that I couldn't stop playing even if my head was burning in pain. We left the ashram after 3 days when I conquered level 40 towards Varkala, a scenic beach in the south.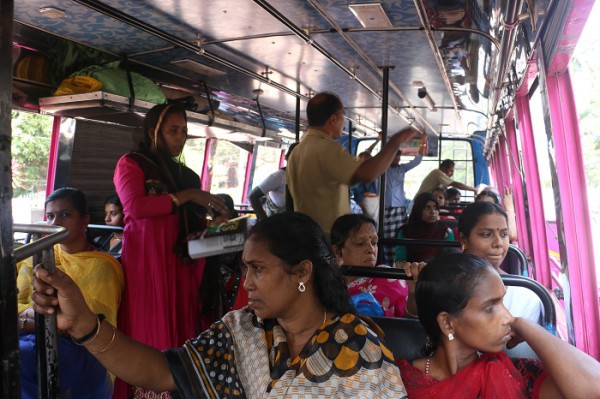 The backpacker hangout of Varkala is built on a cliff top overlooking the sea. From its location the entire beach disappears in monsoon time swept away by high waves. Even during the dry season when I went, the tides were very strong and not very suitable for swimming. However it is a very pleasant view from the cliff top. We checked into a cheap dormitory room at Jickey's (150 rs=2 USD) and spent the day strolling along cliffs or chilling out at cafes. I found a donation based yoga class run by a young Japanese lady so I participated everyday.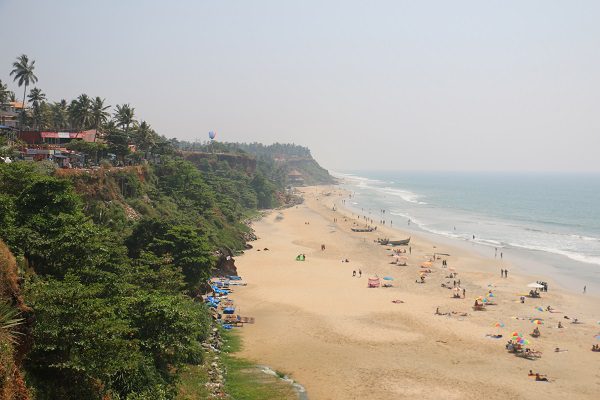 The steep temperature rise coming from Mysore to Kerala was reaching its maximum in Varkala. It was over 30 degrees everyday and it didn't cool down until sunset at 6:30pm. Some days even at 5pm, I would find myself sweating in the shade. Gradually the temperature started to take a toll of me and I started to be less-energetic and even a little bit depressed.
I would spend half of my day in bed playing Candy Crush which only made things worse. I was exhausted from traveling. I had an argument over something unimportant with an Israeli dorm mate and also made Thomas upset over something I didn't intend to which led him not talking to me anymore. With the unbearable air in the dorm, I moved out to a guesthouse where I took a double room for my own.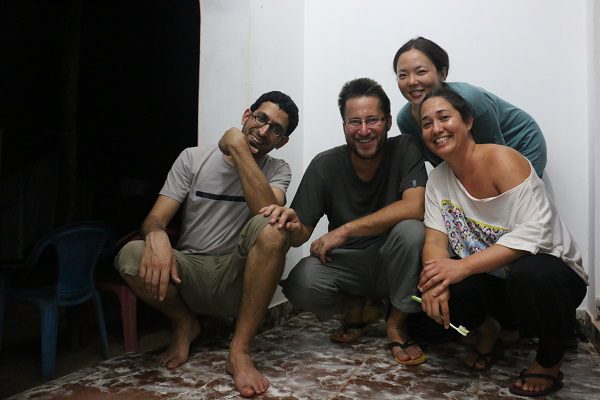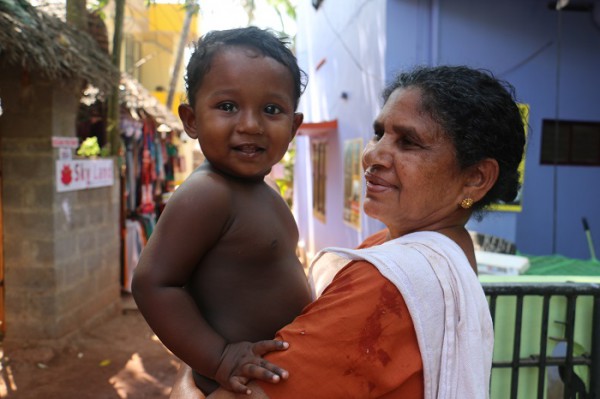 On the following days I had a chance to see a festival at a local temple where 6 elephants marched and dancers performed in the most eccentric costumes. The strong beat of the drums awakened the wild instinct in everyone and the temple was full of steamy air.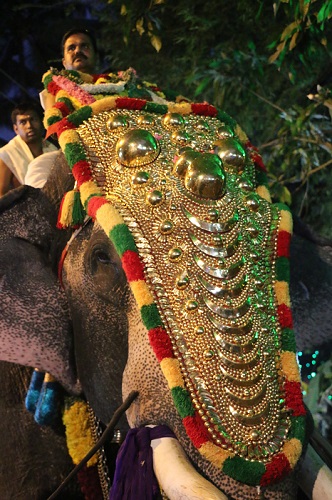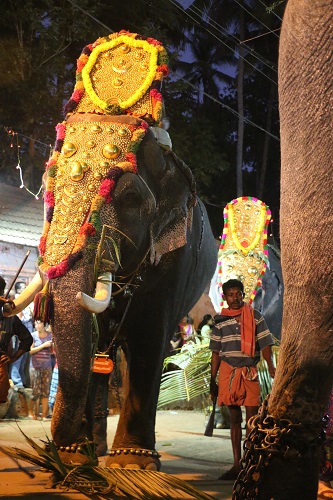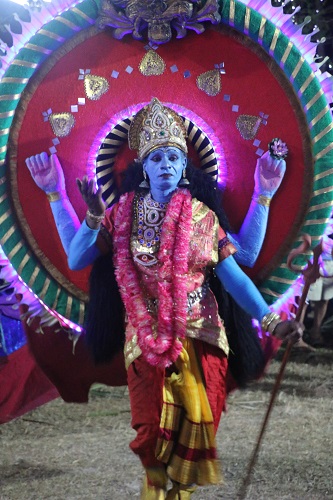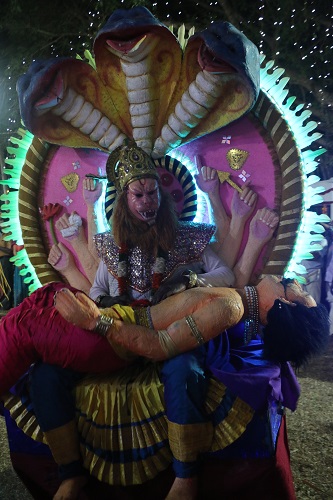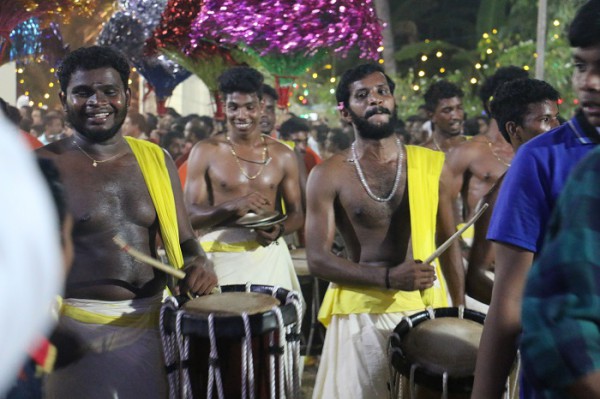 Shortly after the festival, I developed a terrible cold which lasted for 7 days. My birthday came during that period and I only felt more stress to rethink the poor situation I was in despite turning 29. I didn't have a single friend to celebrate with and was in miserable state. Just to top it on, a teenage girl came up to me and called me "auntie" when I was waiting for a bus. "Auntie, which bus are you waiting for?" I knew she only wanted to help me but it shocked me so much that I went to buy a new jar of beauty cream. I celebrated my birthday with a seafood dinner and went to sleep.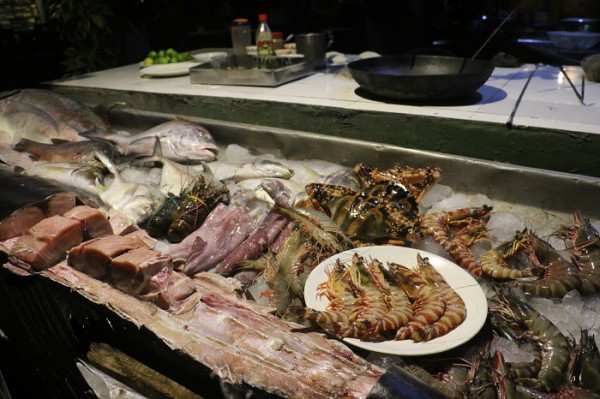 Few days later, I departed again to finish the last stretch of my 3 months trip in India.