"Living hell" That's what some people call Kolkata, the poorest city in India.
Now, I don't know if that's true, but my arrival in Kolkata was a bit of a living hell too. As soon as I reached the Howrah main station, a sharp pain penetrated my stomach so I had to run to the toilet in lightening speed. I thought I wouldn't make it. Indian bacteria seem immortal even after 10 days. Upon arriving with sweat on my forehead, the cleaning lady demanded some change which made me want to shove her shoulders saying it just isn't the right time.
Aside from my expectations, I find Indian toilets much cleaner than many countries that I've visited. Floors are always washed, water is clear and there is always a tap to wash the bottom. Don't assume it's because there are cleaning ladies because they exist in other countries too, who never does their job. For sure, sometimes you can run into very nasty ones, but it is mostly clean even at places such as a busy train station or a public toilet in a poor fisherman's village. I recommend people who complain about Indian toilets to visit the Middle East or Central Asia once.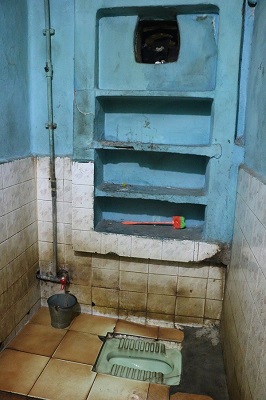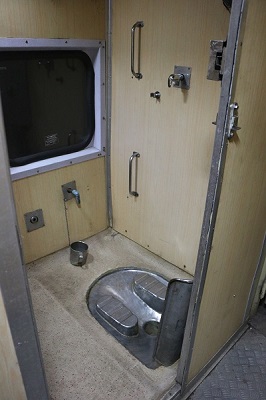 Xavier and I took the prepaid taxi from the train station to Sudder Street, the infamous area of cheap accommodation. Kolkata still used the classic "Ambassador" car for taxis which was manufactured in India from the late 1950s. Surprisingly, they're still kept in good shape. I think I love Kolkata already.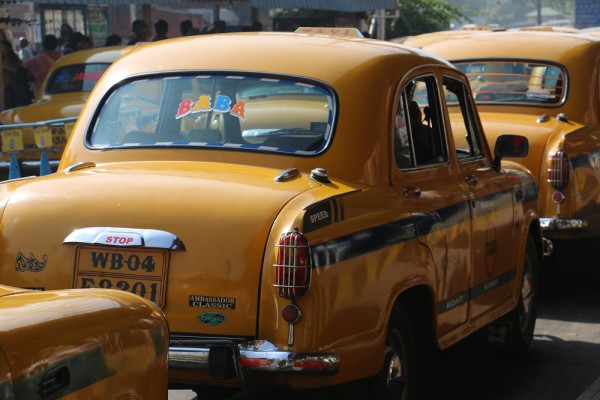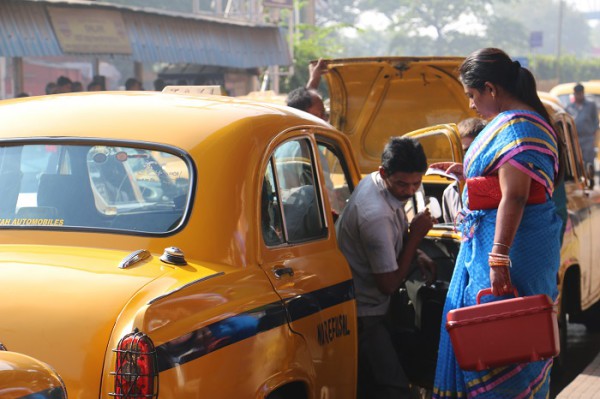 In Sudder Street, we checked into an old hostel called Maria which asked 600 rs (9USD) for a really old double room where someone left a graffiti of a bed bug on the wall with the comment "Free Bed Bugs! (Not Optionary). Considering paying half of that in Varanasi, I was not very happy but this was the cheapest option in Kolkata. We went out to eat lunch at a Chinese restaurant since Kolkata once had a big Chinese community in the past. Now most of its residents left leaving the old China town into ruins.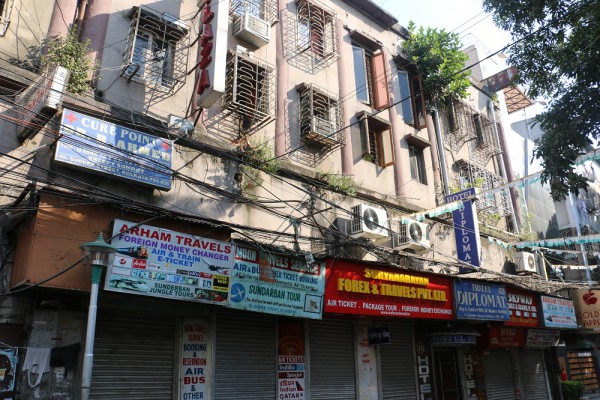 On every street lived numerous homeless people. It was much more than that of New Delhi or Varanasi. They took a shower on the streets by opening up the fire hydrants. First it surprised me when I saw a group of naked men sitting on the road, splashing each other with water and soap. They were enjoying it like school boys. The whole thing really blended into the scenery of Kolkata somehow. Due to the 10 million Bengali refugees that fled from the war with West Pakistan in 1971, there was a lot of poverty in this area. That doesn't mean it's a gloomy city though. I found Kolkata to be a very lively city with nice classic aspects.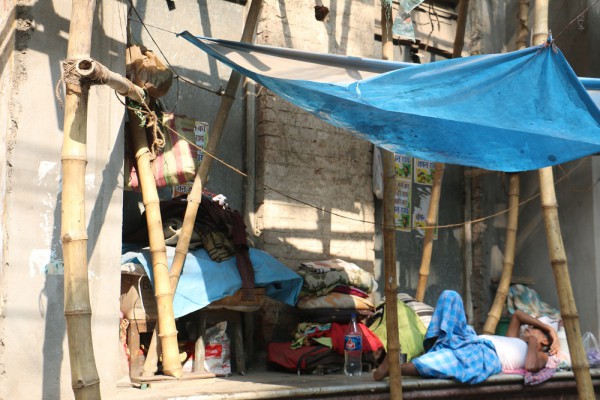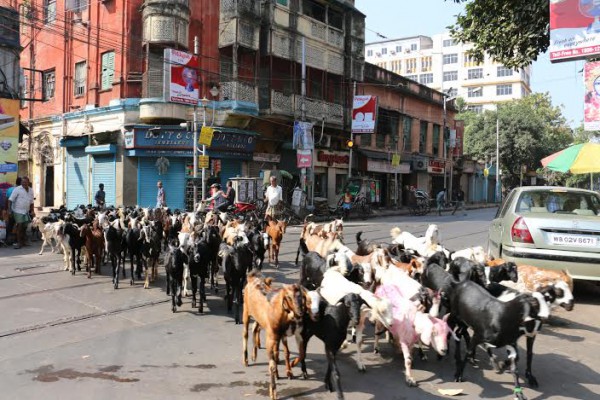 One of the key characteristics of Kolkata is that the city is filled with beautiful British Raj (king) era buildings. Although many of them are poorly kept and run down, it is fun to imagine what it looked like back in the days and feel the history in the air. A British traveler told me that inside the Writer's Building, now a local government building that used to host the writers of the British East India Company (wow!), a large black ceiling fan still operates that was installed in the 1900s. Police officers in Kolkata stand in the streets guiding traffic dressed in white uniform with a navy blue beret that looks like they just came out of a history book.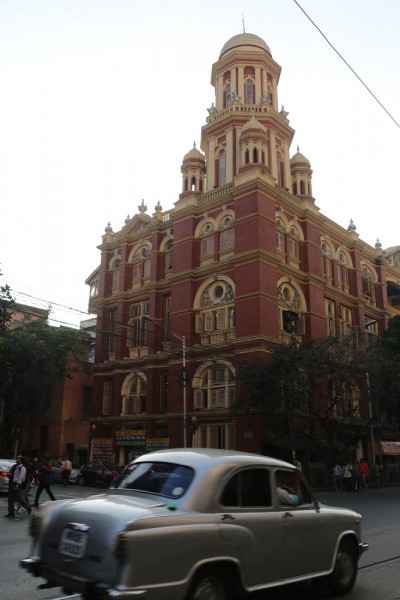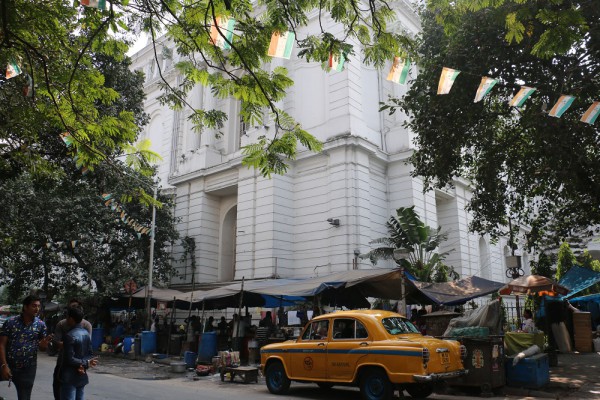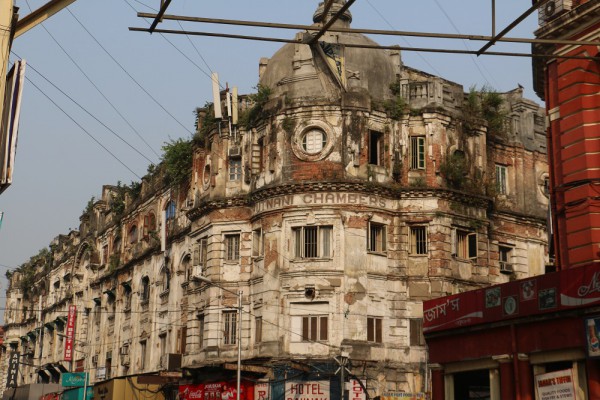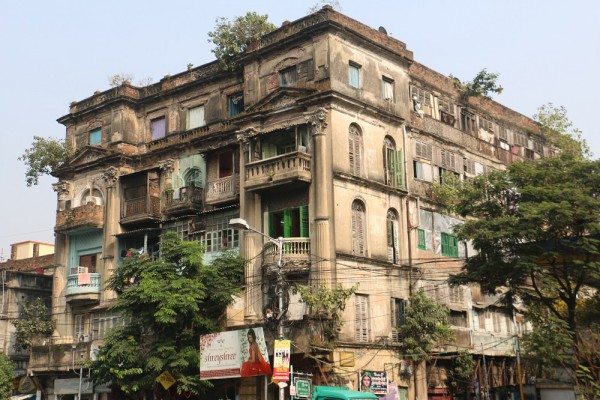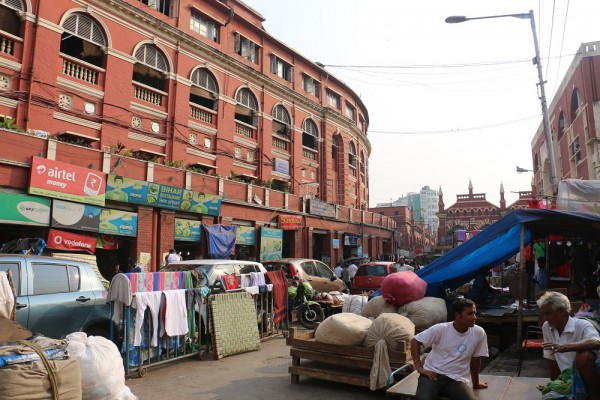 The lively side of Kolkata is of course its people. While walking in the streets, you will often hear the large sound of the ticket sellers striking their metal change box on to the surface of the bus calling out their destinations. "Howrah Howrah Howrah Howrah Howrah!!!!!" Despite of the disturbing sound of banging metal, I found these chants very attractive. It was the rhythm and sound you will never forget. I never heard it in any other cities. I think Kolkata has soul.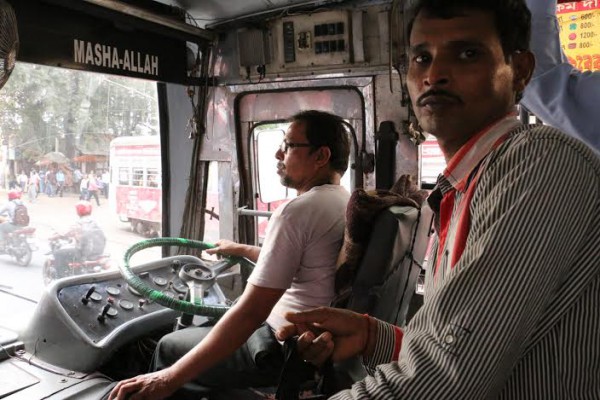 One more special thing about this city is the hand pulled rickshaws. Rickshaw is a passenger cart usually pulled by bicycles or motorbikes these days. However in Kolkata, they were old school and still used man power. I saw many old men pulling passengers on bare feet. The British traveler and Xavier told me that they wouldn't feel comfortable to ride this, saying that its inhumane to make people carry you in such a way. In fact Kolkata decided 10 years ago to stop the licensing of new hand pulled carts so after the existing ones vanish, this scenery will disappear from the city. I think the city's decision is such a pity and also how some western people look at this service in a negative way.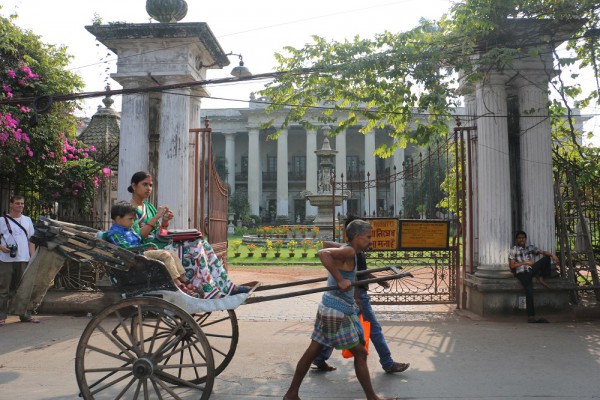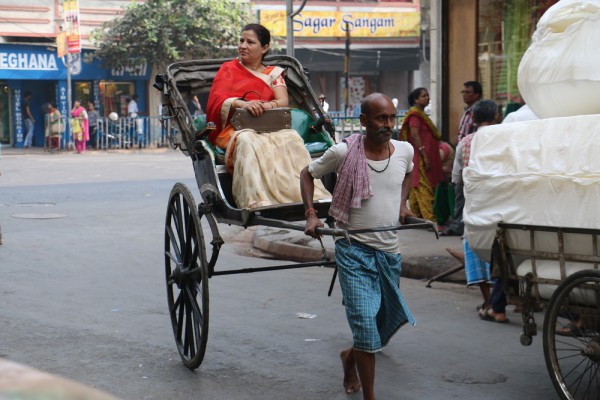 Coming from a country where the word "rickshaw" (means power cart) originated, I see this job as a historical and cultural one. If these people really hated carrying people on their back, why wouldn't they buy a bicycle? They must have pride in their job and that's why they're still doing it. "That's true", the British traveler said. "I saw a documentary on BBC about them protesting against the ban of new carts, saying that this is what their fathers and grandfathers have done all their life, that they liked and had pride in it." Later I took one and experienced the luxury of viewing the city in a turtle's pace.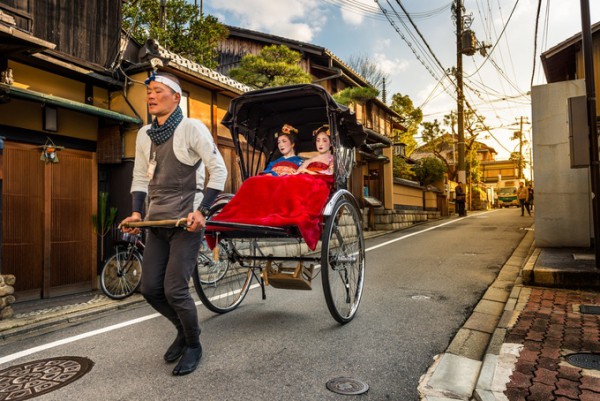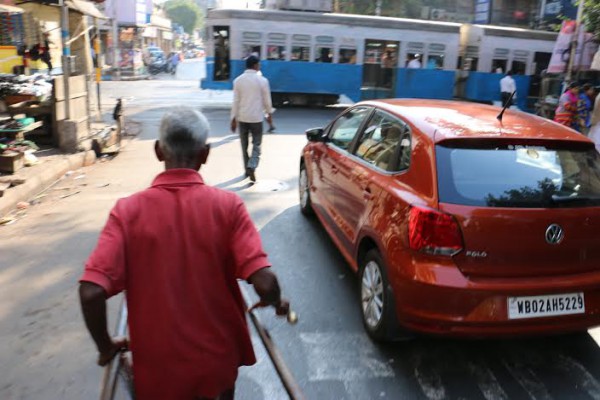 One of the first places we visited was the Mother Teresa house, where the Macedonian saint lived and worked with her sisters until she passed out in 1997. The building was small, simple and solid but crowded with many visitors from all over the world. In one of the room on the ground floor was a white marble stone tomb which she rested in. It was decorated with marigold flowers that read "Love Begins at Home". An elderly nun prayed silently by her tomb for a very long time.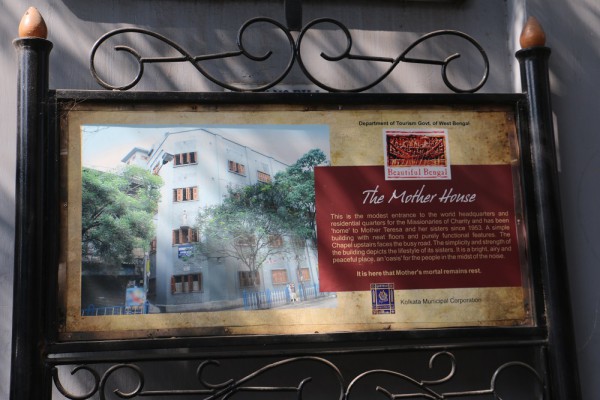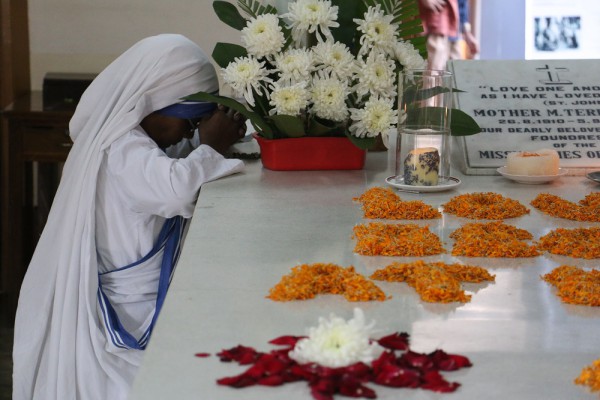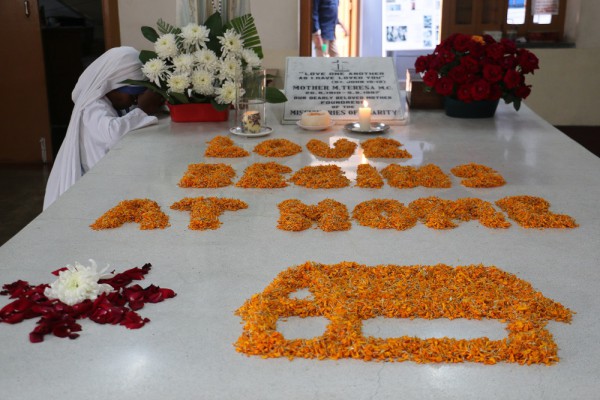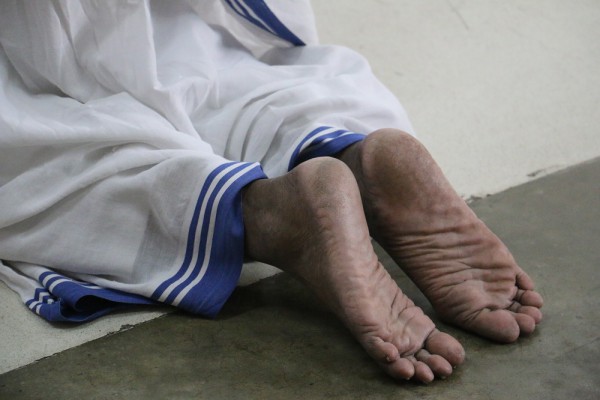 I also got to see the room where Mother Teresa lived, a very small room above the kitchen with just few furniture like bed, desk and a book shelf. There was a picture of the pope and her when he visited this room. There was no one around me. I was only 10 but I can recall hearing about her death on the TV. It was hard to believe that I was standing next to the bed that she passed away in, that a death that shocked the world came from such a humble room like this.
Mother's house was interesting. However I am no follower of her, so I found some things to be too much. One of the sisters tried to convince Xavier to go to church again, handing him Christian magazines from America that was full of crap introducing articles like how masturbation leads you to die burning in hell. The exhibition in the museum room included the items she last touched and the drop of her last blood that someone sampled on a handkerchief. I wasn't fond of the blindness of religion and the somewhat cult-like atmosphere in the air disturbed me a little bit.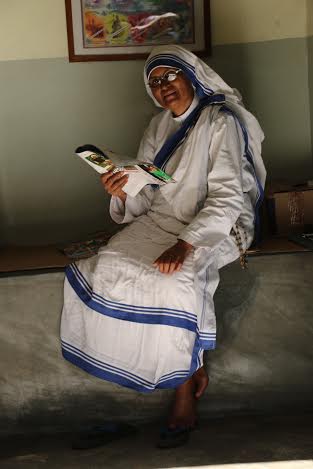 What didn't disturb me was Bengali food. One day I went to a local restaurant well hidden on the second floor of an old hotel that served the best prawn curry that I ever had. I know that it doesn't look great on the picture, but the blend of spices, butter and garlic made an incredibly sophisticated taste. I will put the address here in case anyone ever ends up in Kolkata. Hotel Sidheshwari Ashram, 19 Rani Rashmoni Road, Kolkata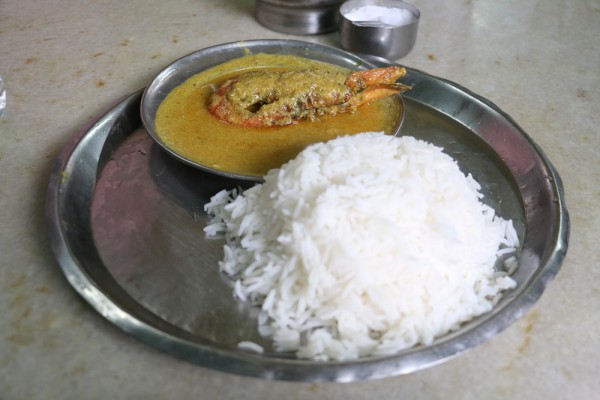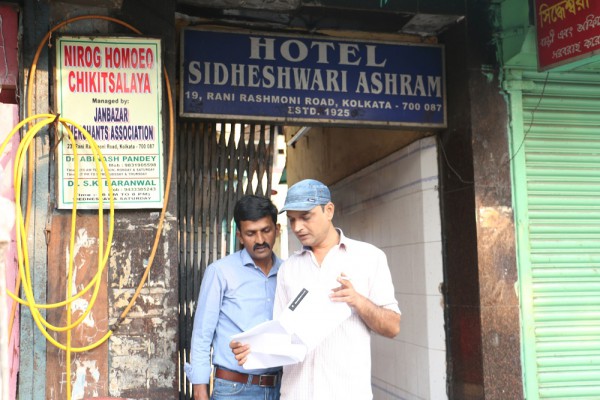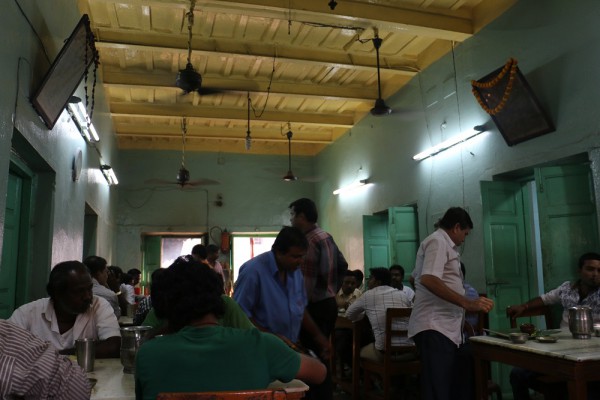 To be honest until this, I wasn't very impressed by the food in India. Don't get me wrong, I'm a huge fan of Indian cuisine and eat Indian curry more than 3 times a week back home. Therefore I had high expectations, but it seemed that everything tasted better in Tokyo. Not because they limit the spices but probably because they brought the best chefs from India and used the best ingredients. As a backpacker, I don't go to the most expensive restaurants here so of course most of the local meals that I ate were not the same level as the well known restaurants in Tokyo, obviously.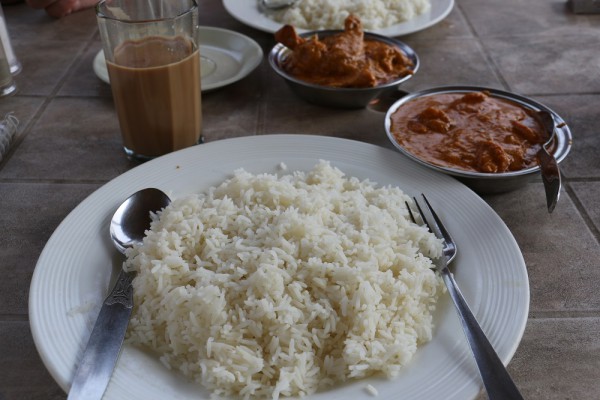 Another day I visited the Victoria Memorial, an enormous marble building that was dedicated to Queen Victoria after her death. It looks like a western take of the Taj Mahal (I've never visited) and truly gorgeous. In front of it is Queen Victoria's bronze sculpture which sits deeply in the chair like a villain from Star Wars. Inside is a museum of the history of Kolkata and its colonialization which isn't quite worth the high admission for foreigners.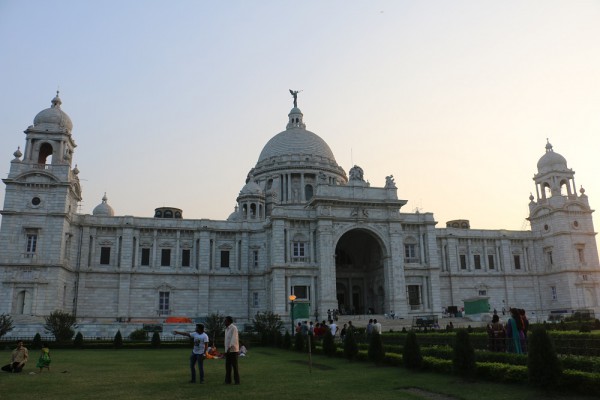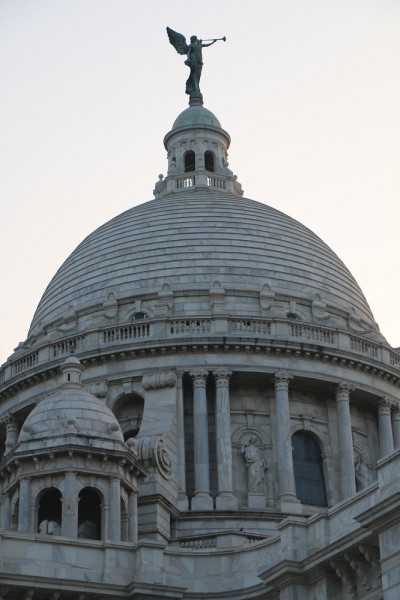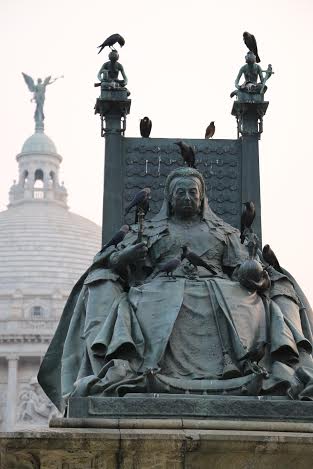 My highlight of Kolkata was the visit to the Marble palace. I can say that this is one of the most exciting places that I visited during my entire 3 months in India too. What is it? It is a former house of the maharaja (local king). It is a place where not many people visit due to the trouble of having to arrange an admission with the Bengali Tourist Association 24 hours in advance. (Admission is free) The white marble mansion is located a bit out of the centre, isolated from the hustle and bustle of the outside world by a tall iron fence protected by private guards. If not for the black stain that invades the marble, it looks like time has stopped inside this green compound.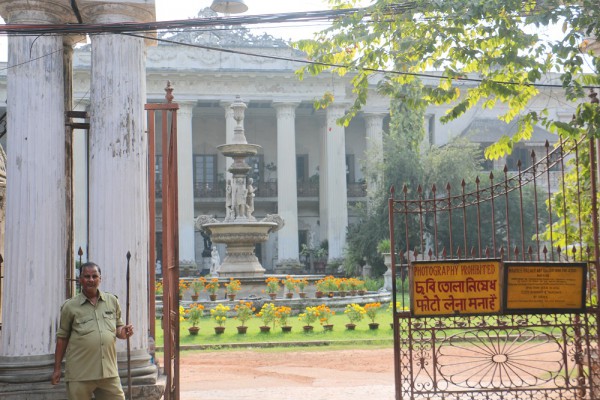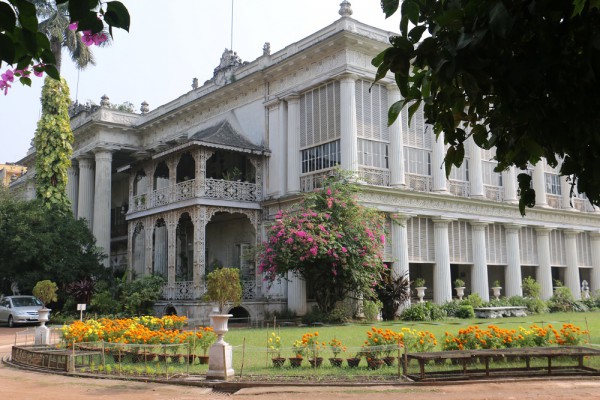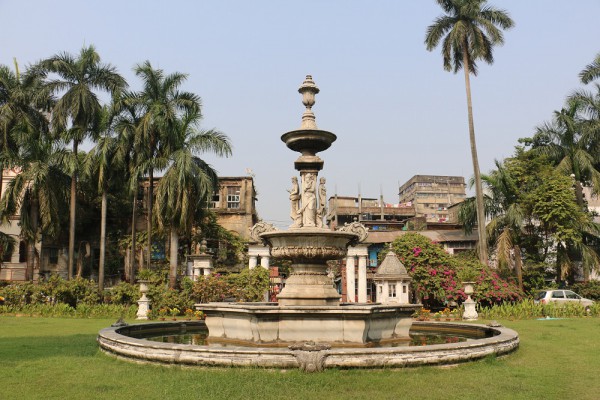 Inside, a guard took us in private tours explaining the details about the interior and artwork. It's such a pity that pictures were not allowed. Imagine a millionaire collecting hundreds of marble statues, western oil paintings, Chinese porcelain, crystal chandeliers and animal trophies without a real eye for art and abandon it for a century. Some things were absolute garbage but they also had treasures like the Rubens painting. More than 100 kinds of colorful tropical birds and unique animals brought from all over the world were displayed in the Greek Roman corridor and also in the outdoor zoo. Marble palace was the east's imagination of western luxury and wealth now buried in past glory and decadence. I'm going to cheat and put some pictures I found on the internet.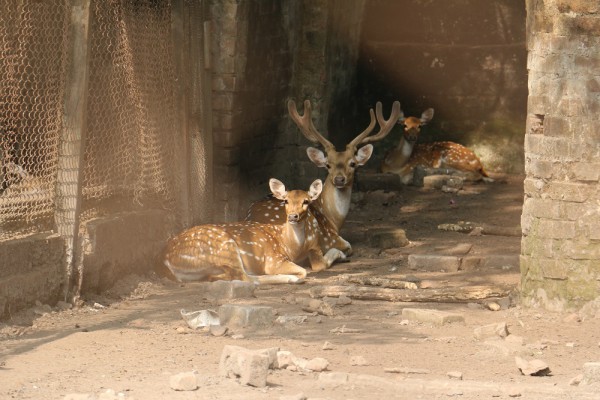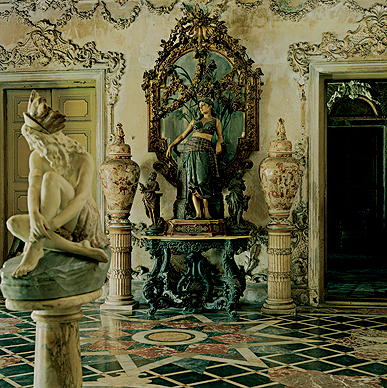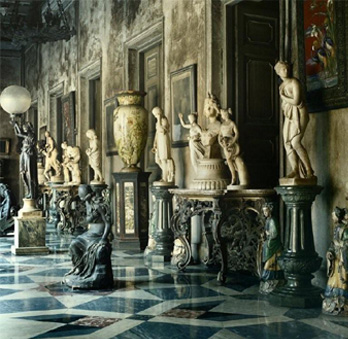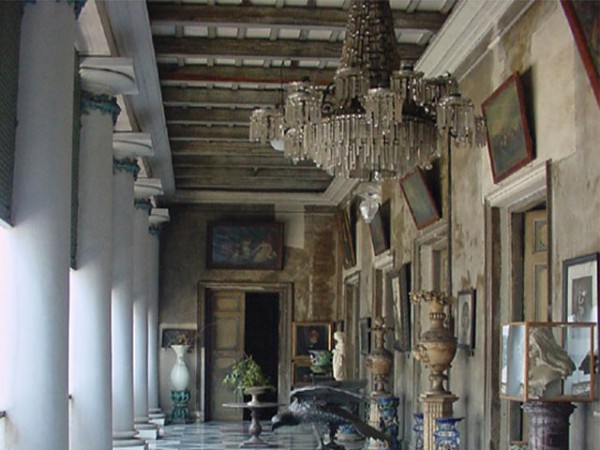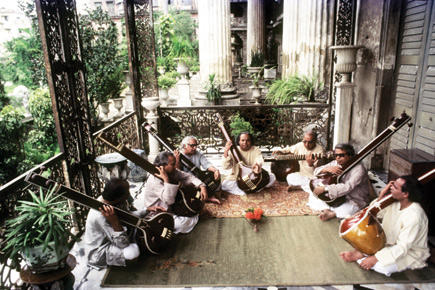 My time in Kolkata wasn't all flowers and roses since Xavier and I had a few fights. It's not so easy to travel around with someone if you're so used to traveling on your own. Even with a sweet and caring person like him, being together 24/7 starts to drive each other crazy. I was quite often furious and impatient with him (like I am with most people in my life) and really hurt him sometimes. Still, he kept patient and generous to me for most of the time. Despite of these arguments, there are many valuable things I learnt traveling with him.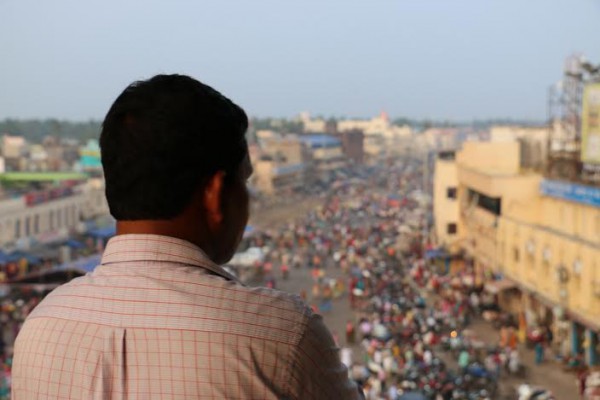 What I admire most about him was the way how he dealt with locals. He always responded to anyone who said hi to him even the touts and scammers in Varanasi. He would make friends with the kind of people who I will never bother to talk to and learnt some things or got good information. At first I thought he was wasting his time, but I soon realized that he is gaining trust and building a small friendship with many people. For me that's not always necessary or possible due to the fact that I'm a single woman, but if I took a look at his pictures, I can clearly see that he is traveling one step deeper inside the country.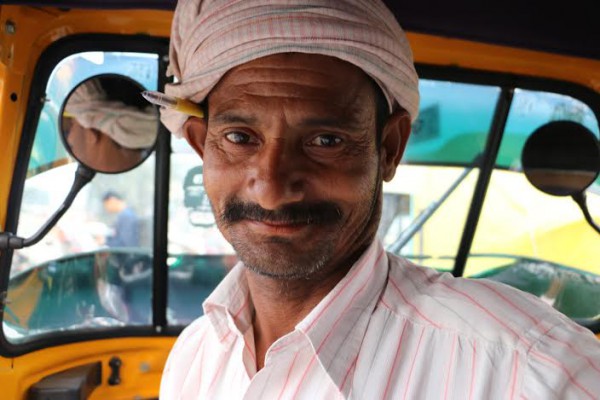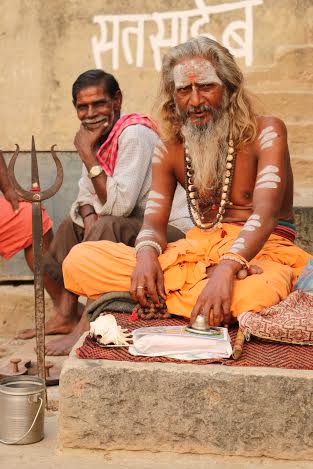 Therefore, I started to be friendlier and treated the locals with more respect. I would smile at them when they said hi and tried to make small talks with them if I had time. Aside from the contrary image, I learnt that most Indians didn't want anything from me and they just wanted to talk to me. Even the shop keepers weren't upset if I said I didn't need something. They enjoyed small exchanges and smiles. I felt great to communicate with the Indian people. They were friendly, charming and helpful .
I remember that I couldn't do this in the Middle East. Dozens of people talked to me and I would mostly ignore them because of suspicion. I was greatly annoyed by them and it made me furious everyday. For sure the Arabs are much more insistent than the Indians, but now I wonder if it was partially my fault that I had a bad time there. And then I think I really like the Indian people, but maybe in other countries I would've found its people to be equally charming if I went up to them with a more open heart. Overall I think it all depends on me, how I behave and how I communicate that can change my experience of one country.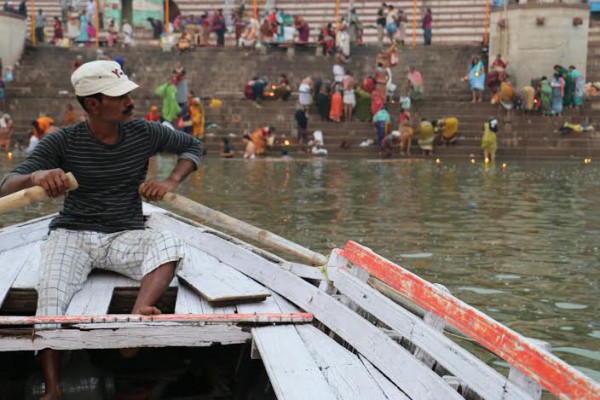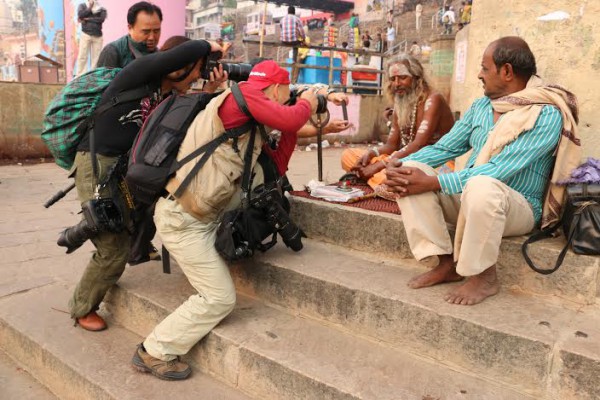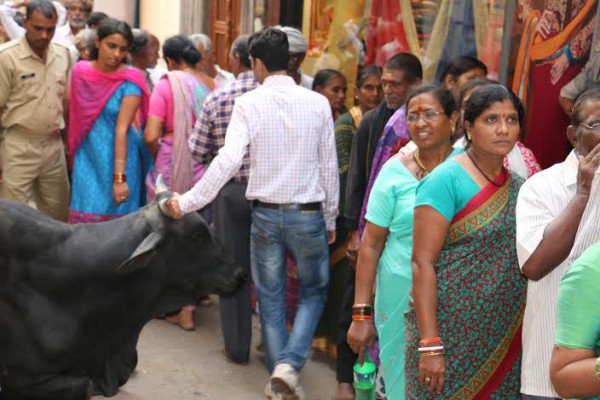 After 3 days in Kolkata, Xavier and I took a night train to Puri, a beach town on the east coast. We were excited to swim there but shocked and speechless to discover that the beach was used in a different purpose than bathing.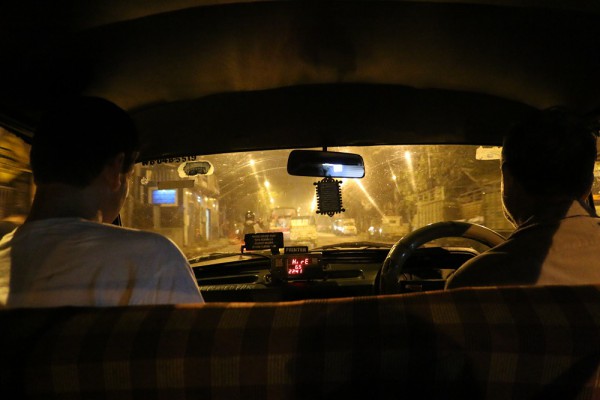 *A Little Favor*Please help my blog gain publicity by clicking on the "Japan Travel Blog Ranking" banner on the left if you're a PC user or at the very bottom if you're browsing through a smartphone. By clicking once a day from one device, you'll help me raise my ranking which will attract more people to view my blog. Clicking is completed once you are sent to another website with a list of blogs. Thank you very much!