Omer decided to join our trip to Mt. Ararat too, so we took a bus together. However god wasn't on our side that day; our bus got canceled, the alternative bus suddenly changed their schedule at 7 in the morning, we were ripped off by a taxi to the bus station, the journey took 5 hrs instead of 3, we were hit by a heavy downpour as soon as we arrived to Dogubeyazit and Omer had to leave without seeing Mt. Ararat because there was no bus back in the evening. It was the unluckiest day for sure. I felt so sorry for Omer who had to leave just half an hour after we arrived to the destination.
In Dogubeyazit which is located at the foot of Mt. Ararat we were hosted by Cavit and his wife Didem, a newly married Kurdish couple. The whole city looked really run down and I could feel the poverty in the neighborhood. However Cavit's flat was new and spacious. The selection of furniture reminded me of the nicely decorated homes of Iran. Cavit (in the blue t-shirt) used to work as an IT engineer in Northern Cyprus but he returned to Turkey a several years ago and made his living by organizing Mt. Ararat tours. Tourists needed special permits to enter Mt. Ararat because it is a restricted military zone. "We are very poor here but I am happier than before" Cavit said.
Didem was one of the most beautiful women I saw in Turkey. It's too bad that I don't have a picture of her. When we arrived she prepared a delicious casserole for lunch which I really appreciated. After lunch Cavit and his friend took us to see Ishak Pasha Palace, an Ottoman palace built in 1785.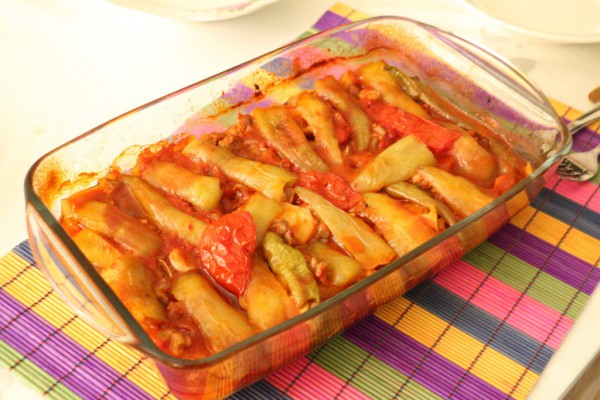 On the way to the palace, I saw the enormous Mt. Ararat in front of me. The rain has stopped so I could finally see the full view of the 5137m mountain. Ever since I visited Armenia last year and saw the mountain from a distance I always wanted to visit it from a nearby town.
Mt. Ararat was a special mountain for Armenians. It was presented on everything from passport stamps to their world famous cognac bottles. Even from a distance, the snow capped mountain was truly gorgeous and huge. I think it looks quite similar to Mt. Fuji, a Japanese soul mountain but much bigger. When I thought about how much Armenians loved their mountain but couldn't visit it because it was in Turkish territory, it made me sad. Especially when I arrived to Turkey and discovered that no one gives a shit about this mountain in the far east of their country, I thought that they don't deserve its beauty. Some people didn't even know about it or couldn't recall the name.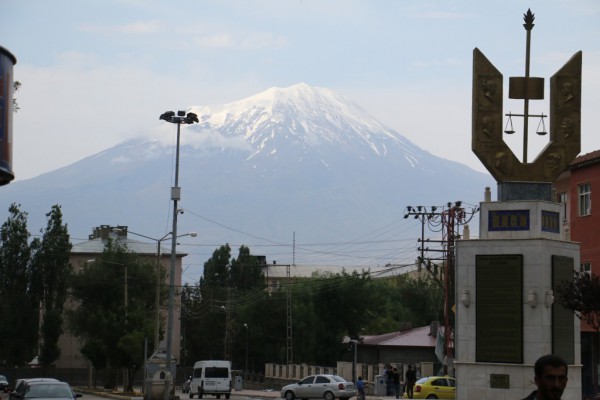 Despite of his warm hospitality I didn't warm up to Cavit. He couldn't pronounce my name right even after asking me more than 5 times and started to make fun of my name. I don't mind people not being able to remember it but when they purposefully pronounced it wrong it got on my nerves. This made me avoid him and soon I left most of the conversation.
Ishak Pasha Palace was the most beautiful palace I had seen in Turkey. It was kept in very good shape unlike the palaces or mosques in Istanbul. When I was taking pictures in the courtyard I was surrounded by a Turkish family who wanted to take pictures with me. Family members fought about who gets to go first. I felt like a star. Other people came one after the other. Group of friends, couples and more families. They were all delighted to take pictures with this strange Asian woman.
I remember the conversation at the bus stop when we arrived to Dogubeyazit. Omer explained to a local guy that I have had troubles in Erzurum being mistaken as a Chinese and received some unpleasant gestures. The local guy told me not to worry anymore because no one will do this here. "This is Kurdistan. Everyone is nice and welcoming to anyone." It seemed to be true. I still attracted a lot of attention but it was always good curiosity.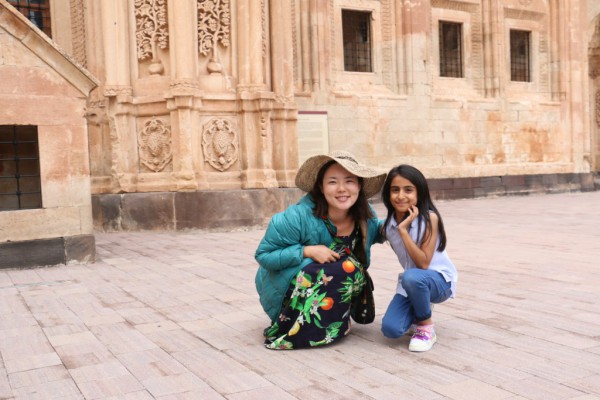 Next morning Cavit took us to his parent's house to eat breakfast. His family's home was a small shabby house built on the side of a road. When we entered, the whole family welcomed us. I couldn't believe how many children there were. There were at least 10 of them. After sitting down, a little boy came up to us carrying a silver tray with sweets and cigarettes. Not only in Turkey but in Muslim countries I was often offered a cigarette whenever I hitchhiked or visited a home. First I felt bad about it thinking that people must've judged that I smoke from my tea stained teeth but later realized that it was a common tradition.
His mother served us breakfast on a huge silver tray on the floor with bread, cheese, jam and salad on it. As a guest we ate together with the important members of the family such as the grandfather, father and the uncles. In the next room which was divided by curtains I could see the women and children eating together. This reminded me of the families in Jordan. They were very religious there too.
Even though the house was old and it looked like it was falling apart from the outside, everything was kept tidy and modestly decorated. I always admired this aspect of Turkish culture.
After breakfast we said goodbye to the family and everyone came outside to see us off. The little girls kissed my cheek and said farewell. They were very sweet and had beautiful eyes.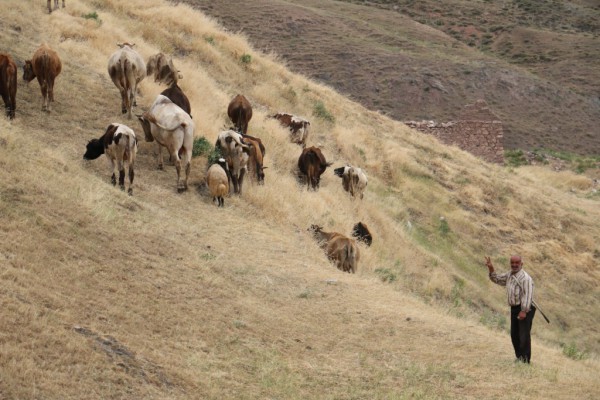 Alyona and I stood on the road facing Mt. Ararat and raised our thumbs highly. I don't remember clearly but I think it was the first or the second car that stopped for us. It was mighty fast. We got on the car of a nice guy who took us to the next city. I kept thinking about Tolun, our host in Cappadocia. He believed that Kurdistan was the most dangerous region in Turkey and warned us to never go there. "If you hitchhike in Kurdistan, it is the same as asking for rape or murder. Never even dare to try." Other Turkish friends told me the same but I wondered if they were talking about some other country because our experiences were truly pleasant, even better than western Turkey. There must be some propaganda going on.
The goal for today was to go as far as possible towards the Black Sea because we wanted to visit the city of Trabzon. We had some difficulty catching the second car maybe because it was still in the city centre. It's always easier to catch cars in the middle of nowhere. Some stopped but we declined because it was a group of young guys. After quite a while of standing under the blazing sun, we were picked up by 2 middle aged Kurdish men. They spoke no single word of English so we communicated in Turkish. By this time both Alyona and I were able to understand quite a few words of Turkish.
Ahmet and Musa were heading to Georgia and Armenia for their Ramadan holidays. When we heard that they were heading to Georgia we decided to join them too. It was Alyona's destination after Trabzon and I didn't mind visiting the country for my second time.
Ahmet and Musa were both extremely hospitable men. They stopped at street fruit vendors to buy us all sorts of seasonal fruits for us to eat on the way. When Alyona tried to drink some tap water on the street, they stopped her and drove to a nearby town to buy mineral water. They stopped the car in a vast field where nomadic families camped during the summer and cut us a big piece of water melon. For lunch they tried to find a cafeteria but because none of them were open for Ramadan holidays, they bought us snacks and bananas at the local shop and stopped at the beautiful Cildir lake to eat them. Our conversation consisted of just a few simple words but we laughed and joked around like good friends. First I was unsure of their appearance, shabby clothes and dark tanned faces but soon understood that they were super warmhearted people.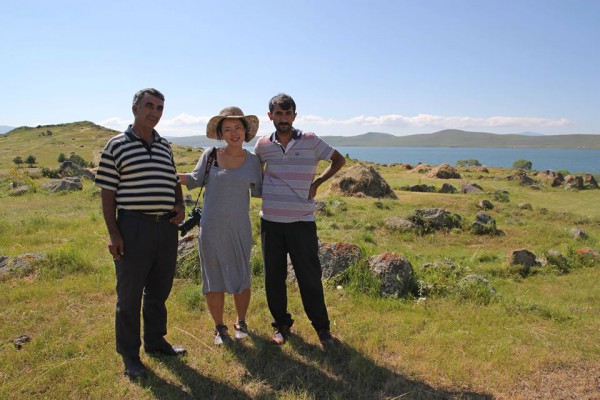 Ahmet asked us if we wanted to visit a small peninsula on the lake so we said yes. The place was heavenly. Blue sky, fluffy white clouds, crystal shining water and fresh green grass swaying in the soft breeze. The village seem to have a very traditional life style that hasn't changed from long ago.
Ahmet suddenly stopped his car on the road. There was an old homeless woman begging for change sitting on the dirt road. She seemed to be blind. Ahmet took out all the left over snacks, candies and fruits from the car and offered it to the old woman. She couldn't see what she received, so Ahmet explained that it was a peach and made her hold it in her hands.
I was deeply touched to see this. It is something that many people would like to do but they didn't. Moreover this was the act of a "dangerous"Kurdish person who everyone told me to stay away and "be careful" about. To be honest I was quite scared to come to the east after the negative comments I heard from the Turkish people in the west. I was very happy that I came here, to meet the real people with my eyes.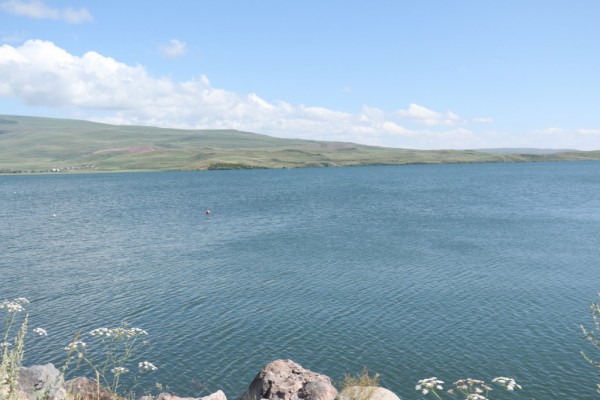 Ahmet and Musa kept entertaining us throughout the long ride. Later they bought 2 big cartons of ice cream and we ate on the side of the road where summer flowers were blooming. I kept laughing at their jokes and gestures. Even without any words I could understand them very well. Language was not important; we were communicating with our hearts. It was the best experience I had on hitchhiking.
A few hours later we reached the border to Georgia where we all got off the car and took a taxi to the nearby city of Akhaltsikhe. It was funny because Alyona could suddenly communicate in Russian with everyone. The taxi driver who spoke both Turkish and Russian explained to us that Ahmet and Musa were offering to pay for our hotel room in Georgia. They already had booked a hotel there but it was rather pricey so Alyona and I needed to search for a cheaper place. We couldn't believe how generous they were. Of course we didn't let them pay, but overall the hotel room was well worth the money with comfortable beds and clean bathrooms.
The next morning when we woke up, Ahmet and Musa were already gone to Tbilisi. I will never forget about this magical encounter which completely changed my image about the Kurdish people.
*A Little Favor*Please help my blog gain publicity by clicking on the "Japan Travel Blog Ranking" banner on the left if you're a PC user or at the very bottom if you're browsing through a smartphone. By clicking once a day from one device, you'll help me raise my ranking which will attract more people and businesses to view my blog. Clicking is completed once you are sent to another website with a list of blogs. Thank you very much!