It was my second time to visit Georgia. My first visit was last October when I was doing my Caucasus trip towards Iran. To be honest Georgia was my least favorite country so far and I was sure that I would never come back here again. First of all I didn't like the people. I think that's it. Other than that I don't have any other complaints about this country. The country itself has some incredible mountains and there is a lot to see.
Don't get me wrong, there are many good people and I have met very nice friends in Tbilisi last year but occasionally there were some really greedy ones. Especially some of those who are involved in tourism were pretty bad compared to other countries. They were money hungry and super aggressive when it came to price negotiations. This impression was so strong that it faded my memory of the beautiful mountains and the colorful nature.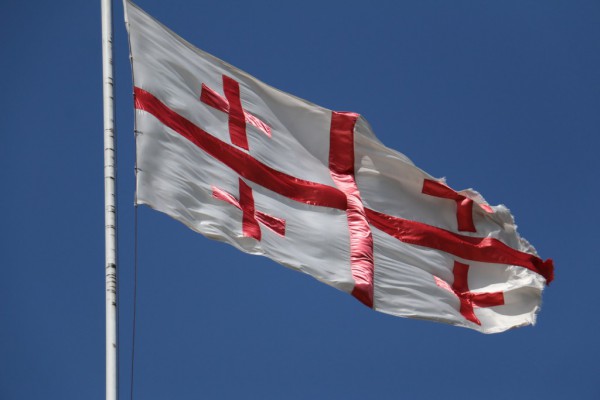 Yet here I was, with impromptu hitchhiking and not wanting to leave the company of Alyona. We checked out of the hotel and went to see some castles. On the way we went into a super market to buy lunch. Alyona was delighted to see all the Russian food she was missing from back home. It must feel so strange and funny to come to another country where people spoke your language and ate the same food. I bought some ready made food at the deli corner. Georgian food was my favorite so I was happy to eat them again.
The castle was "beautiful" because everything was newly rebuilt. Yesterday when I saw it briefly from the taxi, I was excited to see such great architecture preserved in the original shape but it wasn't. I don't know why they decided to rebuild mostly everything. It was as fake as Disneyland.
In the afternoon we hitchhiked to Borjomi, a small town known for its spring water. It was a place where many Georgians and Russians spent their summer at. During hitchhiking we discovered that it wasn't always nice that people understood your language because Alyona had to be talking all the time. Georgians were curious and wanted to know everything about her. They often fell in love with her and annoyed her by calling and texting many times. Later in our stay I often found myself falling asleep in the back seat and this probably pissed off Alyona a lot. I am really sorry about this.
Another thing we noticed by hitchhiking was the terrible driving manners of the Georgians. I thought Turkey was really bad. We had many drivers who drove over 120km/hr…on the opposite lane! But that was even safe compared to Georgia. There were no highways in Georgia. The local road that ran in front of people's homes where children played became a "highway" once it left the town. The road was very curvy and narrow so it was hard to see if there was another car in front of us. Many farmers let their cows roam around on this road too. Still the drivers never cared about them and always tried to pass the car in front of them accelerating to the maximum.
We don't know how many times we thought we were going to crash. I usually sat in the back but Alyona was scared to death. One guy showed us a video where he was taking the steering wheel from the passenger's seat without nobody on the driver's seat. No nightclubs, no shopping malls, only mountains and cows…this was his leisure here.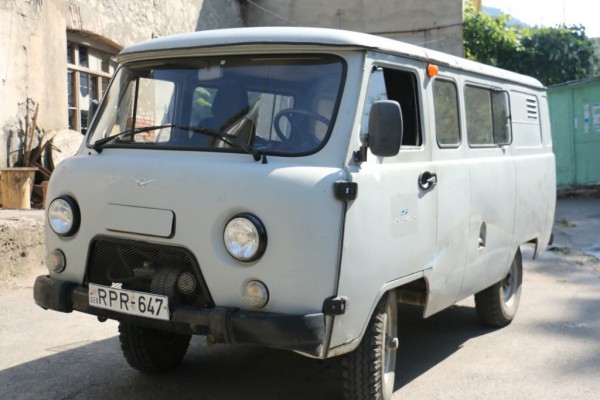 In Bourjomi, we stayed at the home of an old lady. His son was a taxi driver and asked us if we were looking for a place to stay when walking on the streets. The house was a traditional Georgian house with a big wooden balcony and a garden full of animals. There were chickens, rabbits and ducklings. The old lady seemed to be a well educated person; her home was full of books and she even named her wifi password "Stravinsky".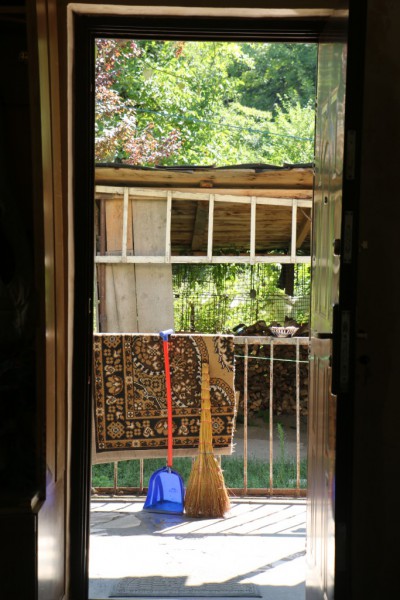 Since we were intense traveling during the past week, we decided to settle down here and catch up with our computer work. Alyona concentrated on her translation job and I started up my Indiegogo project. Whoever had time cooked lunch or dinner. We had a good vibe between each other. For a few days we didn't go outside except for groceries. I liked the atmosphere of Borjomi very much. There were lots of trees and despite of many tourists it was still calm and peaceful.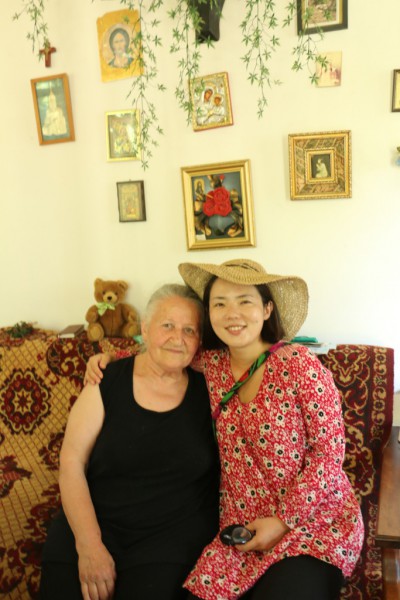 The old lady liked us and would often pamper us with homemade sweets and summer fruits. The taxi driver son was a bit annoying constantly asking us to go out together. He told us that he had stayed in Spain for 9 years with a tourist visa and was deported back home. Alyona complained that these people made the former Soviet citizens hard to obtain EU visas. His beer belly was so big that his t-shirt couldn't cover it and was hanging like a curtain. This was the stereo typical look of Georgian guys. It's a pity because many of them had nice faces. They ate too much greasy food and drank way too much vodka or wine or beer.
On the first night we were invited to someone's baptism party where some men tried to force me to drink vodka and break some shot glasses on the floor. "Come on! It's our tradition to break glasses in parties!" he said. When I saw the entire room packed with drunk men, I realized that I had never seen anyone getting drunk during the past 2 months in Turkey. There they also drank a lot but they were tolerant. I suddenly admired the Turkish men like never before.
After a few days we took a day trip to Vardzia, a complex of a big cave monastery. The family that took us in their car was very friendly and went out of their way to take us to our destination. They explained the history of the region and stopped at some points so that we could take pictures.
The monastery was very impressive indeed but after Cappadocia pretty much everything looked the same. I am sure that if I had visited here first I would have been really amazed.
On the way back, the sun was starting to set and there was not a single car on the road. Alyona started to worry a lot. I somehow became an incredibly optimistic person on this trip and kept telling her that it's gonna be alright; someone will pick us up because it's always like that.
After half an hour we found a family that was driving in the exact same direction. I am not blindly optimistic but believe most things are not worth worrying about. This is a big change in me compared to my early 20s. I was often too worried and feared if something went wrong. Now I am more confident about my surroundings and feel relaxed most of the time. I appreciate the fact that I am growing old.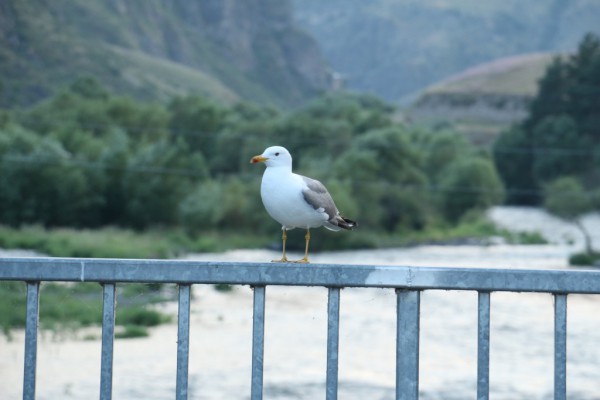 After 6 nights of working and resting, we departed the old lady's home to Kutaisi, the 2nd biggest city in Georgia which was still pretty small with the population of 186,000 people. The taxi driver son thought that we only stayed for 5 nights so we decided not to deny him and paid only for 5 nights. When we walked out of the house, Alyona said "I don't feel well. We tricked an old lady. This is terrible." I agreed with her but didn't go back.
Later when we arrived to Kutaisi, I realized that I had left my PC charger at her home. For the next 10 days I had to live without a computer and later had to walk around the entire city of Istanbul to find a low quality charger which cost me as much as the original one. It was a punishment from god. I really regretted lying to her.
Kutaisi was incredibly hot. There was seriously something wrong with the weather. It was very humid and 39 degrees outside. I felt as if I was walking in the concrete jungles of Tokyo. Our couchsurfing host was a Ukrainian guy who lived in the messiest house in the history of couchsurfing. He displayed all the garbage such as empty pet bottles, food containers and egg cartons as if it was a piece of art. There were already 3 other couchsurfers so we had to sleep on the floor which was probably not cleaned for a long time. The deal was to clean his house in exchange for a free stay. Alyona and I went out for dinner and quickly decided to move out to a hostel.
Finding a hostel wasn't so easy despite of the fact that there were plenty of them. One owner asked for a higher price than we knew from hostelworld and would not mention about the cheaper room until the last minute. Another lady got offended when I tried to bargain a little bit. She said that we will use more water and gas than the price we paid so go away. When we said that we will look around and come back, she angrily shoved us out of the gate. Seriously, what is wrong with these hostel owners? There was not even 1 guest staying at the place.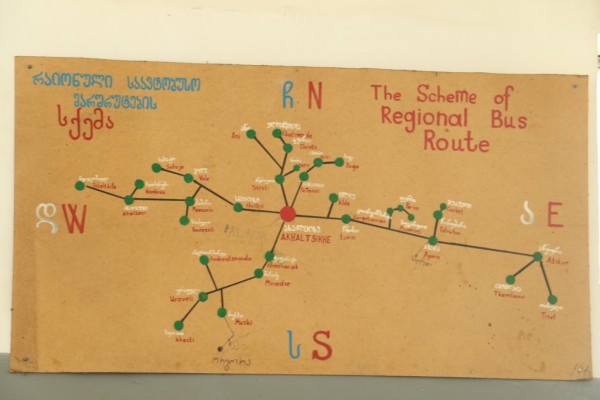 Finally we found the place with the recommendation of the Ukrainian guy and we settled down for a bed. There we met a friendly couple from Lithuania who invited us for some traditional herbal alcohol from back home. We chatted for some time and went to sleep.
The next day we visited a local market where we bought some traditional sweets and cheese. This thing that looks like a candle or a sausage is actually threaded nuts covered in thick grape juice. It was Alyona's favorite sweets. The smoked cheese was incredibly delicious. I can still recall the aroma and the modestly salted taste.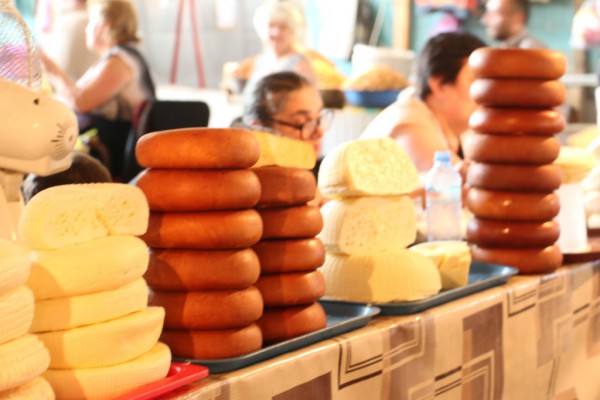 In the corner of the bazzar I found some dead stock enameled kitchenware from the Soviet times. I seriously wanted to buy them all but instead took just 2 of them with me. After shopping we could hardly walk outside in the 39 degrees sun. I was tired without doing anything.
The Lithuanian couple told us that there is a limestone cave called "Prometheus cave" which is always the same temperature of 14 degrees so we evacuated there the following day. Prometheus cave was large and lit up with many colorful lights. I appreciated the temperature and felt like staying there forever.
That night I decided to take a night bus returning to Turkey. I stayed in Georgia longer than I had planned. I still wanted to visit the Black Sea region before heading to Istanbul for my flight. When I left the hostel earlier in the morning, I didn't plan to leave that night so I didn't clear out my bed. When I got back the owner lady demanded me to pay for the full night stay because I was leaving at 8pm. Her claim was that, because my bed is taken until the evening, no one could stay in my bed and therefore I needed to pay the full price.
"We're not talking about New York or London here" I said. "I understand that I will need to pay some money but I can't agree to pay the full price. There is no one staying here anyway." The lady never shook her head and finally I had to pay everything.
This was the kind of thing I didn't like about Georgian people. Even if the entire town was completely empty they behaved as if it was packed with tourists and used some big city standards to milk money from me. In my opinion they lacked common sense. Not all were like this but the few greedy ones made a bad impression of the country.
I said goodbye to Alyona. It was sad to separate with her after 20 days of traveling together. She was my longest travel companion. Always patient, thoughtful and hardworking. I never thought that I would make such good friends with a Russian person. My impression towards the Russians was cold, heartless people with a few nice exceptions but she really changed my mind.
I was able to learn a lot about the Russian mentality, culture and a few things about history and current politics because of her. Coming from completely different back grounds, I was always amazed about what she told me about her country. She has also helped her family with their business since she was a small child. I admired her hard work and diligence very much. I asked her to visit me in the Stan countries many times but I am not sure if she was convinced.
Finally I was alone again. It is so hard to be alone after having nice company for a long time. I felt extremely lonely.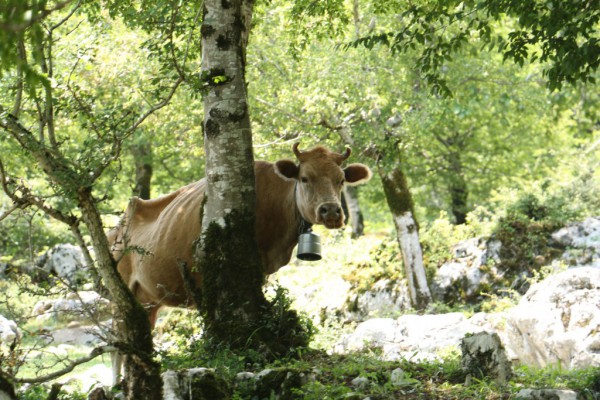 I met a young Georgian girl who was traveling to Turkey with her mother at the bus stop. Her father was Turkish and she had a beautiful, exotic smile on her face. She kept me company asking me simple questions in English. Her attitude was very soft and sweet. I felt happy to meet her at the very end. I didn't have to leave Georgia with the bad impression of the hostel owner.
I got on the bus to Turkey not knowing the nightmare that was waiting for me.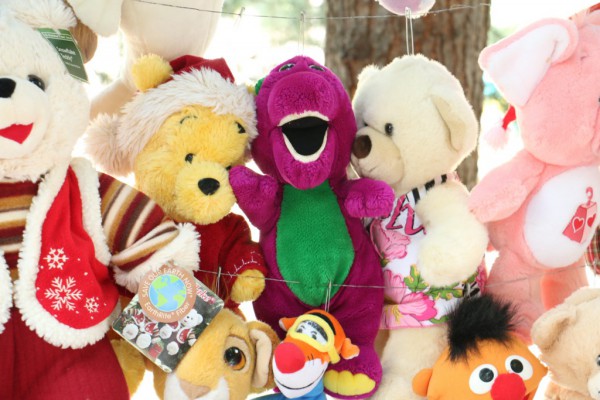 (An old Barnie doll used as a prize for a carnival shooting gallery in Borjomi. Sweet childhood from the 90s!)
*A Little Favor*Please help my blog gain publicity by clicking on the "Japan Travel Blog Ranking" banner on the left if you're a PC user or at the very bottom if you're browsing through a smartphone. By clicking once a day from one device, you'll help me raise my ranking which will attract more people to view my blog. Clicking is completed once you are sent to another website with a list of blogs. Thank you very much!