Zaza's house was located in the far end of Tbilisi in an old Soviet apartment complex. He lived there with his parents, grandparents and his older sister. No one in the family spoke English but they welcomed the sudden Asian guest with warmth. Zaza let me sleep in his room and he slept on the couch despite having to go to work from tomorrow. The next morning he came into the room to get changed. He worked as an engineer at a local beer company. His mother made me breakfast and although I couldn't communicate a single word with her I felt the love and care of a mother. Zaza took me to the nearby subway station and I went on to discover Tbilisi.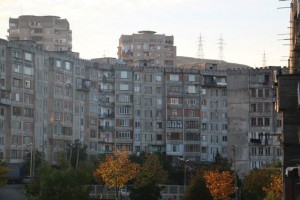 At the nearby station, many people were selling vegetables and clothing on a table on the street where taxis and marshrutkas went by. Many women were dressed in black and wore long skirts and scarves. They had sculptic features with clear eyes and tall noses. Older women tended to hide their plump body with many layers of clothing.
The surrounding buildings were old and some trash flew on the streets. Seeing many people selling things outside in the cold weather told me something about the economic situation of the country. On the way to the ticket gate, there were many vendors selling cheap Chinese clothing. It reminded me a lot of the subway stations in South Korea. Even though the dresses looked cheap and ugly, with the nice proportion of Georgian women it didn't look too bad.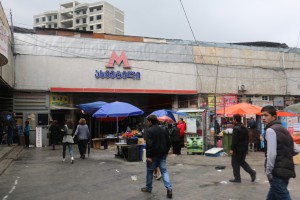 After entering the gate with an electronic subway card, I saw the exact same escalator that I saw in Moscow. The high speed escalator took me very deep in the ground. I learned that in Soviet they made it deep so that when they carry tanks and weapons on the subway, (tanks, I know) it'll be hard for the enemies to trace it from the satellite. In Armenia the style of the station was similar, but the size was much bigger in Georgia.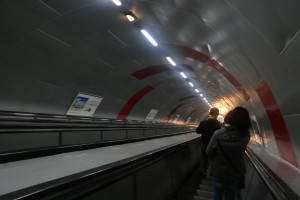 There was an electronic bulletin board on the platform and I was able to navigate myself easily. The only downside was that the whole platform smelled like a giant sewage with dirty warm air sitting around for ages. As soon as I got on the train that was much modern than I expected, a homeless guy came down the aisles asking for money in his paper cup. In less than a minute someone opened his wallet and threw in some change. More people followed and the homeless was able to receive money from more than 5 people in 10 mins. If this was Japan, it'll take him a day to get that many.
Yoshi had already given me a lot of information about Tbilisi, so I first went to Rustavelli Street, a main shopping street in Tbilisi. The streets of Tbilisi were completely European.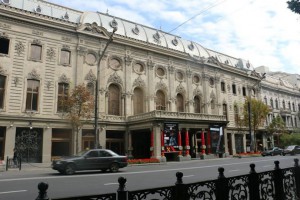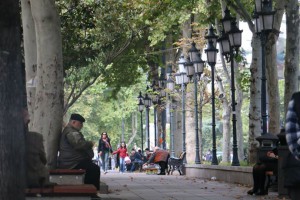 White birch trees lined up the sidewalks and buildings were that of old Europe. At the end of Rustavelli Street, I came across a big square that led me to the old town district. Not that there were so much to see, but it was nice to wander around the small alleys. After visiting a few churches, I went to see the old public bath building. Smoke came out from the chimneys of the more than 100 year old brick house and I was impressed that it was still in use.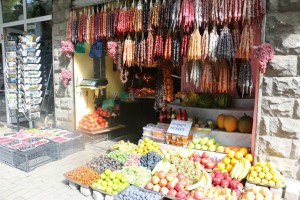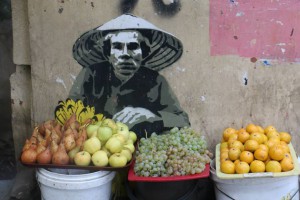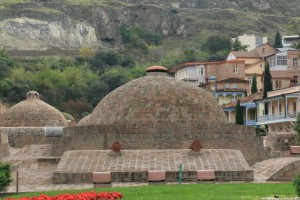 An older Caucasian woman came to talk to me when I was taking pictures. Her name was Maxine, an American woman in her 60s traveling alone. After some small talk she invited me to have Georgian wine so we sat at an open café nearby.
Maxine was born in Panama where her American parents worked for the opening of the Panama Canal. She went to the United States when she was 20 to attend college and married an Australian man and moved to Australia later. After she divorced him in 2 years she stayed single working as a teacher in America and enjoyed to travel around the world by herself. "When I went to Iran 40 years ago, the shar (king) was still there". Her old travel stories amused me. I always thought that the American people don't travel so much so she surprised me by how active she was despite of her age.
Yesterday she took a few marshrutkas, a jeep and a horse carriage to the Russian border and attempted to enter with a valid visa, but because the entry point was different from the one she submitted she was rejected. Too bad that she couldn't enter but I dare that none of the Japanese women her age will have the guts to go on such an adventure. I would love to grow old and be as cool as she is. We took a cable car to a hill where we took pictures and said farewell.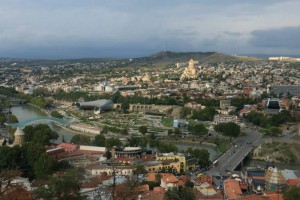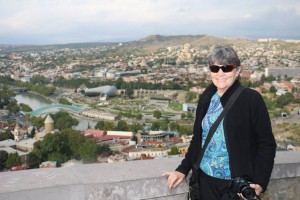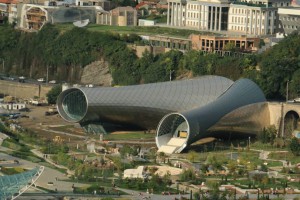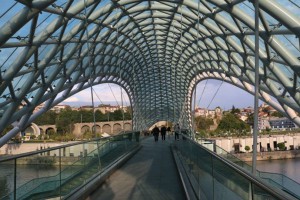 The thing that surprised me most in Georgia was how old the buildings were. The ones on the main street were well kept but once you go into the side roads, the buildings were barely standing. I could see that they were once very beautiful houses but now it only looked like a haunted mansion with run down balconies and the whole building tilting. Still, to my surprise they were inhabited.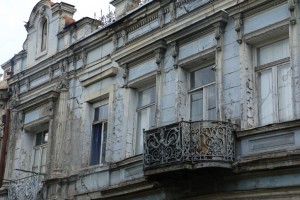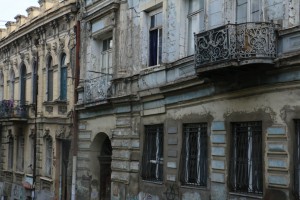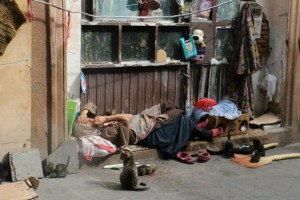 The Soviet apartments were in bad shape too. Most houses altered the balcony part into a room using bricks and tin roofs. When I first saw the apartment complex I thought it will be at least 60 years old but it turned out that they were all built in the late 80s in a rush job. I couldn't believe that it had only been 30 years.
"Nobody cared about making a strong long lasting building. They mass produced it in full speed because the population started to centralize in the capitol", Zaza said. When I first saw the elegant streets of Moscow and the luxurious apartments standing on it, I was impressed and thought that Soviet was much more successful than my image. But I was wrong. This was the real Soviet.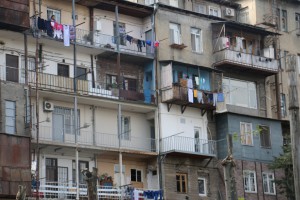 In the evening Zaza took me out to a Georgian restaurant where we ordered Khinkali. Khinkali was a meat dumpling which they wrapped minced sheep meat with a flat dough and steamed it. When eating it, one had to hold the top, carefully take a bite and drink the soup before eating the meat part. The style was very similar to the Chinese dimsum dumplings. The meat already had a salt flavor to it and the dough was smooth as silk.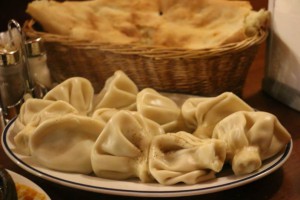 We also ordered ostri, a beef stew with a tomato flavor and spicy green peppers which Yusuke strongly recommended me to try. As he said that all Japanese will be fond of the taste, I became a quick fan too. The beef was so soft that you didn't even need to chew it. The slight sourness of the tomato and the spiciness of the peppers were a best match.
In Georgia, meals were always served with big bread that was baked in a stone oven. Outside was crispy and the inside was soft. It tasted similar to the naan in India. Like the naan, it didn't taste so good after it was cold. Zaza even ordered a lemonade and beer from his own company and generously treated me everything. Would I be able to show the same kind of hospitality to a person I only know for a few days? I was very grateful to meet him.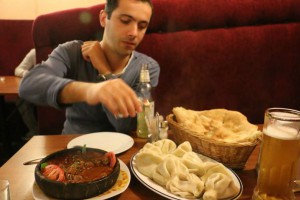 Zaza had a lot of passion towards Japanese culture. Not anime or manga like the usual J-fans but he loved classic literature, myths and old movies. In his book shelf I found "The Tales of Genji" and poetry books translated into Georgian and Russian. He passionately told me how great the Japanese poems and haikus are. I couldn't respond to questions like the interpretation of Japanese myths and Kurosawa movies, but felt very happy and flattered to know his interests. He had a good sense of humor and was a real gentleman. I never felt tired or bored talking to him. Also I felt like I had known him for a long time. It was strange because I never felt like that with other people. I wouldn't usually hop on a car of a person I barely know and cross the border and visit their house, but gut feeling told me that he was alright so I followed. It wasn't a mistake. Later that night I promised Zaza's sister Maria to cook Japanese food for her family. That was the only thing I can do for them.
The next day I met up with Salome, a Georgian student who Yoshi introduced to me. Also Yohei had just arrived to Georgia on the night train from Armenia that morning, so we all got together and went on a sightseeing tour of Tbilisi. Salome studied Japanese in university and despite the fact that she never visited the country she was fluent in the language. She worked part time at the Japanese embassy where she had many opportunities to meet Japanese travelers. Later Salome's classmate Nino joined and visited the Tsminda Sameba Cathedral.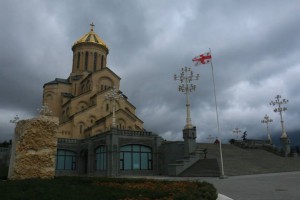 Inside the church I saw many devoted prayers. They were so serious that I felt that it'll be rude to take pictures inside the church. Lighting candles, cutting crosses, kneeling down, I wondered what they were praying for. I assumed that in poorer countries, there wasn't much you can do with your own power so the power of believing became stronger.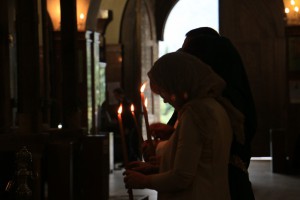 After visiting the church, we went to have a late lunch at a restaurant. We ordered my favorite dish ostri and khachapuri, a Georgian style pizza that Salome recommended. It was bread baked with goat cheese, and topped with a raw egg and butter. It was simple yet sensational. The yolk mixed well together with the freshly baked bread and the taste of strong cheese was perfect. I was impressed with Georgian cuisine. Someone told me that when Russians go out for a formal dinner, they would often pick a Georgian restaurant.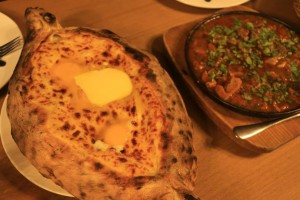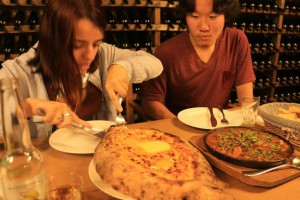 After dinner I said farewell to everyone and went home to make Japanese food for Zaza's family. Everyone said it was delicious despite of a completely different cuisine from theirs. Later that night I was invited to attend Zaza's friends' birthday party in the same apartment. When I entered the room, the table was filled with all sorts of things to eat and 20 people welcomed me. The birthday girl had just turned 26 and pampered me with champagne and wine. Her dad entertained me by reciting all the Japanese city names he learned when he was a child. The birthday party went on til past midnight with lots of singing and laughing.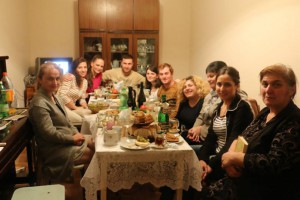 *A Little Favor*Please help my blog gain publicity by clicking on the "Japan Travel Blog Ranking" banner on the left if you're a PC user or at the very bottom if you're browsing through a smartphone. By clicking once a day from one device, you'll help me raise my ranking which will attract more people and businesses to view my blog. Clicking is completed once you are sent to another website with a list of blogs. Thank you very much!