The next morning I left Zaza's house to visit a village called Kazbegi near the Russian border. At the bus station, I found a marshrutka with 3 Korean backpackers and 1 Italian businessman. After I joined, the marshrutka departed Tbilisi and took the Georgian military road to the north.
I chatted with the Italian man named Simone on the way. Simone was a business man in his 40s visiting Georgia for work. He worked for a consulting company that was giving advice to the Georgian government in making new laws. He was a friendly person and also seemed very professional.
The Georgian military road was built to transport weapons to the soldiers at the front when they were fighting with Russia. It was popular among tourists because it was a scenic road that went through mountains and ran by cliffs. Our marshrutka stopped by Ananuri church where I saw the most well preserved icon paintings in Georgia.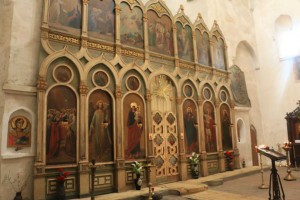 After that the marshrutka ran along the cliff for more than one hour. The view of the mountains was burning in autumn colors and the river that flowed under was breathtaking. I was too fascinated by it that I forgot to take one single picture from it which I regret until today.
Soon the autumn colors changed into snow white scenery. On the way to the village we also stopped by an observation deck where a panoramic view of the mountains could be seen on sunny days, but the snow covered everything white.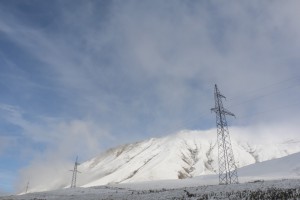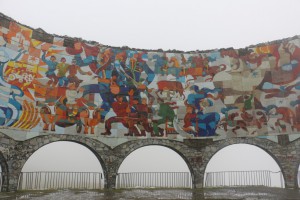 When we arrived to Kazbegi after 3hrs, the temperature was low but the snow wasn't there. I went to look for a bed and breakfast that I found online. I had a hard time because there were no signs anywhere. It was not possible to find someone who spoke English, so I made full use of my poorly learnt Russian and a tiny bit of Georgian. After 1hr of walking around, I discovered the B&B which was located in a completely different place from the map.
The reason why I chose this place was because it said that the food was good, but unfortunately the wife was gone to Tbilisi so I stayed without meals. When I went outside to eat dinner, I saw Simone still walking with his backpack, so I invited him to stay at my B&B.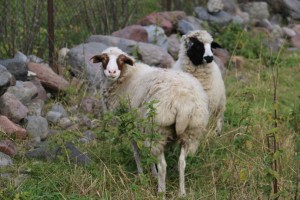 Later when I returned from dinner, I discovered that there was no hot water and the heater was broken. When I complained to the old man, he took out a half broken cooking oven without a door and told me to heat the room with it. That night I went to bed shivering in the cold as the room temperature was below 10. I had a slight headache and started to feel the first symptoms of the flu.
The next morning, I woke up to a loud knock on my door. It was the old man trying to sell me breakfast for 6 USD. I was annoyed since it was still 7am, and I needed more rest. I told him no and went back to sleep. But 1 hour later he came back again so I got very angry. I told this story to Simone and we decided to find a different place to stay.
When we went to the bakery to buy bread, the baker invited us to look inside his store. We saw how they made the dough and how they baked it inside a stone oven. It reminded me of the tandoori ovens that they use in Indian restaurants. The freshly baked bread was incredibly soft and delicious.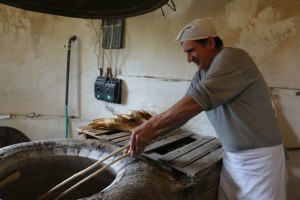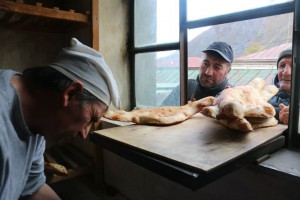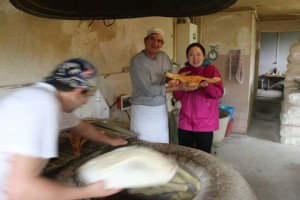 That day decided to visit Gergeti Trinity Church, the symbol of Kazbegi village located on top of a hill. Snow started to fall as Simone and I climbed. After 2 hours when we finally reached the church, we were soaked and freezing. Inside the church lacked glamour, but the old stone walls covered with soot indicated the history of the church and the primitive atmosphere was very special.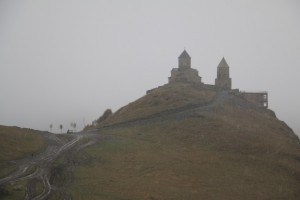 Simone and I waited patiently until it stopped snowing to see the view of Mt. Kazbegi with the altitude of over 4000m. After 3 hours, the snow stopped and the clouds started to clear so we were able to see the mountains on the opposite side but unfortunately Mt. Kazbegi never appeared in front of us.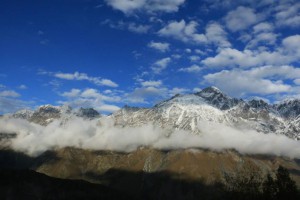 When we got down to the village, we met a Russian hitch hiker named Alex from St. Petersburg. He was traveling around the world on a shoe string budget, by hitchhiking and camping. He was looking for someone who had a computer to send some important emails, so we went to look for a hotel together where we would have access to the internet. Then after checking in, we went for dinner together.
Alex was a nice, talkative guy and shared with us all sorts of stories on the road. For example when he hitchhiked through Turkey, he met a Ukrainian truck driver. After traveling together for a few days in his truck, he told Alex not to go and proposed for them to work together because otherwise he would be lonely.
When I heard the travel stories from Alex, I started to think that my travels using public transportation was so shallow and I desired for deeper travel experiences like him. Alex seemed popular with the men. Simone liked Alex very much and told him to keep in touch so that he can follow his journey. Simone also generously treated all of us for dinner which reminded me of my office days. We saw Alex off who went back to his tent in below zero temperature thinking only Russians would be able to sleep outside in this weather.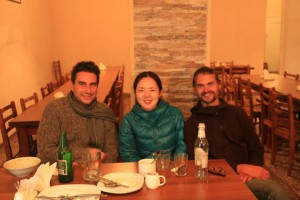 The next morning at the breakfast table, we sat together with a middle aged, sharp looking German guy dressed in a biker outfit. He said he traveled through Russia on his motor bike and was on his way home to Germany. He turned out to be an engineering director of a leading food packaging company in Switzerland. He told us that he travels more than 100 times a year on planes.
We were very impressed to know that all the snickers chocolate bars were wrapped by a machine that he designed and sold. I was even more surprised when I heard that the chocolate wrapping machine I saw at the Cailler factory in Switzerland was made by him too. He was on a long vacation but still visited all the Russian customers in rural parts of the country.
I was impressed in how he could be a hard core traveler and still works for a company. It wouldn't be possible in Japan no matter how good you are. He also said that because he travels so much that traveling wasn't special anymore.I found that sad.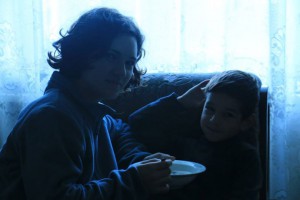 After breakfast we climbed up the hill again. We really wanted to see a nice view of Mt. Kazbegi. Helped by the weather, this time it only took less than an hour to climb up the hill. We still had a lot of time, so we decided to follow the path to Mt. Kazbegi itself. Of course it wasn't possible to go all the way to the top, so we decided to go to the place where we could see the panorama view of the summit.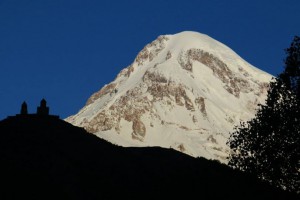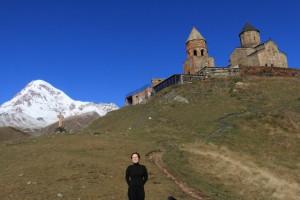 First the path was moderate, but soon it became a bit rough and rocky. We climbed up craggy places and walked through snow. We initially only planned a short hike to yesterday's church so we didn't have much food or water.
On the way up, we met a couple from Belgium and Georgia. The Belgian boyfriend named Olivier was cheerful and told a lot of jokes. He was carrying a lot of food and drinks which he generously offered us saying "Coke is good for hiking because it gives you sugar and water at the same time."
After we climbed for more than 4 hours, we arrived at a place where there was a great panoramic view of the summit. We were sweating so much from climbing in the snow. I was proud of myself for being able to reach over 3000 meters especially because it was an improvised hike. It was the highest mountain I climbed in my life and I was filled with fulfillment.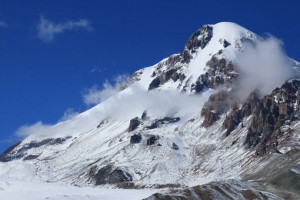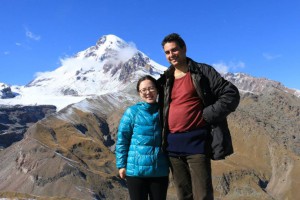 I took a picture with Simone and sat down on the ground exhausted. A group of young Israeli people came over to me and gave me a big bottle of water and some snacks.
Kazbegi was filled with Israeli tourists; I had met some the day before as well. For me Israel was an incomprehensible country because it has fully experienced the sadness and pain of genocide, and yet it was still doing the same to Palestine. The Israeli people that I've met in Tokyo were arrogant and seemed to think that they were better than others. From this experience I didn't have a good image of Israel. However the people I met in Kazbegi completely changed my view and I was ashamed for my biased view.
As soon as I realized that I couldn't see Olivier and his girlfriend anymore, I heard a big applause from the other side of the mountain. Surprisingly Olivier just proposed to her and she accepted. Simone and I went over to them and congratulated them. They looked like they were on cloud nine and offered us champagne that Olivier carried in his backpack. He asked me to take pictures for them, and they even recreated the engagement so that I could document it. I felt a lot of pressure thinking it will be a very special photograph for the rest of their lives. They acted like a real actor and actress and I took many pictures for them.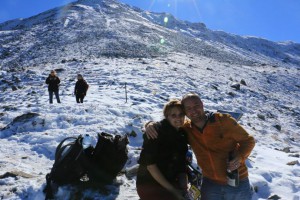 We stayed there for about 1 hour and then left the couple behind and took the road back. "I can't believe we encountered such a special moment in their lives. I never expected that." I said to Simone with excitement. Simone responded rather critically. "I think it's not very considerate of him to propose to her like that in front of others. If she had said no, it would be very awkward for her. You always need to be very careful in that kind of situation. For example the champagne and the pictures, I feel like he is mainly trying to satisfy himself. "
I was surprised to hear this critical comment from Simone because I thought Italians live for love and passion. Though I felt respect for Simone's thoughtfulness and calmness.
When we got back to the village, the marshrutka to Tbilisi was just about to depart so we ran back to the hotel and got our bags. We arrived to Tbilisi in the evening where the city was animated with liveliness. It was Friday night. People were dancing to some pop music in front of the square.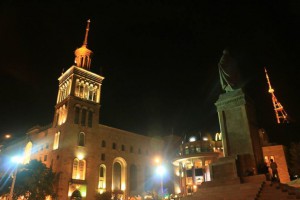 I said farewell to Simone who returned back to his $80 business hotel and I went to check in at a $8 hostel. I appreciated Simone's company very much. Even if we normally live in different worlds, traveling always brought pure and equal friendship.
Zaza's family told me to come back to their home, but I felt bad for taking up Zaza's room so I decided to get a bed in the hostel. The hostel Yoshi recommended to me was located in the centre of Tbilisi, a 2 minute walk from the McDonalds on Rusatvelli Avenue. There were cheaper places too, but I liked the peaceful atmosphere of the place.
Nata and Lia, the two Georgian sisters who ran the place baked a fresh kachapuri (Georgian style cheese bread) and offered it to the guests. Even though they spoke little English, I felt their kindness and warm hospitality. It really felt like home staying at this hostel.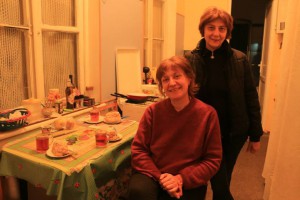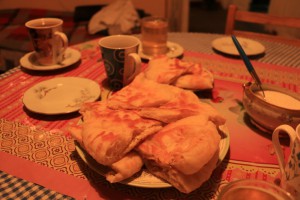 *A Little Favor*Please help my blog gain publicity by clicking on the "Japan Travel Blog Ranking" banner on the left if you're a PC user or at the very bottom if you're browsing through a smartphone. By clicking once a day from one device, you'll help me raise my ranking which will attract more people and businesses to view my blog. Clicking is completed once you are sent to another website with a list of blogs. Thank you very much!