There was no fence or lines at the Swiss/German border. Instead sheep were peacefully eating grass on the piece of land that lay between the two countries. In Zurich I stayed in Romain's apartment for 4 days. We walked around the city and went on a day trip to see Einsiedeln Monastery, a world heritage site which was located half an hour away from Zurich.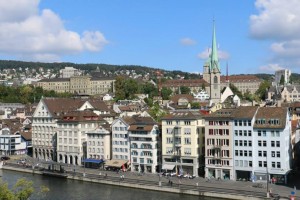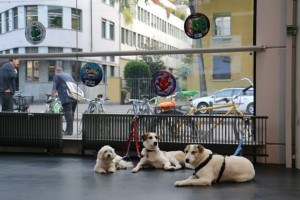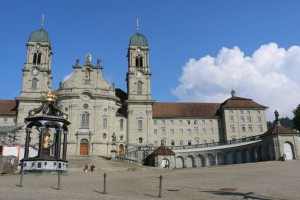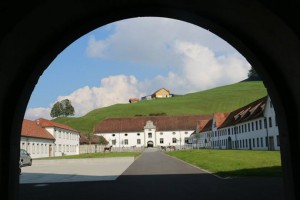 I was able to reunite with Romaina and Alexia too. They looked so beautiful and classy with nice clothing and make up. They looked completely different from the girls I knew from Lake Baikal where we desperately hiked dripping with sweat, but inside was of course the same cute and very funny girls. I was so happy to see them again despite of the small time we had.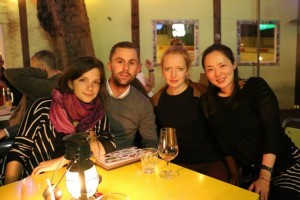 We left Zurich to Yverdon-les-Bains on the 5th day. It was a small city located in the French part of Switzerland where Romain's parents lived. We stayed at Romain's home for a few days. All of his family welcomed me with great hospitality and I was delighted to meet them.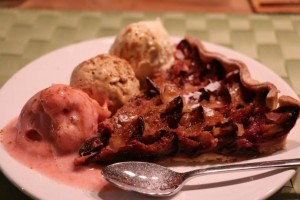 3 days later Romain picked up a camping car from the van rental company. It was more like a minivan which you can open the roof top and make a small sleeping space on the top. This van rental company named each van and painted it with a theme. Romain drove home "Vanana Split" saying that this was the only one available. I hoped that people wouldn't mistake us as an ice cream truck.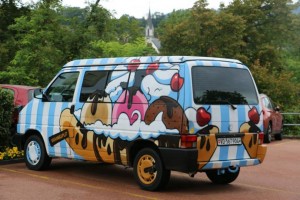 On our memorable first day of the journey we visited Lavaux and sat at an open-air café enjoying the view of Lake Geneva and the vineyards. The lake looked so fantastic with clouds on the water. The other side was France already. It was really breathtaking.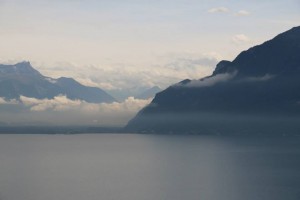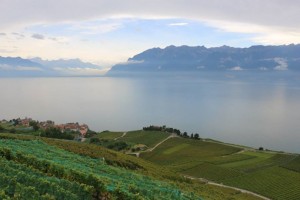 Next we visited Montreux, a worldly known resort for rich people. The town was famous for hosting many rock and jazz concerts in the summer time. I had realized that I used to own an album of Queen's live in Montreux. I had no idea that Montreux was in Switzerland. We had lunch at an awful Indian curry stand by the lake and visited an old castle called Chateau Cillon afterwards. Many tourists came to see this historical lakeside castle.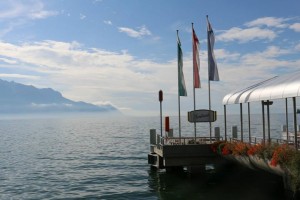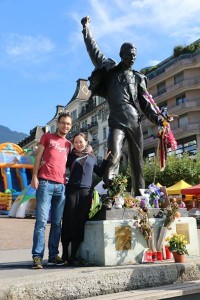 In the evening we went to Lausanne, the biggest city in the Swiss French region after Geneva. This was where Romain grew up. I loved to read ballet comics from when I was a child so I was familiar with "Prix de Lausanne", the most prestigious ballet competition for young ballerinas . I also never knew that Lausanne was in Switzerland but it was one of the places that I admired so I was very happy to visit the city. Instead of ballet, we went to see Romain's friend's live concert.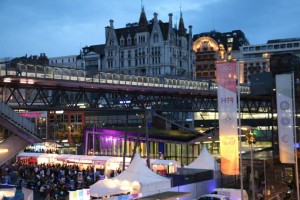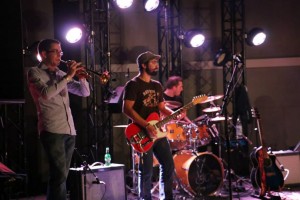 We were planning to drive to the campsite after the concert, but since it was so late we just decided to stay at a parking lot. Finding a good place was difficult because we wanted a quiet place without other cars and less chance of police visiting but wanted enough traffic around us so that we wouldn't be attacked by anyone. We also needed to have a public toilet nearby. We managed to find a spot hidden under a tree and slept on the rooftop. We felt like if we were playing hide and seek from the police cars and enjoyed it like a child.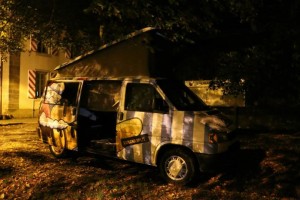 On the 2nd day we went to a town in the countryside called Bur. We ran into a Sunday market where we saw the traditional horn playing and ate the local cheese and bread. Later Romain's friend Leonard joined us and visited the Cailler chocolate factory together. All of the Swiss French friends said they made the best chocolate in Switzerland. I didn't know them before but I liked them more than Lindt. Inside the factory we saw many high technological machines making and wrapping chocolate. I had an interesting encounter regarding these machines later on in my journey.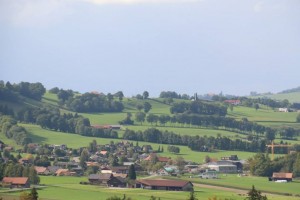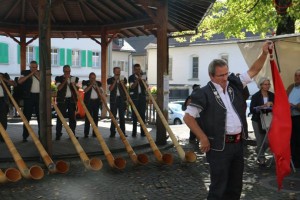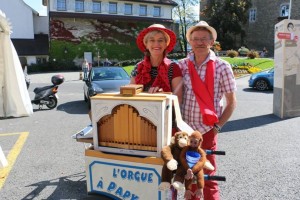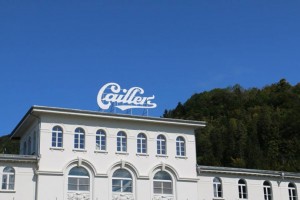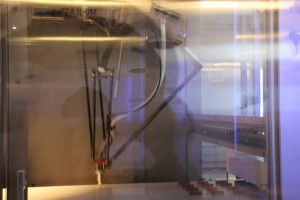 We visited the Gruyere castle in the late afternoon. The castle stood on the hills looking like time has stopped for a long time. However when we entered inside the gates, I was amazed to see so many restaurants serving the traditional Gruyere cheese dish. It was packed with tourists and gave an impression that the castle was still alive. I was happy to see it like this rather than some boring museum space inside.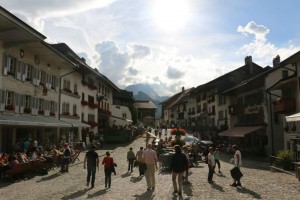 Leonard treated us for a Swiss dessert called double cream which was a very sweet mélange served with rich fresh cream on top of it. The cream itself was not sweet at all which balanced the taste very well. I loved it. Leonard told me that the reason why the cream is so rich is because the grass in this region contains so much nutrition and it will not be the same if they made it elsewhere.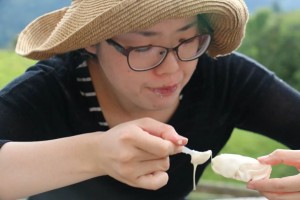 After enjoying this delicious treat we took the highway to Bern, the capitol of Switzerland. Bern was located in the Swiss German part of the country so suddenly all the road signs and speaking language changed from French to German. In Switzerland 60% of the population were Swiss German, 20% were Swiss French, 6% were Italian and the rest was Romansh, a dying minority group who spoke the Romansh language. Therefore speaking languages differed in each area but usually Swiss people spoke more than 2 languages including English.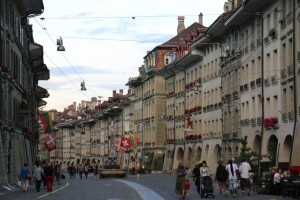 Bern was a city with old architecture and it looked lovely. In the centre of the town was the Swiss National Bank where all the gold in the world lay underneath. Romain told me that you can see bears in Bern. I didn't believe him until he took me to a river bank which was altered into a bear home. Bears were the symbol of Bern and it was drawn on the region flag too.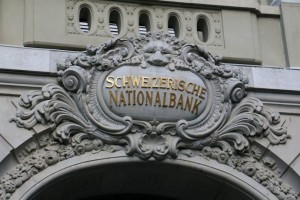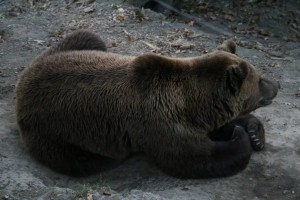 For dinner we had Thai food. I hadn't had asian food for a long time so I was very satisfied. We said goodbye to Leonard after dinner and headed over to a campsite in the residential area. It looked very small from the outside but the ground was spacious with even a river flowing inside.
Many camping cars had their canopy tops opened and made a comfortable living room space. The campsite had a very relaxing atmosphere with people enjoying dinner outside over a wine with their instant neighbors. Romain and I promised each other that we will make dinner at the campsites in the next few days and went to bed.
During the night I was awaken with the terrible sound of thunder. I heard thunder striking very close to our car ripping the ground. I thought we were going to die inside the car but Romain said it was alright so I went to sleep again. When I woke up the next morning, fortunately we were still alive with the sun shining on top of us.