Hi everyone! It's been a long time since I last updated my blog post. I have been busy with workaway (volunteering), hiking and lots of intense traveling recently.
After Greece, I was staying in Turkey for almost 2 months. I met a very cool Russian girl named Alyona when I was workawaying at a cave hotel in Cappadocia (we were colleagues) and decided to travel together for a while. From Cappadocia we took a 15hr night train to Eruzurum, the biggest city in east Turkey. After that, we took a bus to a city called Dogubeyazit on the Iranian border to visit Mt. Ararat, the symbol of Armenia. From Dogubeyazit, Alyona and I were hitchhiking up north until we met 2 Krudish guys who were driving to Tbilisi, Georgia. We decided to go with the flow so now I am in Georgia once again, chilling at a grandma's home stay in Borjomi, a small resort town known for its sparkling spring water.
Here I am trying to rest a bit from the intense traveling and get some things organized. I usually travel alone and have never traveled together with a girl for such a long time, but I really enjoy this Russian friend's company. I guess happiness only real when shared. I will write about my rest of the trip in Greece now.
I left Corfu where I stayed for 3 weeks and went to Thessaloniki where Sandy and Niko introduced me to stay with their old friend Sakis. Niko used to play in a band when he was young and have even produced a record. Sakis was in charge of the sound effects on their debut album. Niko told me that Sakis is a very cheerful person and has a really great personality. Also he was very much into Brazilian music which made me excited to see him because I was a big fan too.
Sakis looks a bit older than his age for his white hair but he is still 50 years old. He loves rock and Brazilian music and even plays in a band. He goes to rehearse every week with his friends to a local studio. He carried a good vibe which created a cheerful atmosphere. He seemed to be always popular among friends. On the day I arrived, he was getting ready to go to a punk festival. Sakis told me that he was always open for listening to new music. I quickly became fond of his cool personality.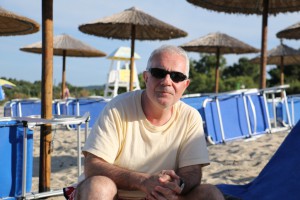 Sakis lives in a big apartment in Thessaloniki by himself. He had been working as an accountant until last year when he quit his job and ever since living on apartment rents. Many people in Greece seemed to have similar life styles. Niko also lived off on apartment rents and told me that he never worked for a company. Sandy teased him as the prince of the house.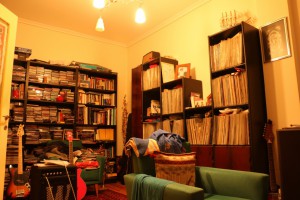 Sakis' home was a treasure box for me. I found all sorts of albums from my favorite Brazilian musicians like Baden Powell and Jorge Ben. I became a big fan of Brazilian music when I was a student and even my graduation project was to translate a book about bossa nova. It was both our first times to meet a person with such similar taste of music. We talked as if we were old friends. Sakis showed me pictures of when he visited Brazil a couple of years ago and played great records on his audio set. I felt totally relaxed to listen to these "warm" sounds.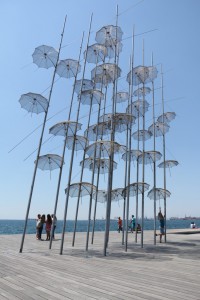 The next day, Sakis took me on a tour of the city. Thessaloniki is the second biggest city in Greece and had flourished as a port town. He took me to see some Byzantine ruins and cathedrals.
We stopped by at the variety shop, Tiger Copenhagen where Sakis totally fell in love with the background rock music from the 60s and danced to it. I wish I had an awesome uncle like him.
After shopping, we visited a church where a wedding was held. Apparently due to the lack of finances among younger couples, it was common to hold a wedding after the child was born. In the garden of the church, I tried to pick up some garbage from the ground until I realized that it was actually a decoration from the wedding. I was quite embarrassed.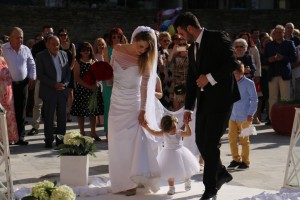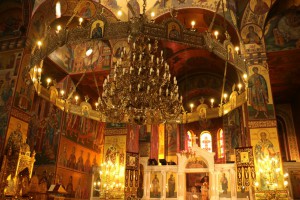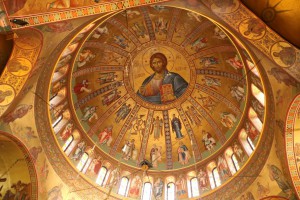 The next day I woke up early to catch a bus to Meteora, a famous tourist spot in the south. I waited and waited but the bus didn't come and finally it was too late to catch the connecting bus. I guess the schedule was different because it was Sunday. When I came back home with sagging shoulders, Sakis invited me to join lunch at his family home.
Sakis' mother, sister and his niece Sofia warmly welcomed me to their home. His mother fed me so many nice dishes that she prepared from early morning. I learned that in Greece all families get together for a meal on Sundays. All stores are closed and the day is devoted to the family gatherings. It was quite different from Japan where many stores work 24/7 and family gathered just a few times in the year.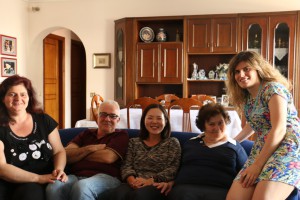 We also discussed about the financial crisis in Greece. So far in the past 3 weeks, I heard from everybody that the public servants in Greece are over protected. Sandy told me that 1 in 10 people are public servants and that some of them just press their time cards and go to work on their side businesses. All private workers in Greece think that the government needs to cut the welfare program of public servants, but because the Tsipras administration is supported by public servants it will not happen.
Tax dodging is also a serious problem both in individual and corporate levels. Most of the stores didn't issue a receipt until recent years when the government demanded to put up a sign next to the cash register saying that "The consumer has no obligation to pay, if no receipt is being issued."
Greek people don't talk good about Germany's financial support towards them saying that "How are we supposed to survive if they decrease the pension more than now. They want us to die!" I think that if the nearby countries like Albania or Macedonia is still scraping off under poorer conditions, there is no way Greece can't do it and probably Greeks need to lower the quality of life a bit more. However Greek people seem to think of themselves as victims and could not stand their life being threatened anymore.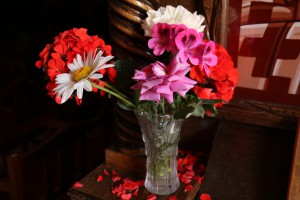 The next morning I woke up even earlier to catch the bus to Meteora. Meteora is a group of monasteries built on top of rocks to avoid warfare during the 14th century. The fortress-like monasteries built high up in the sky is like a real life fantasy world. It had always been a place that I wanted to visit. There are 7 of them but because of limited time I just visited 3 of them.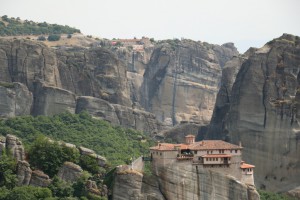 The Holy Monastery of Great Meteoron was the first one I visited because of the largest scale among all. Unfortunately this place was a big tourist attraction and it was nothing like the "living monastery where monks still practice Christianity" indicated on the sign at the entrance. It was a huge museum where tourists got loaded off the bus and took pictures in front of life-size models. I was so disappointed that I wish I wouldn't have come.
However the next stops, Holy Monastery of Varlaam and the Holy Monastery of Rousanou were much smaller and remained authentic with monks and nuns still living there.
In the old days, these monasteries were completely isolated from the rest of the world and they only used baskets to connect to the ground. In Varlaam I saw an iron basket that was used until quite recently and also a cable car styled carriage that is still used for transportation between the rocks. Because I couldn't afford to take a taxi and walked, I was able to enjoy the unique landscape of Meteora on my own pace.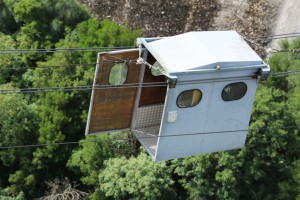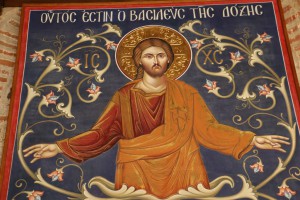 The next day Sakis took me on his car to visit Halkidiki peninsula, a place well known for its beautiful beaches located about an hour away from Thessaloniki.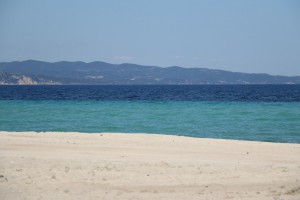 Halikidiki is divided into 3 peninsulas and we stayed at the first one. The third peninsula is very interesting because there is Mt. Athos, a sacred mountain for Orthodox Christians and the whole peninsula is regarded as an independent country called Autonomous Monastic State of the Holy Mountain. I once read in a book that even female animals are not allowed to enter this peninsula.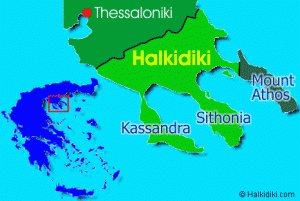 The beach which Sakis took me to was a hidden place where only locals knew. I felt so sad that this was the last time that I will swim in Greece. On the way back I stuffed up on mussels at the restaurant.
I initially came to Thessaloniki for just 2 nights, but ended up staying for 1 week. What I enjoyed most in this stay was not seeing Byzantine architecture or visiting Meteora, but it was the time I spent at Sakis' home listening to endless Brazilian music records. I will forever be thankful to Sakis for the precious time he offered me.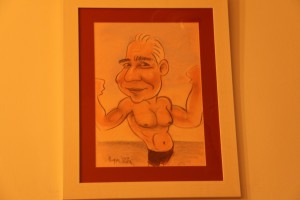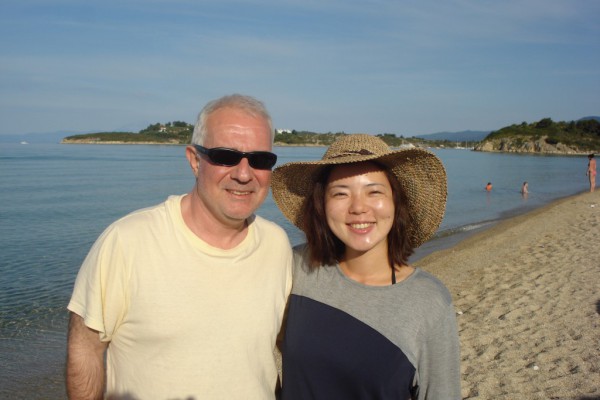 On the 7th night, I finally left Greece where I stayed for 1 month and got on the overnight bus to Istanbul.
*A Little Favor*Please help my blog gain publicity by clicking on the "Japan Travel Blog Ranking" banner on the left if you're a PC user or at the very bottom if you're browsing through a smartphone. By clicking once a day from one device, you'll help me raise my ranking which will attract more people and businesses to view my blog. Clicking is completed once you are sent to another website with a list of blogs. Thank you very much!