This is a blog post about Istanbul, my last destination in Turkey before flying into Central Asia. I have wrote it 2 months ago and never got around to post it. I apologize for the zig-zags and hope that everyone is not too confused with the timelines of my blog.
After spending an incredible night with the couchsurfers in Trabzon, I took a 17 hr night bus to Istanbul with Erhan, the Turkish friend whom I met at the Black Sea. The bus was quite comfortable and didn't make meaningless stops like Metro Company. If anybody is planning to travel around the Black Sea region, I highly recommend you to take Sehir Turu Bus Company. It's cheap too. Also a very useful website for traveling around Turkey is Nereden Nereye (www.neredennereye.com/). When you type in your destination, it shows various transportation opportunities such as bus, trains and ferries with the exact schedule and price. I thought I'd write something useful once in a while!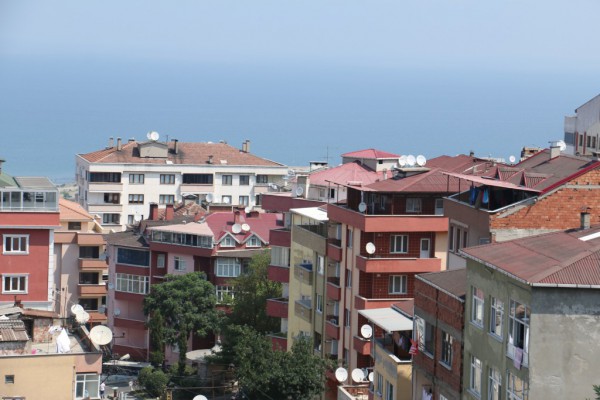 During the ride, Erhan and I discussed about various things from budget travel to Turkish mentalities.
In Turkey, quite often I heard people commenting on my eyes which made me feel uncomfortable. They probably didn't mean to be rude at all because most of them were my friends or some nice people I met while transporting. However, hearing them say that "You have narrow eyes" or "Turkish people originally come from Central Asia. My family has narrow eyes like you" or "The narrow eye people like the Japanese and Chinese are…" or "In the narrow eye countries, what do people think when they see people who have big eyes like us?" made me upset. I never thought that I have narrow eyes and every time someone said that to me, it somewhat hurt my confidence.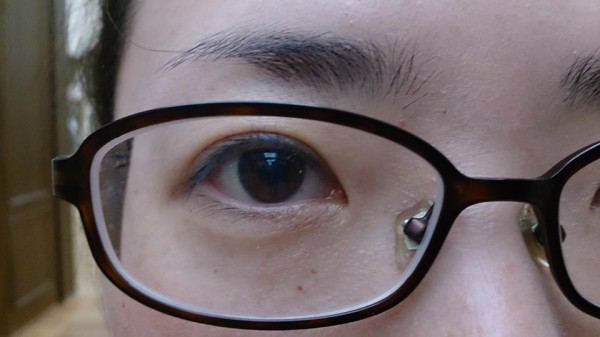 Erhan told me that Turkish people love to discuss about this matter of appearance because of their origins from Central Asia. They were simply curious about how their own appearances have changed over time and meant no harm at all. "They say these things too often that no one ever thinks that it could be taken as racist comments." he said.
I was happy to talk to him and enjoyed each other's company at service stops. I was amazed to see many Turkish people eating meals at 3am in the morning at the service restaurants. They really loved to eat yet they still kept good shape.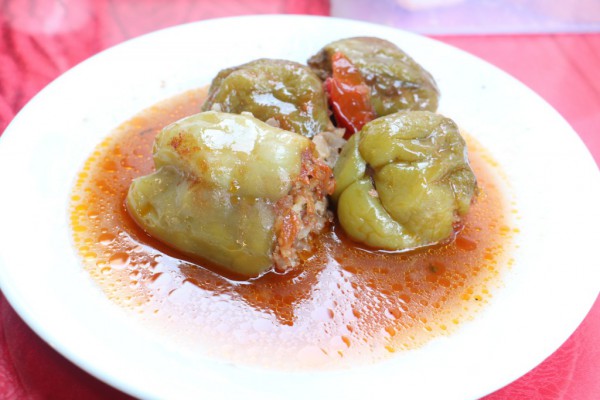 We arrived in Istanbul around 9am. This day I needed to apply for my Uzbekistan visa so we went to the internet café to print out my application. Erhan sent me off to my subway stop and offered to host me in Istanbul for a couple of nights. I was initially planning to stay with another friend but decided to take his offer later on too.
I arrived at the Uzbekistan embassy at 11am and handed in my application. There were many people waiting around the gate. They told me to come back after a week when it's ready. It went surprisingly smooth. Coincidentally, my friend lived only 2 streets up from the embassy in Istinye so I tried to find his home. It was backbreaking to carry my heavy suitcase up and down the steep hills. After walking around for almost 1 hour I decided to give up and went to sit at a café.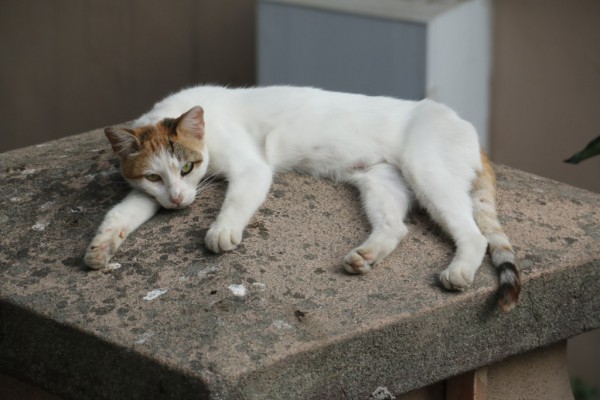 By this time I could already feel that I had caught a cold from the long bus ride. I had a bad feeling but no wonder why, it was a really tough week for me. First I had to walk in the rain after arriving from Georgia because of the stupid bus company, sleep on a bench at the bus station, went white water rafting with just a few hours of poor sleep, jumped in ice cold water many times, slept on the floor directly after the party and took a 17 hr night bus. Did I think I was a teenager or something? Fever rose, joints started to hurt and I hated myself.
When I used my last power to barely sip a vegetable soup at the café, Emre appeared from nowhere. He was a friend I met in Lake Baikal last summer. His family was Turkish but he was born and raised in Germany. We had a lot of fun in Russia together with his 2 best friends Alexia and Romana from Switzerland. He currently lived in Zurich for school but came back for a short visit to Istanbul with his parents.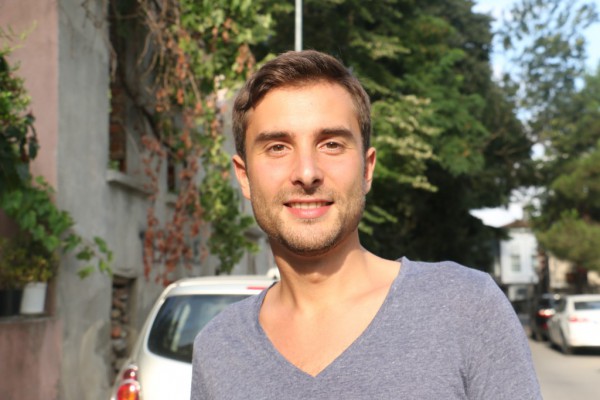 I couldn't hide my fatigue despite the fact that I was very happy to see him again. I felt like dying right on the table. He took me to his sea view flat, gave me medicine and I slept for the entire day. I didn't recover the next day either so I stayed in bed.
Emre took care of me making nice breakfast every day. He had studied in Tokyo for half a year before I met him and returned there again to write his master thesis after traveling in Russia. We exchanged stories about our travels. Hearing about his days in Tokyo made me laugh. He said that he ran into Mark Zuckerberg at Tsukiji fish market and said hi to him tapping on his shoulder, but his Asian wife got mad and slapped his hand away.
He was also applying for a job at a Japanese company and suddenly had to go back to Munich for his final interview. He promised to come back after a few days so I decided to visit Erhan during this time.
Just before he left, I recovered a little bit so Emre took me sightseeing to the old city where we saw the flamboyant Suleymaniye Mosque and Rustem Pasha mosque, a small hidden mosque near the Spice Bazaar famous for its precise tile works.
He also took me to the so called "conservative neighborhood" to drink a traditional drink called boza. Boza is a thick beverage made from fermented wheat and contended a very small percentage of alcohol. It tastes sweet and sour, served with cinnamon powder on top. I quickly became a fan of this new taste. The place was called Vefa Bozacisi which has been open since 1870. I liked the atmosphere of this café which reminded me of an old beer hall.
For dinner Emre took me to the Fatih, a very religious and conservative district where many Syrian refugees lived. There I saw some Arabic restaurants which reminded me of the Middle East. I appreciated him for bringing me to all the nice local places. The next day he left to Germany so I moved into Erhan's home like a gypsy.
Erhan's home was located in a very quiet and peaceful are called Sariyer in Istanbul. He lived together with his parents and brother. His family warmly welcomed me hosting great BBQ dinners and fed me organic vegetables from their home garden. I had recovered from the bad cold so Erhan took me to visit some nice spots in Istanbul.
We saw the Gezi Park where many people held a demonstration against the government back in 2013 and a mosque in the old town where Prophet Mohammed's footprints were left. There were also many coffins in the room where the former Imams (religious leaders) eternally rested.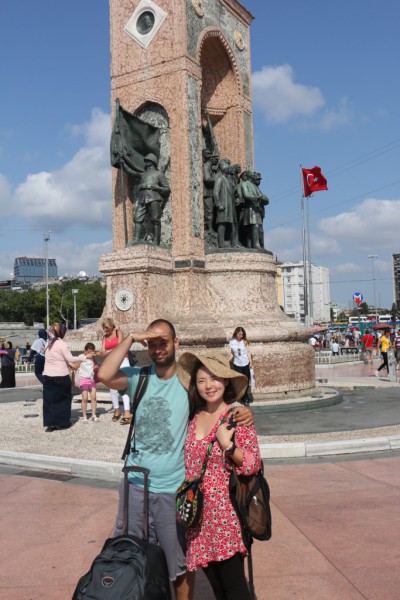 In the evenings, we had fun watching various videos on YouTube. We watched a documentary about Japan focusing on strange food such as turtle blood, beating heart of a frog and a slice of a raw frog served with the head. I always think it's not fair to show these kinds of extreme documentaries abroad because I am a Japanese citizen and have never seen or eaten such things. (Except for maybe turtle blood which is enjoyed on rare occasions among very few people) There are probably just 1 or 2 restaurants that would serve a slice of a raw frog in whole Tokyo. Yet it made us sound like we always eat this weird stuff.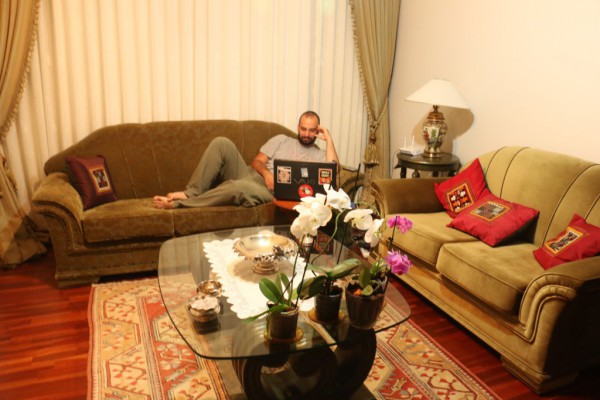 Same thing about prostitution and pornography too. Many foreigners see ridiculous documentaries where they introduce crazy services such as adult men dressed in kindergarten uniforms and getting pampered by young girl "teachers" or have the image that all Japanese women will act like porn actresses in bed. Foreign friends have told me that they realized that Japan was quite normal after visiting there with the extreme biased images from various documentaries.
After a few days of staying at his house, Erhan found a full time job at a fancy restaurant and Emre came back so I moved back to Istinye. Emre and I joined the Bosporus tour which was a hop-on hop-off ferry that operated on the Bosporus strait. He introduced me to the Asian side of Istanbul which no tourist ever visits. There were many old houses that were built in the Ottoman period and the neighborhood was calm and peaceful. I loved walking around there.
We continued our tour towards the old city on the ferry. I was able to see various old buildings including a few palaces which were built on the water front. The sunset made everything in a soft shining color. The breeze brought the smell of the sea and gently blew my hair. Emre said that best way to enjoy summer in Istanbul was to travel on the Bosporus. I agreed. It gave me a totally new perspective about this city.
A few days later I said goodbye to both Emre and Erhan and took the flight to Kyrgyzstan. The night before my flight, I sat at a quiet café alone recalling all the good memories in Turkey. Turkey gave me a lot more than I asked for. The encounters were magical and the sceneries were breathtaking. I felt nostalgic already.
But it was time for me to move on to the unknown land of Central Asia where I had been dreaming to visit for the past 3 years. I was excited.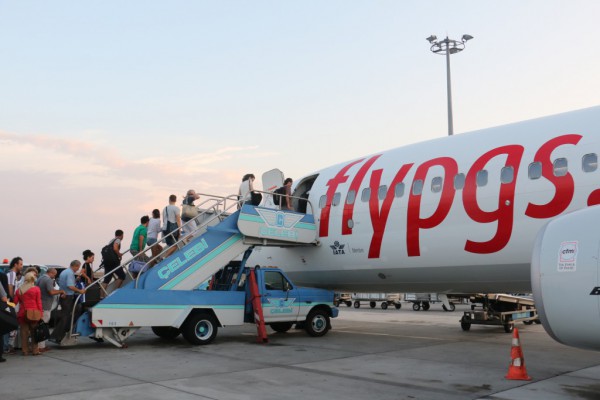 *A Little Favor*Please help my blog gain publicity by clicking on the "Japan Travel Blog Ranking" banner on the left if you're a PC user or at the very bottom if you're browsing through a smartphone. By clicking once a day from one device, you'll help me raise my ranking which will attract more people and businesses to view my blog. Clicking is completed once you are sent to another website with a list of blogs. Thank you very much!