On May 10, I left Mihalis's home in Athens and took a bus and ferry to the island of Corfu. Corfu is located in the north west of Greece near the border with Albania. It used to be ruled by the Venetian empire for a long time so there are many influences from Italian culture. When I first saw the island from the ferry I thought I had came to Venice.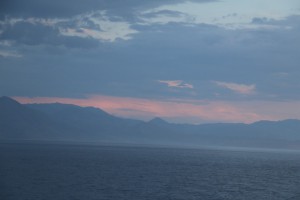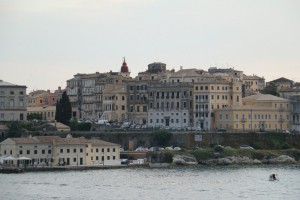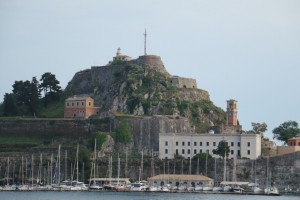 The reason why I came here was because I found a workaway at a hotel. Workaway is a website that connects travelers who are willing to do volunteer work in exchange of accommodation and food. https://www.workaway.info/ Ever since I learned this system last December in Berlin, I have been in love with it and it was my 5th time to use it in Greece. Although I cannot earn any cash, in expensive countries I was able to save a lot of money.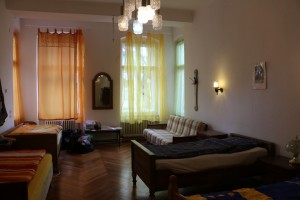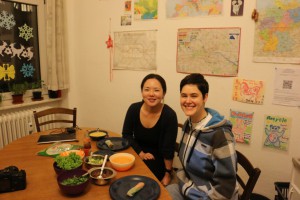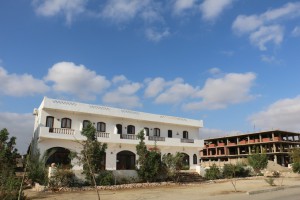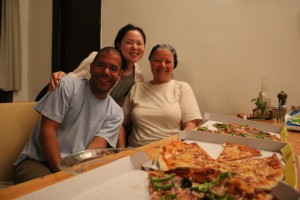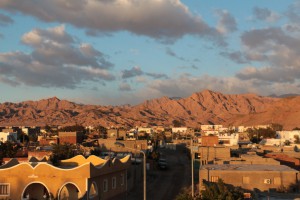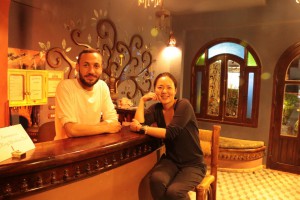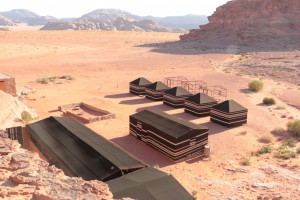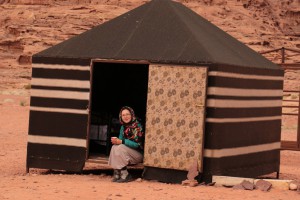 On the ferry, I wanted to borrow a phone from someone so that I can contact my host. I asked the friendliest looking lady from the same bus. This was how I met Sandy. Sandy is half Greek and half Luxemburg. She used to work as a masseuse but due to some health issues she spends half of the year in Athens and another in Corfu resting. Because of her interests in Eastern medicine and Asian culture, we had many things to talk about.
Sandy was a friendly person with a warm heart so in the end of the ferry trip, she invited me to visit her home in Corfu where she lived with her partner and 2 cats. I promised her to visit after I get a day-off and took off to my hostel.
My hostel was located by a beach called Agios Gordios about 30 mins away by car from the city centre. It was a unique beach with stony mountains and a rock sticking out from the sea. It reminded me of a Chinese painting.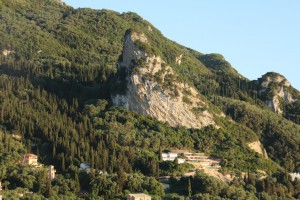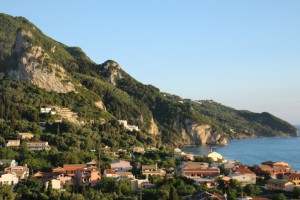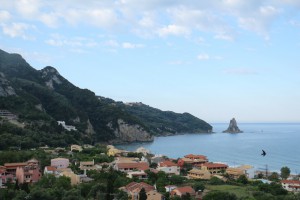 Suddenly ripping the serenity of the scenery, a shockingly pink building complex appeared in front of me. This was my new work away place.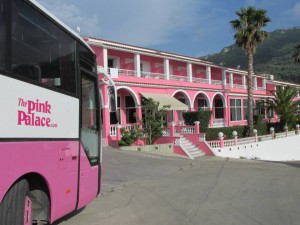 On the email the female owner promised to host me at her home. But the room I was taken to was a 5 bed dormitory. This hostel was listed as No.2 on the craziest party hostel list in Europe, with everything themed in pink from the room interior to a cocktail drink.
When I read the infamous reviews of this place, I turned back my request saying that I didn't want to stay at a party hostel. However my host persuaded me to come promising that I would get a private room in her own home. Therefore I felt a bit betrayed upon arriving.
In the room there were already 2 workawayer colleagues, Victoria from South Africa and Brent from the United States. They were both very nice so I got along with them very well.
Work started from the next day. Even though we lived at the party hostel our work place was another hotel located about 30 mins by car. The place was only used in the summer time so we helped them clean and get ready. We commuted every day after breakfast.
I was assigned to clean the kitchen where I washed all the pots and dishes that haven't been used since last summer. Work usually started before 9 and finished at 3. However our host was always late to pick us up so we usually got back after 4. Counting in the commuting and waiting time, we were tied to work for a total of 8 hrs. Adding on to that our days off was only Sunday and it excesses the workaway regulation of maximum 5days/25 hrs/week.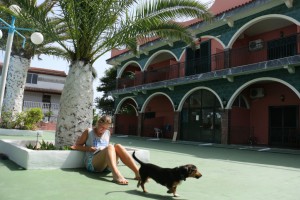 First I thought it would still be a good deal if I can stay in her home and eat authentic Greek cuisine everyday like it said on the website. But I was surprised by the owner's personality which was totally opposite from the friendly character on the emails. She was always aggressive and angry.
When she came to pick us up after work, she would madly honk the car if we didn't run up to her within a minute. After working all day, she would still ask us to do chores and take care of the children. It was hard to say no because of the bad temper she had.
Other conditions weren't generous either. Every day we had the exact same sandwich for lunch. For dinner we waited until all the guests were served and had to finish it in 30 mins to clean the dishes. Also drinking water was limited to 3 small pet bottles per day. Food was far away from authentic. It tasted exactly like an American school cafeteria.
Every morning a workawayer had to go get the lunch sandwiches from the kitchen but somehow this kitchen was located 150 steps down the hill. I could feel my heart coming out of my mouth in the busy morning rushes.
On my very first day of work I was hit on by an Albanian colleague but after saying no to him he started to make fun of me in front of other people. I didn't feel good about it.
Since it was a short contract of 2 weeks, I decided to suck it up and keep working until one day I completely changed my mind.
The owner kept 2 very cute dogs at the property but she neglected to buy them dog food saying that she didn't have any money and kept them starving for 3 days. The poor dogs were so hungry that they even looked inside the female toilet bin following the smell of blood. I was extremely sad to see them so miserably.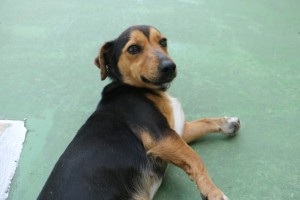 On the same day I learned from the normal workers that they work 12 hrs per day with no day off. One guy told me that the only day off he got last year was Christmas day. When I heard that, I could no longer stand working for a person who treated her employees and dogs like slaves. I decided to leave.
When Victoria and I told the owner that we wanted to leave tomorrow, she quickly changed her attitude and apologized if we didn't like the work. Moreover she accepted us to leave and offered to stay and eat for free for the next couple of days. We couldn't believe it. She probably feared to receive a bad review on workaway.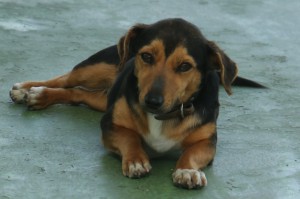 In the end I was so happy for the incredible turn of things, and from the next day I went off to sightseeing. Sandy welcomed me warmly in Corfu town where she happily took me to visit many places.
Even though Sandy was twice my age, we talked as if we were old friends from school. For dinner she made beautiful lasagna in the oven for me.
Sandy's cats Chamomile and Rosie. Not very friendly but gorgeous and proud hearted.
In Corfu there is a summer house which once belonged to the British Royal families. Sandy told me that Queen Elizabeth's husband Prince Phillip was born here. In the back of the house, there was a hidden bay where the royal family used to swim. It was now the local's favorite spot.
I stayed at Sandy's home that night and went back the next day to join a free hostel tour with Victoria. We were supposed to go kayaking, but due to weather conditions it got switched to a city tour. So once again I returned to the city. The view from the old castle was like a Studio Ghibli animation. Sadly I can't compare it to anything else.
The next day Victoria and I took a bus to Sidari beach, a 1 hour and a half bus ride from the centre. The water was incredibly clear and beautiful there.
This day for the first time in my life I saw women swimming topless. I learned that it was a common practice in Greece. Both young women and chubby mothers enjoyed swimming freely like that.
Since I saw so many topless women anywhere I went, once I also tried to do that and lay down on the beach. Then a strange man came from nowhere, waved to me and the next thing I noticed, he was standing next to me and petting my shoulder. I had to yell and chase him away.
Later Sandy told me that it is only safe to do so with other people. Also because Asian people never do such a thing, I must've attracted his attention.
After leaving the party hostel Sandy invited me to stay at her home for a while. On the day I moved to her home, there was a big parade celebrating a Christian holiday. Many men and women dressed up in their traditional costumes and danced around town.
A few days later Sandy's partner Nico flew from Athens. They both became my ambassador of Corfu and took me around to the most beautiful places. For some reason there is a large Asian Art Museum in Corfu which had an exhibition of Japanese pornography from the 17th century going on, so we visited together. The collection was surprisingly big and rich in quality. There weren't many pornography as we expected so that was the only disappointment.
On one of my last days, Sandy and Nico took me to a village where Sandy's father was born. It was small village in the mountains surrounded by lots of nature. For lunch we ate at Sandy's friends' seafood restaurant by the sea.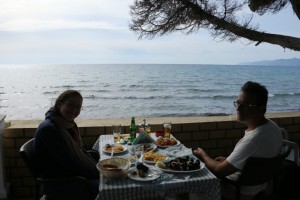 I ordered steamed mussels. I was surprised by its portion which was more than enough for 2 people. The aroma from the white wine and garlic used in the dish was exceptional. It was the best mussels that I've ever eaten.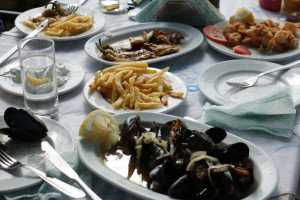 Sandy said because the place is run by fishermen everything is fresh and tasty. Fishermen, I thought. It was certainly not something Japanese fishermen could make.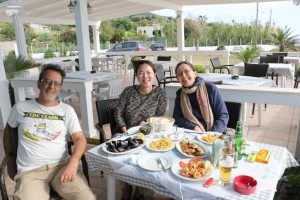 After lunch we took a car to a beach called Halikunas. It was a unique beach because it was in between a marsh and the sea.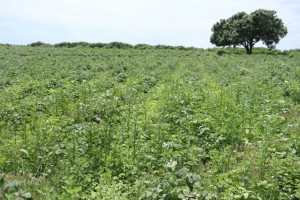 We watched the sunset from the beach. Walking on the empty sand beach, it made me forget that it was on an island. Sandy said that in the recent years many tourists started to come too but when she was a child literally no one was here. Luckily the season hadn't started yet so we were able to enjoy the serenity.
That night we stayed at a B&B run by Sandy's friend. We sat in the garden drinking wine and chatting til late evening. Because of the crisis in Greece, I assume that people have tougher lives than before but they still enjoyed life to the maximum.
When I see people like that, I always think that Japanese people are missing a good part of their life. We earn a lot more money than them, but usually put it all into savings, don't travel so much and work all day without much rest. We think too much about the future and forget to live in the present. What a loss that is. These Greek people are in a situation where their country might go bankrupt, but they are still having fun.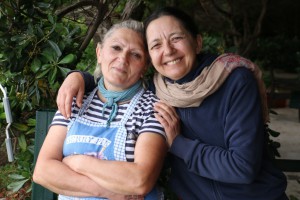 Next morning I went to the sea and swam alone. It's always warm to swim after it rains.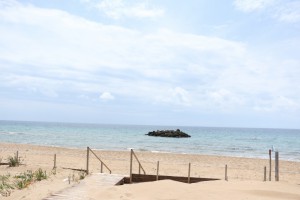 All of us enjoyed our own activities and made the most out of the weekend in the country side.
Two days later, the time had finally come for me to leave Corfu where I ended up staying for 3 weeks. On my last night I made some Japanese food. Sandy and Nico liked it and later we enjoyed a youtube night watching many videos from Japan. There were many things that they saw for the first time so we got excited and laughed a lot.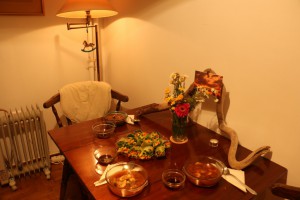 Sandy and Nico even introduced me to their old friend in Thessaloniki, my next destination so that I can stay with him. They really treated me like their little sister with a great amount of love. I couldn't thank them more.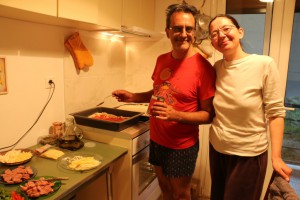 If I hadn't met Sandy, my time in Corfu would have been totally different. If I hadn't talked to her on the ferry…if my workaway had been successful…, many things led me to this great experience.
On the morning I left Corfu, Sandy and Nico saw my taxi off from their street. They were waving for a long time until my taxi was completely out of their sight. Their warmth filled my heart and I whole heartedly thanked them for this incredible friendship.
*A Little Favor*Please help my blog gain publicity by clicking on the "Japan Travel Blog Ranking" banner on the left if you're a PC user or at the very bottom if you're browsing through a smartphone. By clicking once a day from one device, you'll help me raise my ranking which will attract more people and businesses to view my blog. Clicking is completed once you are sent to another website with a list of blogs. Thank you very much!