I boarded the night train to St. Petersburg with my hard earned ticket. I always took the 2nd class sleeper train since Ulan Bator but this time I managed to buy the 3rd class ticket called the platzkart. The platzkart was popular because of the cheap price and seats were limited so it was hard to get. The difference from the 2nd class sleeper was that it wasn't separated into compartments. The whole car was one big compartment of 54 beds. The bunk beds were 3 stories high making it impossible to wake up without hitting the head.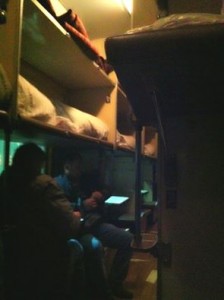 The train departed Moscow at 9pm arriving to St. Petersburg at 5am. I was in deep sleep until the conductor woke me up 10 mins before arrival. I noticed that my glasses were missing. I checked the sheets and blankets but couldn't find it anywhere. I was forced to get off hoping to find them in my backpack but I had no luck. I took out my spare glasses that I made many years ago and walked into the city with blurry eye sight. I killed time until sunrise at a coffee shop and walked from there to the hostel.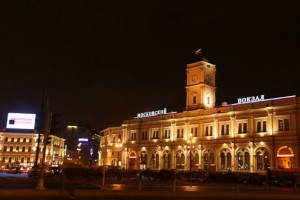 St. Petersburg was a completely European city. I would never guess that it was Russia with the colorful apartment buildings decorated with flowers in the balcony. I have never been, but it looked like Amsterdam from the pictures I've seen. There was no gloominess like Moscow. Canals ran everywhere and ferry boats came and went.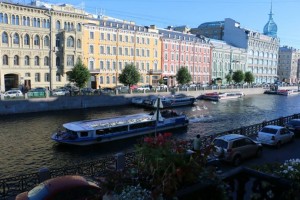 I paid 3 times more than my daily budget for the hostel, but I wanted to stay here because the Swiss friends from Lake Baikal strongly recommended me to. It was a good hostel because despite arriving 7 hrs before check in, they cleaned the bed and let me in. All of the beds in the dormitory had privacy curtains like the ones in Japan. Underneath the bed were storages with a power tap so that you could charge your camera without worrying for theft. Events were organized occasionally too. Staff made delicious pasta and apple pie for everyone.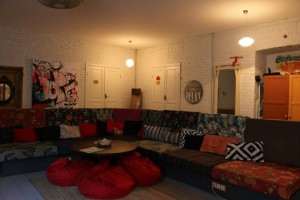 I asked the staff for the phone number of lost and found at the station but she shocked me by saying that there is no such thing in Russia. I decided to buy a new pair of glasses soon in a cheaper country and went out for sightseeing. I was lucky to visit the Hermitage Museum on a free admission day. Inside were impressive treasures of the Russian empire. I spent 3 hrs looking around and later discovered that I was missing one whole building that kept the most famous paintings. I had to come back again in the future.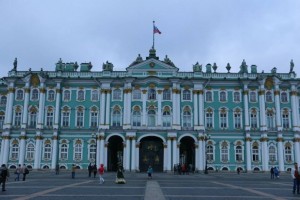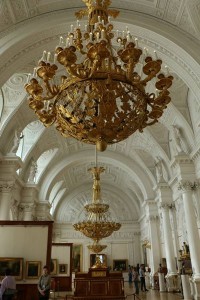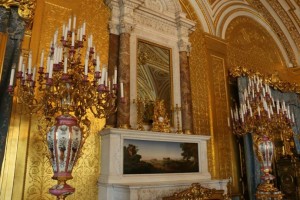 The next day I went to the Kazan Cathedral where I watched couples getting married in a traditional style wedding. In the afternoon I visited Christ on the Spilt Blood Church. Inside the church, all walls were decorated with very detailed mosaic paintings. Due to the major restoration that took place a few years ago, everything looked very fresh and colorful. It surprised me because the style of the paintings reminded me very much of the Japanese animations and video games. I wondered if the restoration manager was an anime fan.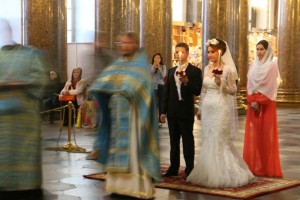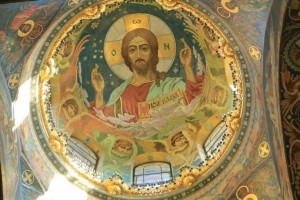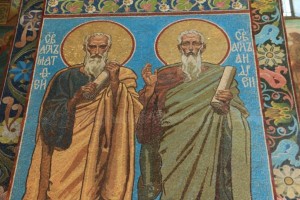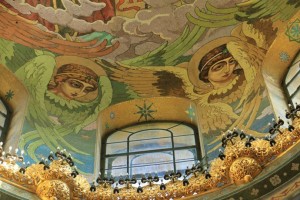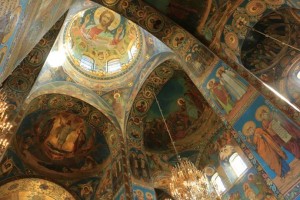 In the evening I climbed up the observation deck of St. Isaac Cathedral to see the sunset of St. Petersburg. Unfortunately the cathedral itself wasn't very high so the view was not exceptional. Inside the cathedral looked very gorgeous with colorful marble stones and giant chandeliers. It was as flamboyant as the Italian churches.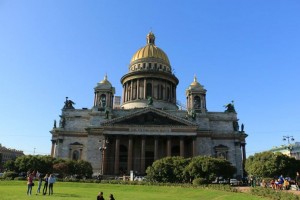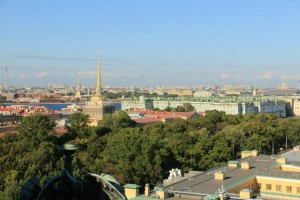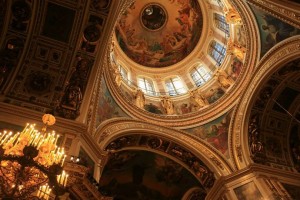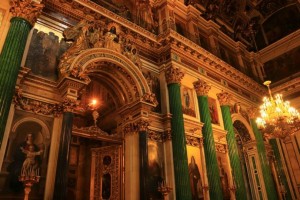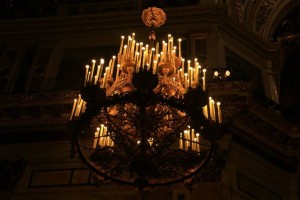 During dinner at the hostel I became friends with Hakan from Turkey and Akio from America. Hakan was a businessman visiting for vacation and Akio was a student on summer vacation. I noticed that Akio was a typical Japanese name so I asked him if his family was related to Japan. "Not at all. When my father was thinking about names, an angel appeared in his dreams and advised to name the baby Akio. He woke up and found out that it meant "bright boy" in Japanese so that's where I got my name." It was certainly a unique way of naming children.
The next day Hakan invited us to visit the Udelni flea market, the biggest flea market in Russia. Hakan loved antiques and vintage items so every time he went on vacation he always visited the local flea markets. There we found many Soviet items such as army hats, war medals, pin badges and passports. It made me wonder how it felt to sell these things. Many poor looking grandpas and grandmas sat on the ground displaying the things they gathered from their homes. "It kind of makes me sad to see all these people." Akio said. I bought an old enameled mug for 50 cents.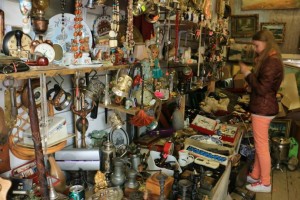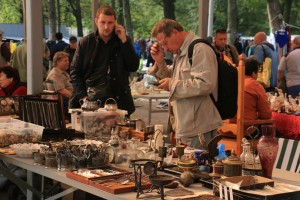 We had lunch at a well known Russian pie restaurant and headed over to the Russian museum in the afternoon. Inside were filled with paintings by Russian artists who I never knew before. Both Hakan and Akio knew about paintings and art very well so I enjoyed exploring them together. At night, another American friend Dian joined the group and we made a big Turkish dinner. Even though I came to St. Petersburg completely alone, I met such good company and was able to enjoy my last days in Russia to the fullest. Fun times past quick, and it was time for me to take the night bus to Tallinn, Estonia.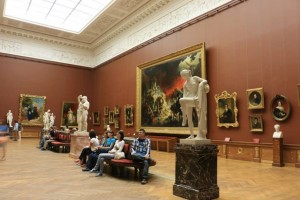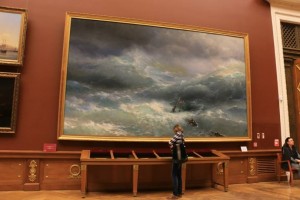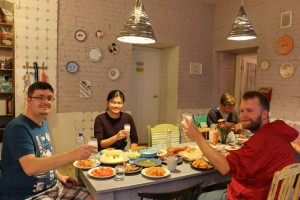 I sat on the bus reminiscing about my 16days trip in Russia. What a diverse country it was. In Irkutsk I saw a lake that was big as the ocean. No matter how many kilo meters I walked, there was no sign of life; it looked like it hadn't changed from millions of years. From the windows of the Trans-Siberian, I saw miles and miles of the Taiga forests. It was such a deep forest that if someone got lost they wouldn't find a way out for many days. In Moscow I saw the capitol of the empire which used to divide the world in two. The whole city was like a living museum and people still lived as if it was the only country in the world. In St. Petersburg I had the opportunity to see the beauty of Russia before the Soviet times. How splendid it was. The art, architecture, music and literature, I cannot think of any country that has so much perfection in all the fields.
After all I was very glad that I visited Russia. It was always a mysterious country for me despite being a neighbor. With all the conflict going on in Ukraine and the potential to start a new war, I was quite scared to go to Russia at first. I had no idea what it looked like other than the touristic places and how the people were. I still don't have a clear idea of people because I didn't meet so many but they were quite different from the other nationalities for sure. Especially if you expect friendliness from their European appearances they'll prove you wrong. Anya said that she loves the Russian people because it takes time to become friends with but once you know each other they are very warm hearted people and they treat you like a family. Next time I hope to interact more with the locals and have a deeper experience of the country.